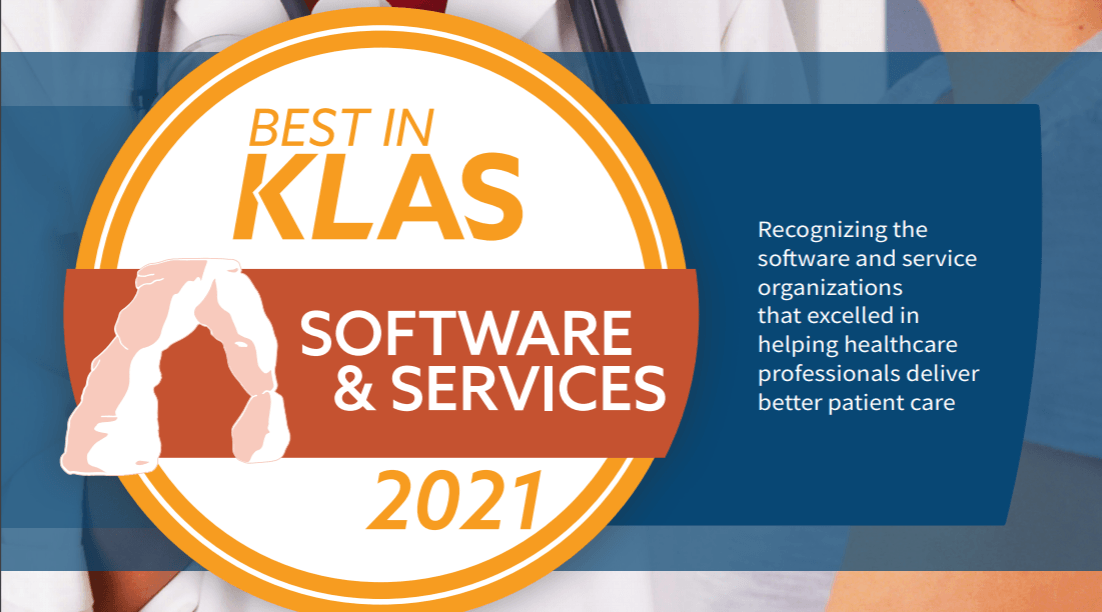 What You Should Know:
– Epic was named the top Overall Software Suite for the eleventh consecutive year in the Best in KLAS 2021 Software & Services report, released today, which reports on the top vendors for 2020. Epic was also named the top Overall Physician Practice Vendor. Galen Healthcare Solutions was named the top Overall IT Services Firm. The Chartis Group earned the award of top Overall Healthcare Management Consulting Firm, edging out last year's winner, Accenture.
–  Released annually, the Best in KLAS Software & Services recognizes the leading vendors for solutions, services, and management consulting offered in the United States. The Global Best in KLAS 2021 report, released concurrently, recognizes the leading software and service organizations that serve the global healthcare market outside the United States.
---
2021 Best in KLAS Background & Methodology
Best in KLAS is awarded only in those software and services market segments that have the broadest operational and clinical impact on healthcare organizations. In the past, KLAS has awarded the Category Leader designation to firms achieving excellence in more niche markets within healthcare IT.
This year, after discussions with KLAS members from various provider and payer organizations, KLAS adjusted all awards to fall under the Best in KLAS designation. Markets that would have traditionally received the Category Leader award have been adjusted to reflect this change. Best in KLAS is based on information obtained from 22,056 evaluations KLAS conducted in 2020. Annually, these interviews represent the opinions of healthcare professionals and clinicians from more than 4,500 hospitals and 2,500 clinics, and account for 1,200 products and services from more than 450 vendors.
---
Here is the full list of 2021's Best in KLAS Software & Services by category including the vendor score:
Best in KLAS Inpatient Clinical Care
340B Management Systems (3 or More Covered Entities)
Verity Solutions Verity 340B
85.7
340B Management Systems (Less Than 3 Covered Entities)
PharmaForce 340B
93.5
Acute Care EMR (Community Hospital)
MEDITECH Expanse Acute Care EMR
83.5
Acute Care EMR (Large Hospital / IDN)
Epic Care Inpatient EMR
89.3
Automated Dispensing Cabinets
BD Pyxis™ MedStation™ ES
83.2
Clinical Decision Support – Care Plans & Order Sets
Zynx Health Zynx Order Sets and Care Plans
92.2
Clinical Decision Support – Point-of-Care Clinical Reference
EBSCO Information Services Dynamed and Nursing Reference Solutions
93.6
Data Archiving
Triyam Fovea EHR Archive
94.3
Drug Diversion Monitoring
Kit Check Bluesight for Controlled Substances
90.0
EMR-Integrated Smart Pumps (EMR-Integrated)
ICU Medical Plum 360 (LVP)
91.7
Enterprise Software Suite Solutions
Epic Suite
86.9
Infection Control & Monitoring
VigiLanz Dynamic Infection Control Monitor (ICM)
93.7
Integration Engines
Lyniate Corepoint
95.9
Interoperability Platforms
InterSystems HealthShare Unified Care Record
87.3
IV Workflow Management
Grifols PharmacyKeeper Verification
86.6
Medication Inventory Management
BD Inventory Management (Pyxis Logistics, Pyxis ES, HealthSight Analytics)
83.9
Mobile Charge Capture
MedAptus Pro Charge Capture
94.7
Pharmacy Automation – Dispensing Robotics
Omnicell ROBOT-Rx
83.9
Pharmacy Surveillance
VigiLanz Pharmacy Surveillance
91.1
Traditional Smart Pumps (Traditional)
B. Braun Infusomat Space (LVP)
85.7
---
Best in KLAS Ambulatory & Post Acute Care
Ambulatory EMR (11-75 Physicians)
NextGen Healthcare NextGen Enterprise EHR
82.4
Ambulatory EMR (Over 75 Physicians)
Epic Care Ambulatory EMR
87.6
Ambulatory RCM Services
R1 RCM R1 Physician RCM Services
87.9
Ambulatory Specialty EMR
PCC EHR (Pediatrics)
94.0
Behavioral Health
Cerner Millennium Behavioral Health
77.6
Claims & Clearinghouse
Waystar Clearinghouse
91.3
Home Health HER (Large – Over 200 Average Daily Census)
MatrixCare Home Health (EHR) (Brightree)
88.3
Home Health HER (Small – 0 – 200 Average Daily Census)
MEDITECH Home Health EHR
86.5
Long-Term Care
PointClickCare
87.2
Patient Intake Management
Phreesia
91.3
Practice Management (11-75 Physicians)
NextGen Healthcare NextGen Enterprise PM
84.9
Practice Management (Over 75 Physicians)
Epic Resolute/Prelude/Cadence Ambulatory
89.2
Small Practice Ambulatory EMR/PM (10 or fewer Physicians)
Kareo EHR/PM – Small Practices
85.6
---
Best in KLAS Financial / Revenue Cycle / HIM
Business Decision Support
Strata Decision Technology StrataJazz Decision Support
90.9
Clinical Documentation Improvement
ChartWise CDI
92.3
Complex Claims Services
Revecore
96.1
Computer-Assisted Coding (CAC)
Dolbey Fusion CAC
92.7
Credentialing
ASM MD-Staff
88.8
Data Visualization and Reporting
Change Healthcare Analytics Explorer
89.1
Eligibility Enrollment Services
Change Healthcare Eligibility and Enrollment Advocate
88.9
Enterprise Resource Planning (ERP)
Workday HCM, Financial Management, Supply Chain Management
87.0
Extended Business Office
PwC
96.8
Financial Improvement Consulting
Chartis Group
96.3
Healthcare Artificial Intelligence – Data Science Solutions
Epic Cognitive Computing ( Only)
84.6
Healthcare Business Intelligence & Analytics
Dimensional Insight Diver Platform
92.0
Healthcare Safety, Risk and Compliance Management
Verge Health Verge Quality Management Suite
87.7
Patient Access
AccuReg Software AccuReg Patient Access
91.5
Patient Accounting & Patient Management (Community Hospital)
MEDITECH Expanse Patient Accounting
87.1
Patient Accounting & Patient Management (Large Hospital / IDN)
Epic Resolute Hospital Billing
90.5
Patient Financial Engagement Platforms
Patientco Patient Financial Experience
95.7
Patient Financing Services
ClearBalance HealthCare Patient Financing
90.7
Patient Flow
Epic Grand Central Patient Flow (full suite)
91.6
Quality Management
Nuance Quality Solutions
96.0
Real-Time Location Systems (RTLS)
STANLEY Healthcare MobileView (Hardware & Software)
87.3
Revenue Cycle – Chargemaster Management
VitalWare VitalCDM
94.2
Revenue Cycle – Claims Management
Quadax Xpeditor
89.0
Revenue Cycle Outsourcing
Ensemble Health Partners
91.1
Revenue Integrity/Underpayment Services
Cloudmed (Triage)
97.2
Robotic Process Automation
Databound EMUE Robotic Process Automation (RPA)
96.4
Scheduling – Nurse & Staff
Schedule360 Employee Scheduling and Labor Management
91.2
Scheduling – Physician
Shift Admin Scheduling
93.2
Speech Recognition – Front-End EMR
Nuance Dragon Medical One
91.0
Talent Management
Workday Human Capital Management (Talent Management)
88.8
Time & Attendance
API Healthcare, part of symplr Time and Attendance
81.4
---
Best in KLAS Services & Consulting
Application Hosting
Epic Application Hosting
90.2
Business Solutions Implementation Services
Oxford Global Resources
94.3
Clinical Optimization
Chartis Group
97.5
Go-Live Support
Engage
97.1
Healthcare Management Consulting
Chartis Group
93.7
HIT Advisory Services
Huntzinger Management Group HMG
97.0
HIT Implementation Leadership (Large)
Engage
97.3
HIT Implementation Leadership (Small)
S&P Consultants
97.4
HIT Staffing
Galen Healthcare
96.9
Outsourced Coding
AGS Health
96.1
Partial IT Outsourcing
ROI Healthcare Solutions
96.8
Physician Advisory Services
XSOLIS
95.4
Release of Information
MRO Corp
89.2
Revenue Cycle Optimization
Softek
97.8
Strategy, Growth & Consolidation Consulting
Guidehouse (formerly Navigant)
96.3
Technical Services
Galen Healthcare Technical Services
96.5
Transcription Services
Aquity Solutions (MModal)
90.0
---
Best in KLAS Value-Based Care
Customer Relationship Management (CRM)
Salesforce CRM
84.1
Digital Rounding
GetWellNetwork GetWell Rounds+
86.6
Interactive Patient Systems
pCare (TVR Communications)
92.7
Patient Outreach
WELL Health WELL
91.6
Patient Portals
Epic MyChart
88.8
Population Health Management
Innovaccer Inc. Data Activation Platform
93.8
Remote Patient Monitoring
Health Recovery Solutions HRS Remote Patient Monitoring Platform
88.1
Value-Based Care Consulting
ECG Management Consultants
97.0
Value-Based Care Managed Services
Arcadia.io
91.9
Video Conferencing Platforms
Microsoft Teams
83.4
Virtual Care Platforms (Non-EMR)
Caregility Platform
92.0
---
Best in KLAS Imaging Systems & Equipment
Advanced Visualization
TeraRecon Aquarius iNtuition Enterprise
88.3
Cardiology
GE Healthcare Centricity Cardiology Enterprise Solution
81.4
Cardiology Hemodynamics
IBM Watson Health Merge Hemo
82.3
Image Exchange
Ambra DG Suite
95.4
Oncology – Medical
Epic Beacon
86.7
Oncology – Radiation
Elekta MOSAIQ – Radiation Oncology
83.6
PACS (Large – 300K+ Studies)
Sectra PACS
90.0
PACS (Small – Under 300K Studies)
Sectra PACS
91.7
Radiation Therapy – Equipment
Elekta Versa HD
90.5
Speech Recognition – Front-End Imaging
Dolbey Fusion Expert
88.0
Universal Viewer (Imaging)
Philips Vue Motion (Carestream)
86.8
Vendor Neutral Archive (VNA)
Fujifilm Synapse VNA (TeraMedica)
85.4
---
Best in KLAS Payer Solutions
Care Management Solutions
(Payer)
HMS Holdings Corp Essette CM
82.3
Payer Claims & Administration Platforms
Cognizant Trizetto Core Claims/Administration Solutions
78.0
Payer IT Consulting Services
Change Healthcare Payer IT Consulting
95.4
Payer Quality Analytics
MedInsight Quality Analytics
82.8
Risk Adjustment and Analytics
Apixio HCC Identifier
94.1
Worksite Health Services
Marathon Health
92.3
---
Best in KLAS Security & Privacy
Clinical Communications
Telmediq by PerfectServe Telmediq
92.2
Healthcare IoT Security
Medigate IoMT Solutions
96.1
Identity & Access Management (Access Management)
Identity Automation IAM Suite (Mostly Single Sign-On)
87.7
Patient Privacy Monitoring
Maize Analytics Maize Privacy Solution
95.3
Security and Privacy Consulting Services
Impact Advisors
99.1
---