– Healthcare Growth Partners (HGP) summary of Health IT/digital health merger & acquisition (M&A) activity, and public company performance during the month of October 2019
During the month of October, Health IT continued its evolution into an amorphous market that is increasingly trending away from a specialized niche of healthcare and into a key component of larger sectors such as Enterprise Software, HR Administration, Insurance, Care Delivery, Suppliers, and BioPharma.
The transaction trends are a testament to Health IT's increasing integration into workflows across the healthcare sector, underscoring the importance and high value of the sector. Historically non-traditional investors are becoming the norm, and significant buyers during the month included the likes of Alphabet (Google), Amazon, Express Scripts, Humana, UnitedHealthcare, Intermountain, Siemens, and Philips.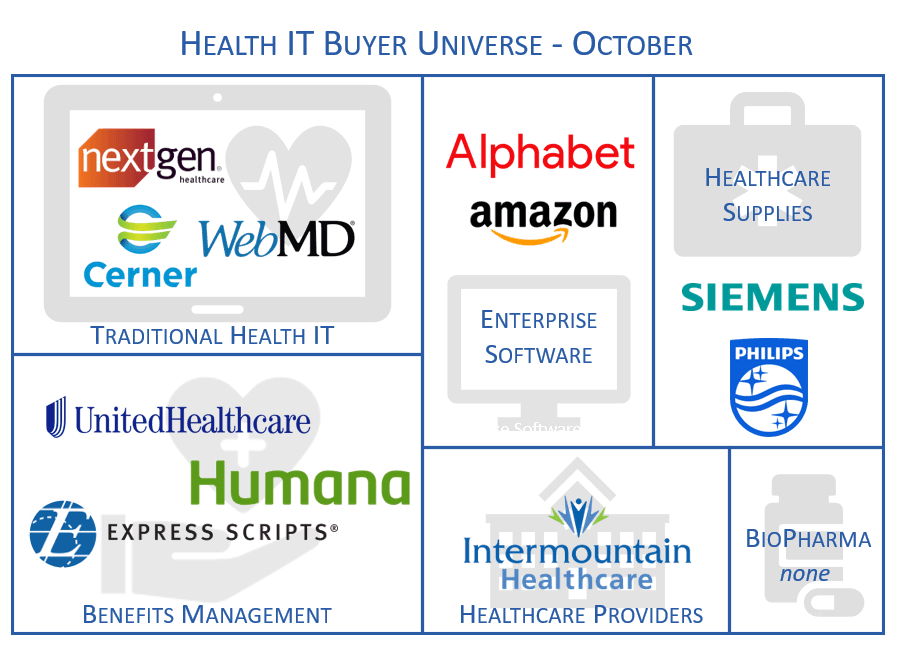 Noteworthy Transactions
Noteworthy M&A transactions during the month include:
– Google announced plans to acquire Fitbit for $7.35 per share in cash as it continues to move into the wearables market.
– WebMD announced its intent to acquire Aptus Health, a provider of digital clinical content for health and life sciences companies.
– ECG Management Consultants, healthcare consulting firm, announced an agreement to be acquired by Siemens Healthineers for $300 million.
– Ally Financial completed the $190 million acquisition of Health Credit Services, a technology-driven, patient financing company.
– NextGen Healthcare acquired Topaz Information Solutions, an EHR solution for behavioral health and social services organizations.
– Harris Healthcare completed the acquisition of Connecture, provider of SaaS-based solutions for Medicare shopping and enrollment for payers and PBMs.
– ClearCare, a provider of a SaaS platform designed to help private duty home care agencies manage their business, announced an agreement to be acquired by WellSky.
– Quantros, provider of safety, quality and compliance software services announced its agreement to divest its Patient Safety Business to RLDatix.
– Verify Solutions, provider of 340B software and services wasacquired by Express Scripts.
– Cerner announced a definitive agreement to acquire AbleVets, a strategic IT consulting and engineering firm.
– Amazon completed its second acquisition in the healthcare space, acquiring Health Navigator, a digital platform that offers preliminary and final diagnoses and treatments.
– UnitedHealth Group acquired patient-monitoring startup Vivify Health.
Noteworthy buyout transactions during the month include:
– Francisco Partners announced its intent to acquire Orchard Software, provider of a laboratory information system that enhances clinical and pathology laboratory workflow.
– Inflexion Private Equity announced the buyout of Pharmaspectra, a provider of scientific dissemination data and analytics to the pharmaceutical industry.
– Marathon Health, provider of s solution for helping employers reduce the total cost of healthcare, and General Atlantic announced a strategic partnership.
– MEDNAX reached an agreement to sell its MedData Business to Frazier Healthcare Partners for approximately $250 million at closing with a $50mm earnout. MedData is a provider of medical billing, coding and reportedly generated $220 million in revenue and $46 million in EBITDA in 2018.
– MRO, provider of secure, compliant and efficient exchange of protected health information received an investment from Parthenon Capital Partners.
Noteworthy investment transactions during the month include:
– Accolade, provider of personalized health and benefits solutions, and Humana announced an expansion of their existing partnership that includes a $20 million strategic investment from Humana.
– Lively, provider of modern Health Savings Accounts, raised $27 million in its Series B round led by Costanoa Ventures, valuing the company at $112 million.
– Healx, London startup using AI to help discover new treatments for rare diseases, raised a $56 million Series B led by Atomico.
– Viz.ai, developer of the first synchronized healthcare software using artificial intelligence (AI), announced a $50 million Series B funding led by Greenoaks.
– Weave Communications, provider of patient communication software, neared unicorn status with a $70 million Series D valuing the company at $970 million.
– MIRROR, the interactive home gym announced it has secured $34 million in Series B-1 financing led by Point72 Ventures, valuing the company at $299 million.
– Corestream, a digital platform that connects employees with voluntary benefits, received an investment from LLR Partners.
– CareStack, a cloud-based technology platform that allows dental practices to better manage their clinical, financial, and administrative workflows, completed a $16 million round led by Accel, F-Prime Capital Partners, and Eight Roads Ventures.
– Chronometriq, a Montreal-based provider of access-to-care and patient engagement tools for appointment management, secured more than $20 million CAD in a Series B round led by Full In Partners. The investment will give the company opening traction in the United States.
– AI Medical Service Inc. ("AMS"), a real-time endoscopic AI developer based in Tokyo, raised $42.9 million in Series B funding from Globis Capital Partners, World Innovation Lab, and Sony Innovation Fund.
– Receivable Solutions ("RSi"), a national provider of revenue cycle management services to hospitals and health systems, received a growth recapitalization investment from WestView Capital Partners.
– Omada Health, a digital chronic disease management provider, raised additional funding from Intermountain Ventures on top of a $73 million round from July of this year, expanding a relationship between the two organizations that began five years ago.
– RapidSOS, a provider of solutions for global emergency communication, raised $30 million in Series B funding led by Playground Global with participation from top thought leaders in tech, telecom, and emergency response. The funding round brings the total investment behind Rapid SOS to $65 million.
Noteworthy News Headlines
– An early-morning ransomware attack on October 1st forced DCH Health System (AL) to divert patients from its hospitals. On October 5th, the Alabama hospital group announced that they had made a payment to the hackers responsible for the attack to purchase a decryption key and expedite system recovery.
– Epic Systems gearing up for yet another expansion – Filings with the Wisconsin Department of Natural Resources show that Epic intends to expand its Verona campus to accommodate another 1,200 employees over the next five years.

– HHS' massive Stark overhaul prompts optimism for value-based care models. Many of the top health system and provider groups lauded the Department of Health and Human Services' (HHS') proposed regulations aimed at updating the decades-old Stark Law saying they believe it is the start to removing major regulatory headaches stymying the shift to value-based care models.
The Centers for Medicare & Medicaid Services (CMS) and HHS' Office of Inspector General proposed rules Wednesday introducing new safe harbors to the anti-kickback statute and reforms to the 1989 Stark Law that bans physician self-referrals. The proposed rules would create new exceptions to Stark and safe harbors to shield value-based care arrangements between doctors and healthcare facilities.

Centra (VA) resumes billing and collections after a three-month hiatus caused by glitchy Cerner software that hospital officials say led to rejected claims, delayed billing, incorrect bills, and prematurely sending patients to collections for lack of payment. According to the article, healthcare systems in Missouri, Kansas, North Dakota, Canada, New York, Wisconsin, and Virginia all have reported billing problems following the implementation of Cerner in recent years, with some providers taking legal action to recoup losses.
In Centra's financial disclosure statement for the six months ending in June, right before billing was temporarily halted, Centra reported Cerner, "slowed the billing cycle," and "drove an increase in days in accounts receivable and reduced cash reserves."

– Amazon acquires start-up Health Navigator, its first health-related purchase since PillPack. Amazon will offer newly acquired Health Navigator's symptom checker and triage chatbot service to its employees as part of its Amazon Cares virtual clinic pilot. This is Amazon's second acquisition in the health-care technology space after its acquisition of PillPack in June 2018.

– Fitbit, Inc. (NYSE: FIT) announced that it has entered into a definitive agreement to be acquired by Google LLC for $7.35 per share in cash, valuing the company at a fully diluted equity value of approximately $2.1 billion. "With Google's resources and global platform, Fitbit will be able to accelerate innovation in the wearables category, scale faster, and make health even more accessible to everyone. I could not be more excited for what lies ahead," said James Park, co-founder, and CEO of Fitbit.

Public Company Performance
HGP tracks stock indices for publicly traded health IT companies within four different sectors – Health IT, Payers, Healthcare Services, and Health IT & Payer Services. The chart below summarizes the performance of these sectors compared to the S&P 500 for the month of October:
The following tables include summary statistics on the four sectors tracked by HGP as well as the S&P 500 and NASDAQ for October 2019:
About Healthcare Growth Partners (HGP)
Healthcare Growth Partners (HGP) is a Houston, TX-based Investment Banking & Strategic Advisory firm exclusively focused on the transformational Health IT market. The firm provides Sell-Side Advisory, Buy-Side Advisory, Capital Advisory, and Pre-Transaction Growth Strategy services, functioning as the exclusive investment banking advisor to over 100 health IT transactions representing over $2 billion in value since 2007.