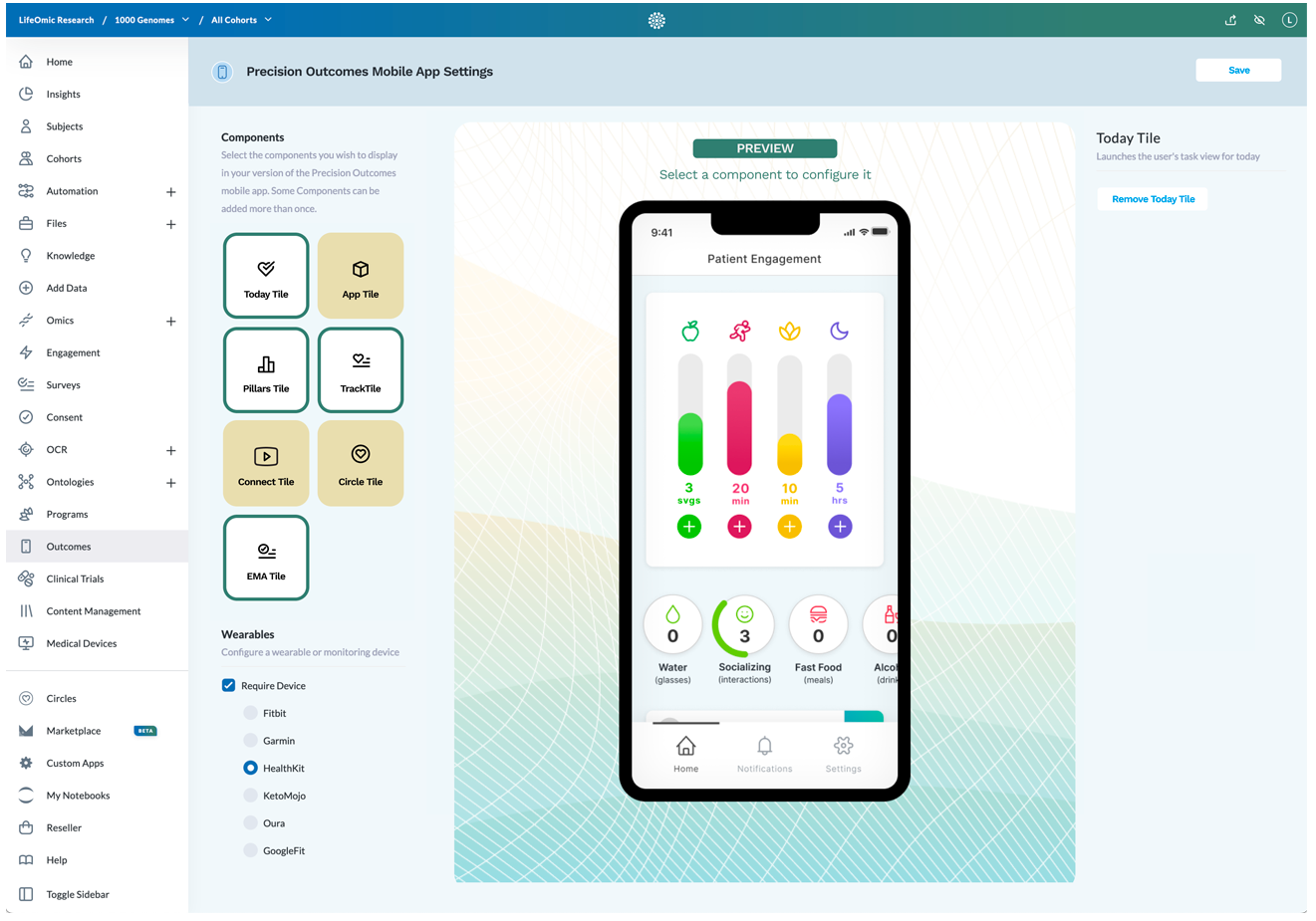 What You Should Know:
LifeOmic, a healthcare technology company powering precision health with its end-to-end software solution, the LifeOmic Platform, today announced the launch of its Patient Mobile App. LifeOmic's Patient Mobile App enables the two-way connection between the healthcare team and patient.
With the LifeOmic Patient Mobile App, healthcare providers have access to a highly configurable solution that integrates directly into their existingworkflows to meet their unique needs.
Ushering in an Environment For Personalized Care
The growth of mobile health, which is estimated to reach $12.1 billion by 2030, is one of the most promising trends in the healthcare industry due to its capacity to support, educate and connect patients to their care teams between office visits.However, there is a tremendous gap between medical professionals and patients due to the plethora of siloed mobile health apps available within the market. LifeOmic aims to solve this problem by providing healthcare systems and providers with the ideal solution for proactively and holistically managing patient outcomes without adding a burden to the care team.
"Healthcare providers face two challenges — engaging patients without overwhelming staff and managing multiple apps within a system," said Dr. Don Brown, CEO and founder of LifeOmic. "LifeOmic addresses both by providing a secure, scalable solution that integrates with patients' records and collects data from various sources. By surfacing issues that need attention, LifeOmic streamlines proactive management without increasing staff workload."
The LifeOmic Patient Mobile App was designed to be the hub for all connection points. The app can be configured for different audiences and use cases—so whether it is used for remote patient monitoring, patient adherence, patient education or research, the app is flexibly designed to offer two-way communication. This enables LifeOmic to empower health systems and providers to improve patient outcomes via patient monitoring and reduce readmissions and visits to the emergency department through the valuable insights gained by leveraging patient-reported data.
With The LifeOmic Patient Mobile App, health systems and healthcare providers can:
● Incorporate organization's name and branding
● Easily gather patient eConsent
● Configure the app layout to integrate with other sites and apps
● Deliver multimedia content for extended learning (video, articles, audio, flashcard content)
● Create daily patient tasks
● Gather patient-reported information from surveys
● Add video conversations; either 1:1 or group sessions.
● Configure a chatbot to process and understand patient questions
● Connect to wearables (e.g., Fitbit, Apple and Google)
● Integrate with medical devices (e.g., Dexcom CGM)
● Use alerts and dashboards to proactively monitor patients' health
By integrating into patient clinical records such as Epic, Cerner and Cerbo and wearable device data, the LifeOmic Patient Mobile App allows for easy electronic patient-reported outcomes (ePROs) collection to create a better patient experience while helping surface issues that need attention from staff. The app also enables patient connection between office visits, providing the necessary education and support to understand their conditions, play active roles in self-care and reduce the likelihood of complications. Provided by the healthcare system or provider, the app is completely free to the patient.
All data acquired from the app is stored in the secure LifeOmic Platform. Both the LifeOmic Platform and the app maintain the highest level of security and are HIPAA-compliant, GDPR-compliant and HITRUST certified.