The last two-to-three years we have seen Philips complete its transformation into a pure-play healthcare technology vendor. It has reduced its interest in its remaining non-healthcare business Philips Lighting/Signify (now owning only a 16.5% share), made 16 healthcare technology acquisitions since the start of 2017 and organized its internal business units into three core healthcare technology segments, Personal Health, Diagnosis & Treatment and Connected Care. A few weeks ago, several of the Signify Research team attended Philips' annual Industry Analyst Forum in Boston where Philips presented its strategy for taking its evolving business forward. In this insight we dive into how this is playing out for four of the strategic areas highlighted by Philips at the event:
– Imaging Informatics and Enterprise Imaging
– Radiology AI
– Virtual Care & Tele-ICU
– Population Health Management
Philips' Evolution to a Pure-play Healthcare Technology Vendor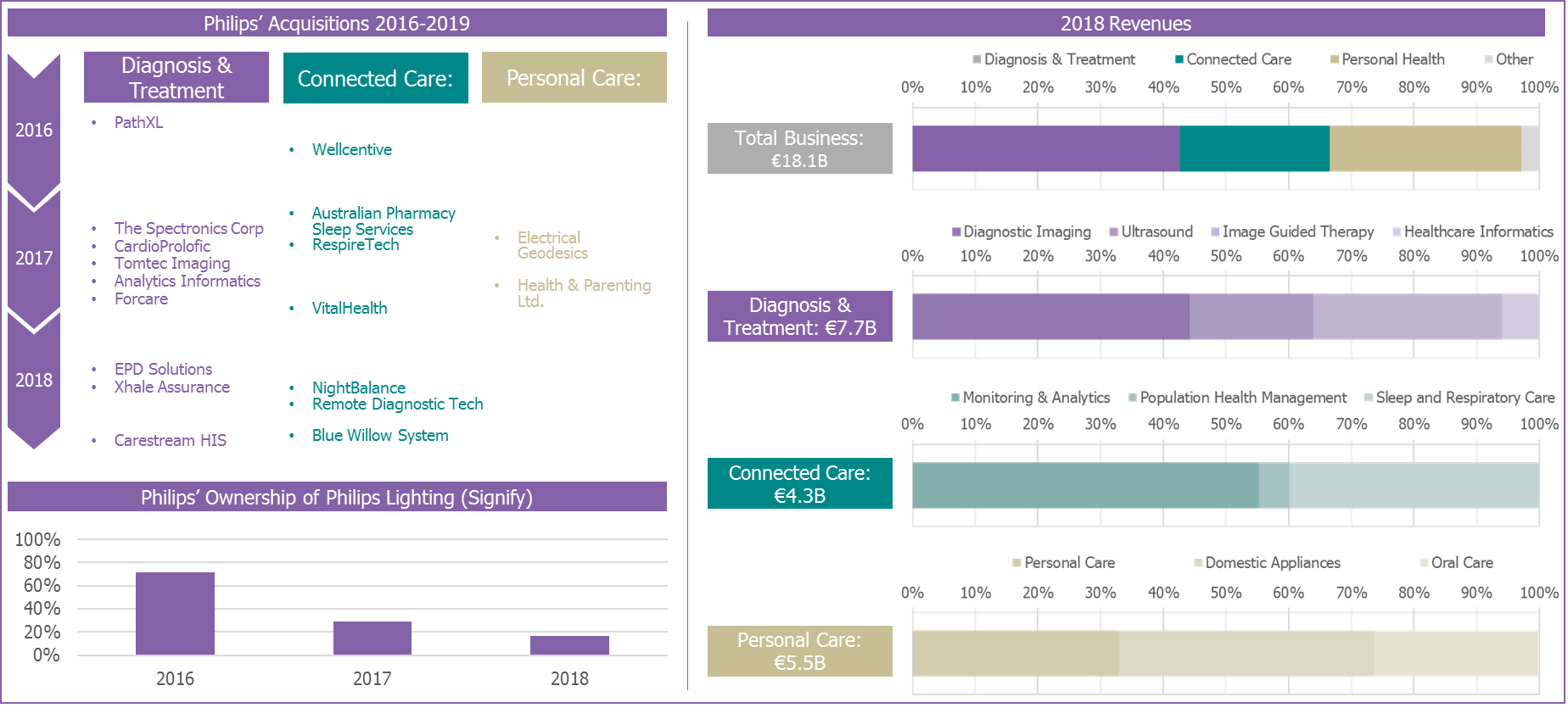 Imaging Informatics and Enterprise Imaging
Arriving in Boston, we had three core questions around Philips' strategy for imaging informatics. Firstly, how broadly was Philips planning on extending its reach in diagnostics and what part would imaging play in this? Secondly, was the firm making progress with its "all-in" model of radiology solutions, including managed services and or risk sharing contracting? Thirdly, what was the reasoning behind Philips' acquisition of the Carestream Health IT business and what would that mean in terms of product strategy looking ahead?
In terms of the expansion of the diagnostic, it was clear Philips is looking to address the trend with the extension of the Intellisite Platform into Oncology, with sub-specialty coverage including Digital Pathology and Radiation Oncology. In both of these areas, Philips already has a business footprint, with the first FDA Digital Pathology system for primary diagnosis in the USA and partnerships with Elekta and several best-of-breed software vendors in Radiation Oncology. Therefore, the new modules for Intellisite have limited "new" capability but are instead bringing together standalone capabilities under one offering.
While this is a sensible strategy given the evolution of cancer care to multi-disciplinary care teams, it remains unclear how integrated and interoperable each component really is. Radiation Oncology components are still described as "work in progress", though the decision support module for Oncology should well fit the emerging "tumor board" care model. Philips' Digital Pathology system (comprised of its whole slide image scanner and software) is a "closed loop" solution producing images in Philips "iSyntax" proprietary format, as opposed to a universal format such as the emerging DICOM format for pathology. Given that in today's market most healthcare customers use a patchwork of different enterprise and departmental IT systems (Electronic Medical Records, Lab Information Systems, Radiology IT, etc.) real integration of these additions with wider systems is today restricted only to customers that want to go "full Philips" across the bulk of their clinical IT. On balance, many other large vendors are also challenged by integrating their vast portfolios, so Philips is not alone in addressing this issue. It was also encouraging to hear more talk at the analyst event of "open-source" being the direction of travel for development. That said, given the legacy of proprietary systems that plagued radiology IT, there is still much work to do for Philips to live up to its vision of a fully integrated portfolio.
The above trend also dovetails into Philips' strategy to push towards long-term managed service deals with customers. While there is certainly evidence from Philips' financials that the transition to operational business models is progressing, how much of this is being recognized in radiology is unclear. However, recent product development and acquisitions certainly point to a push to this being their primary strategy; so too the merging of the Imaging IT software line operationally with its core modality businesses named Precision Diagnosis. The expansion of the PerformanceBridge offering to increasingly support operational aspects of radiology is also a clear indicator; so too the recent Direct Radiology acquisition, a deal intended not to position Philips as a teleradiology provider (in terms of employing radiologists) but to enable its customers to access teleradiology resources more easily.
Both these developments well address the emerging needs of customers in today's market: reduced reimbursement, declining radiologist resource and increasing imaging volumes and complexity. Having a long-term vendor partner to support with improving operational outcomes and ultimately reducing imaging services cost would seem a big positive but does also require a big step-up in terms of coordinated procurement and willingness to settle on a single core vendor long-term. While this is a clear directional push for Philips, it is also not ruling out more traditional capital expenditure deals either, appearing instead to be letting market demand and customer need to drive the rate of change. Intriguingly, PerformanceBridge is also being offered as a "vendor-neutral" product for sale into the non-Philips customer base. While positive to see the emergence of more "open-source" products coming to the market, this is also clearly a veiled approach to get a foot in the door with competitors' customers. It was also unclear how many Philips customers had transitioned to taking on a risk-sharing contract so far; our read was that there were relatively few in practice thus far.
As for the Carestream deal, there was little new information to be gleaned at this stage apart from confirmation of our initial analysis of the deal (see here). The intention is still to close the deal in the second half of 2019. It also seemed clear that Philips was not going to rush into any hasty changes, given the company recognized the significant loyalty surrounding Carestream's customers for imaging IT products. Instead, we suspect this is being viewed as a long-term deal, so we don't expect any major changes in 2019 or frankly, in 2020 either.
Radiology AI
Artificial intelligence was a recurring theme at the Philips Industry Analyst event, with the business line leaders for Personal Health, Connected Care and Precision Diagnosis & IGT each outlining their plans to leverage AI across their respective portfolios. It was clear that AI will play a key role as Philips executes its transition from a predominantly hardware vendor to a solutions provider. Central to this strategy is a common cloud-based platform, HealthSuite Digital Platform (HSDP), which underpins seven domain-specific platforms for its main business areas, including HealthSuite Consumer, HealthSuite Acute Care, and HealthSuite Imaging. Running on top of the common platform is HealthSuite Insights, which comprises the Insights Workbench collaborative development environment for AI asset creation and Insights Marketplace, a single online marketplace infrastructure with domain-specific marketplaces for assets built by Philips and third parties. While the business lines are at varying stages in terms of implementing HealthSuite Insights, this common architecture and scalable approach should enable it to quickly bring to market a comprehensive range of AI assets.
For radiology, Philips' AI platform play manifests as IntelliSpace Discovery 3.0, which it positions as an end-to-end solution to enable the development and deployment of radiology AI assets for clinical research and routine clinical use. The accompanying marketplace is scheduled to go live in Q4 and will initially feature native Philips applications, with third-party assets added later. The AI assets are deployed in containers and the results can be sent directly to PACS or accessed via a results dashboard (in development) so radiologists can accept, edit or reject the initial AI findings.
Its initial development focus for native AI applications is operational and image acquisition solutions. The former are typically low-risk applications, often with a clear return on investment for customers (e.g. predicting patient no-shows), and hence are the low hanging AI fruit. For image acquisition, such as AI-based reconstruction or automatic protocol selection, the modality OEMs have an advantage over the plethora of AI start-ups due to their proprietary knowledge of how their scanners work and their broader knowledge of the operational processes of radiology departments. For image analysis, Philips will offer native applications where it has existing solutions, e.g. the Invivo DynaCAD applications for oncology, or where it can develop differentiated offerings. It will partner with third-party developers where existing commercial solutions are already available, e.g. lung nodule detection.  A 'build and partner' strategy enables a broad range of AI assets to be offered from launch, both as an additional revenue stream and to enhance the functionality and value of its core products to protect existing revenues. By offering support for radiologists in their clinical and translational research, alongside a marketplace of existing solutions, Philips is positioning itself as a one-stop-shop for radiology AI – all important for much-coveted long-term managed service deals with its customers.
Philips is still working through the commercial arrangements for its radiology AI marketplace. It's also grappling with how best to offer a broad range of assets that not only integrate into their customers' clinical workflows but also into their billing and administrative workflows, a common problem for its competitors too. It will likely steer third-party developers to promote their assets with standardized licensing models, e.g. annual subscription or pay per click, and potentially with tiered pricing, depending on the functionality of the asset. Most of the major imaging vendors have announced AI marketplaces and will likely offer similar content. The key differentiators will be workflow integration and simplified billing and administration models. The more AI becomes invisible to the customer, the greater its chances of success in healthcare.
Virtual Care and Tele-ICU
Tele-ICU was a topic that was prominent throughout the Philips Industry Analyst event. The TeleICU functionality of Philips' Acute Care Suite was demoed during the networking event on arrival and there were also several presentations/panel discussions from Philips' healthcare provider customers using the solution, such as Partners HealthCare and Emory Healthcare, both of which spoke highly of the process improvements and efficiencies that TeleICU has brought to their organizations.
Philips entered the TeleICU market more than ten years' ago with its acquisition of Visicu. At that time the solution was being used to service approximately 9% of US ICU beds, a figure Visicu had achieved in less than five years of commercial operation. However, over the ten years since, the rate of growth has dropped considerably compared to those pioneer days. Across all vendors, it's estimated that approximately 20% of US ICU beds were monitored using Tele-ICU technology at the start of 2019.
A key question we had going into the Philips event was why, after such as positive dawn for the technology, penetration hasn't ramped up at a faster rate and what share of the 80% of beds that are not monitored centrally will use TeleICU at some point in the future.
For a substantial part of the market (e.g. those with ICUs with less than 40 beds) the commercial viability of rolling out a TeleICU solution, particularly a centralized solution such as Philips', is questionable, and to some extent, this has slowed adoption. However, these smaller hospitals are not necessarily ruled out from using Tele-ICU. Philips sells its TeleICU solution to several telehealth service providers that provide outsourced TeleICU monitoring services for many smaller hospitals. The largest example of this is Advanced Care ICU which provides services to 90 hospitals and an estimated 1,400 beds across the US, as well as a small number in India and Israel. At the event Philips also suggested that some of its traditional provider customers had also started to outsource their capacity in a similar manner, expanding the number of providers of these types of service.
The international picture in terms of TeleICU deployment is also a little mixed for Philips and the market in general. The overwhelming majority of Philips' TeleICU business is driven by the US; however, it has also had success in selling its solution in the UAE (Ministry of Health), India (Medica Hospital, Advanced Care ICU, INTeleICU), the UK (Guy's and St Thomas NHS Foundation Trust) and Japan (Showa University Hospital). Certainly a broad geographic footprint, but perhaps a little disappointing in terms of the number of installations after more than ten years of pushing its solution. Philips has been pushing its Tele-ICU technology at HIMSS Europe in Helsinki this week, so it's clear it still sees significant opportunities beyond the US.
Despite the above painting somewhat of a mixed picture, Signify Research believes Philips is in a commanding position in terms of the TeleICU market and the prominence of its solutions and optimism shown at the analyst event was broadly justified. It is one of only a very small number of vendors that offers a centralized Tele-ICU platform, and so despite the market growing slower than expected Philips has taken the lion's share. It has several competitors that offer decentralized solutions (mirroring the traditional ward-rounding model of care, as opposed to continuous monitoring) such as those offered by American Well (via its Avizia acquisition) and InTouch Health. However, significant competition in terms of the centralized model is limited, although it may see GE increasing its activities in this space after the launch of Mural at HIMSS in February this year. It also has a strong position in the wider patient monitoring market and can use this to expand the use of its Acute Care Suite into other hospital settings, such as the ED or telestroke, both areas of telehealth that are projected to grow rapidly over the next five years.
Population Health Management
One thing that became increasingly apparent at the Philips Industry Analyst event across all its business units was that its focus has shifted towards the patient, with outcome measurements and analytics increasingly being wrapped around many its existing products. Philips' goals have increasingly become rooted in achieving the quadruple aim and its Population Health Management (PHM) platform has become integral in delivering and measuring effective change (both financial and patient-reported).
Despite the PHM arm of the Philips business accounting for a small proportion of the company's overall and Connected Care business line revenue (as shown in the graphic above), its outcome measurement solutions open up a new market outside of high-acuity settings – a relatively untouched territory for the provider-focused business units of Philips. The trend towards provider consolidation has resulted in more healthcare networks comprising not only hospitals, but physician practices, clinics, and skilled nurse facilities. These multi-disciplinary groups are demanding better ways to keep patients engaged and retained through outreach programs.
Carla Kriwet (CEO of Philips' Connected Care business line), presented Philips strategy for this area. Key will be offering an ecosystem where health systems can use their existing solutions within Philips' HealthSuite Digital Platform (HSDP). This will provide opportunities to include solutions from its partnership with AmericanWell and referral management vendors, giving Philips an opportunity to play beyond what will ultimately be its largest competitors in the PHM market, namely the leading EHR vendors.
One example of an area where Philips has historically worked with non-acute providers is with its Remote Patient Monitoring (RPM) solution. Since acquiring Wellcentive in 2016, and then VitalHealth at the end of 2017, it has been following a program to bring these legacy solutions and its RPM offering into one platform, namely Philips Engage, which will sit on HSDP. At the event, it was able to demo the fruits of this integration. Its demo showcased how analytics/stratification elements from the legacy Wellcentive solution were being used to ID high-risk patients. This was supplemented with modules from the legacy VitalHealth offering that allowed the use of patient-focused questionnaires to add additional content to the patient data used for risk stratification. Finally, for those patients IDed as potentially benefitting from RPM, the platform used a combination of legacy VitalHealth and legacy Philips RPM modules to sign-up, register, train and monitor patients.
The rapid acquisition program followed by Philips over the last two years has certainly provided it with challenges in terms of product integration and PHM has been one of the areas where much progress has been made through Philips Engage and HSDP. However, revenue growth has been limited during this integration period and as the technical hurdles are overcome, the focus will now move to whether Philips can truly scale this business.
Key Takeaways
The rapid transformation of Philips over the last few years in terms of its strategic focus on healthcare technology and a large number of acquisitions it has made has no doubt presented many challenges, from a technical, strategic and financial performance perspective. Philips was able to demonstrate that it had achieved several milestones in terms of product integration during the analyst event in Boston, although there is still plenty of work still to do in this area, and the overall strategy it presented for each of its three business units was clear and focused on many areas that Signify Research views will be central to the healthcare market over coming years (e.g. AI, value-based care, telehealth, the consumerization of health).
Growth for the company in 2018 was 5% comparable (2% nominal), with the Diagnosis and Treatment business unit growing at 7% comparable (5% nominal) – a higher rate than many of Philips' competitors in this area. The other two business units performed less well and the challenge for Philips going forward will be to continue to leverage its acquisitions, technical achievements, and a clear strategy in order to scale its new businesses and drive additional growth.
Signify Research, is a UK-based market research firm focusing on health IT, digital health, and medical imaging. Alex is responsible for leading Signify Research's Digital Health market intelligence portfolio, initially developing its coverage of the patient engagement platforms and portals market.