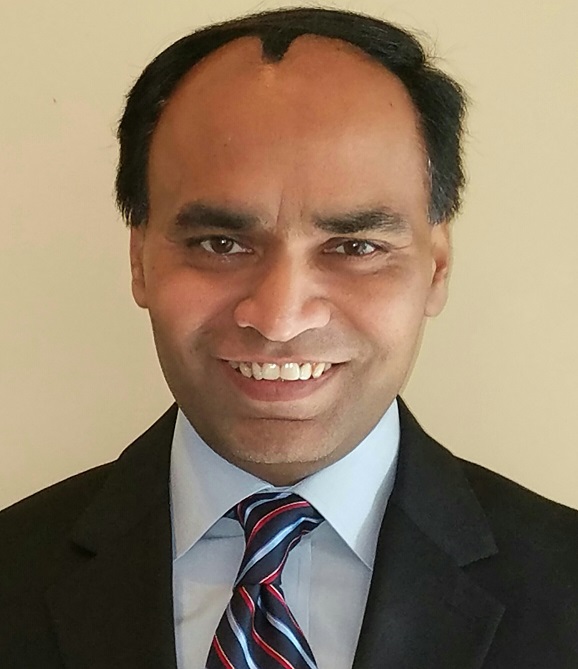 Despite holding the promise of delivering superior patient outcomes while lowering healthcare costs, many providers remain reluctant to embrace value-based care (VBC) reimbursement models. Progress toward VBC adoption hasn't achieved its potential yet, hovering around 60% of all payment models from 2018 to 2021, with the remaining 40% comprised of traditional fee for service (FFS).
Though some providers simply are hesitant to abandon the FFS model that has served them well, others are leery of the technological and management challenges they associate with VBC models. According to consulting firm RTI Health Advance, these include:
Administrative complexity within the value-based payment ecosystem
Transitioning upside risk-only to fully accountable care; many providers are challenged to operationalize programs and afford the necessary time and finances
Value-based models must incorporate and address specialty care as part of the continuum of covered services
Health equity plans now are required as part of new value-based contracts with the Centers for Medicare and Medicaid Services (CMS)
The CMS Innovation Center set a goal for all Original Medicare beneficiaries and most Medicaid beneficiaries to be in VBC relationships by 2030. These risk-based care models are designed to encourage proactive care, better population health and reduced spending across the healthcare spectrum. To meet that deadline, provider organizations will need technology tools for administering relationships within a value-based network.
How Value-based Administration works
VBC networks are comprised of multiple stakeholders that may include hospitals, health systems, private practices, payers, accountable care organizations (ACOs), clinically integrated networks, social service networks and community-based organizations (CBOs). Successful implementation of value-based programs, therefore, requires complex hierarchy support for onboarding, data capture, data digitization, payments, and data exchange. These technologies must support social determinants of health (SDoH) and facilitate value-based payments, quality reporting and other use cases.
Within VBC networks are many-to-many relationships in which an entity in one network may be engaged in several networks under various contractual engagements with other entities. Such a "network of networks" can work only with an infrastructure that supports the hierarchies between these entities. The architectural framework and processes used to run VBC networks collectively are referred to as value-based administration (VBA).
Figure 1 shows how VBA helps stakeholders across the healthcare continuum – providers, payers, patients, and CBOs – eliminate barriers to participating in a VBC network while also delivering measurable clinical and operational benefits.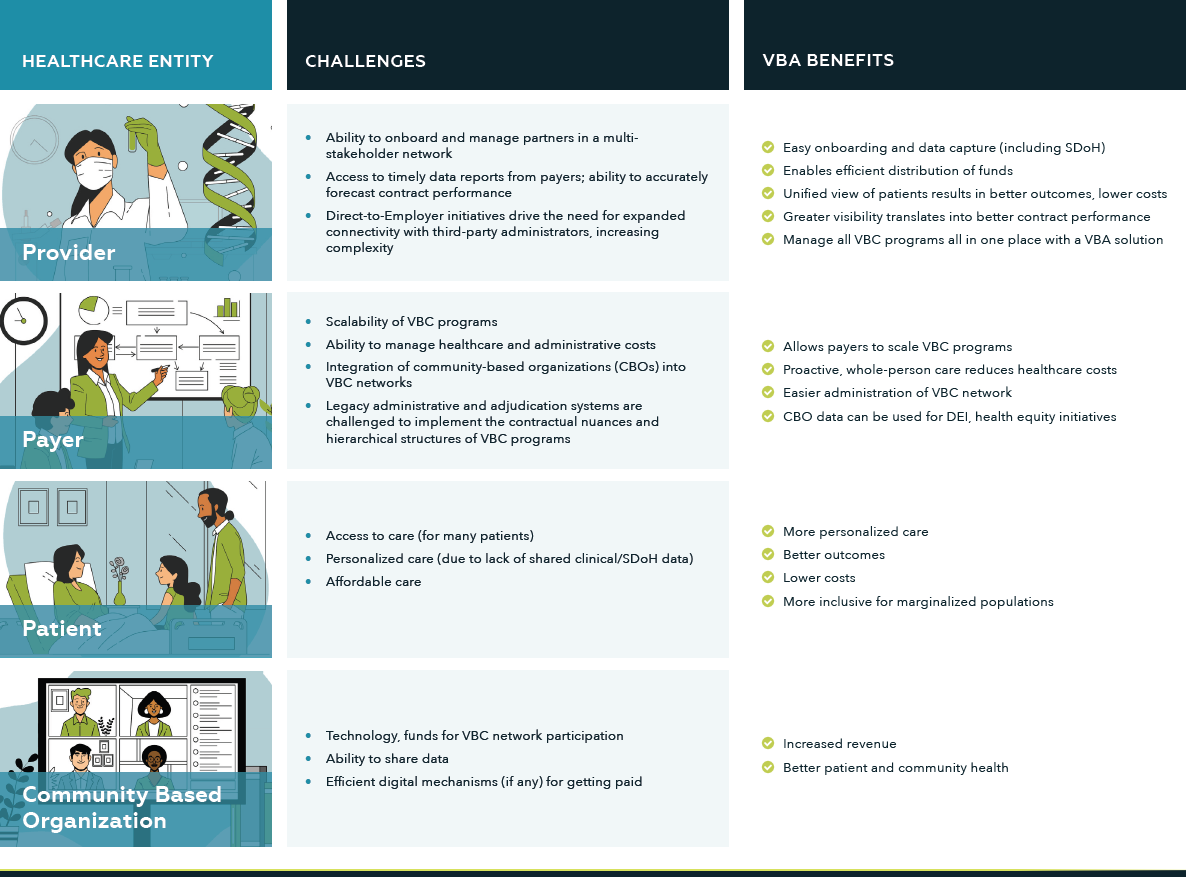 Inadequate digital infrastructures
Most healthcare organizations, however, lack the digital infrastructure necessary for VBA. "We can't graft a new digital, platform-based healthcare system onto healthcare infrastructure designed to support traditional operations and care models," Mayo Clinic President and CEO Gianrico Farrugia writes in an article for the World Economic Forum. "Healthcare needs transformation. And to truly transform healthcare, we must simultaneously build physical and digital frameworks to meet the evolving needs of patients worldwide."
Fortunately, healthcare organizations can implement VBA without embarking on a costly rip-and-replace strategy. This can be done through a platform infrastructure that can be deployed as a DaaS (Data-as-a-Service) or as PaaS (Platform-as-a-Service) or the traditional SaaS (Software-as-a-Service) model. Such an infrastructure allows partner firms and/or clients to use existing applications served up via microservices or extend/create microservices and business applications for their own needs.
What's needed to enable VBA
To fully leverage relationships in a VBC network, providers must:
Implement a robust cloud-based data infrastructure to allow real-time clinical decision-making, information sharing and analytics
Realign downstream reimbursement to include both medical and non-medical providers (behavioral health services, drug treatment centers, etc.)
Incorporate SDoH resources and partners, such as CBOs
Have a dashboard view into real-time performance against all contracts
An integral part of effective VBA infrastructure is ML (Machine Learning) and Artificial Intelligence (AI) technologies.  A key to implementing digital transformation is data digitization and amalgamation of that data with structured and external data sets so that a 360-degree view of the patient can be achieved to provide actionable insights to Payers, Providers and Patients.  AI technologies, coupled with ML algorithms in a robust data engineering framework that enables to-and-from integration between systems with this digitized data, are needed to make this a reality.  These facilitate better automation of tasks and decision-making processes since data-driven insights require digitized data in order to automate processes. A set of secure and scalable cloud-based microservices – on which different applications and integrations are built – then helps facilitate data interoperability as well as opportunities to build/partner/deploy different workflow-based applications for the end users. 
Final thoughts
Though structural and technological barriers impeding VBC adoption persist, many large healthcare organizations are working with technology partners to improve patient outcomes and reduce healthcare costs. Implementing VBA to manage VBC initiatives will empower healthcare organizations to deliver on the full promise of patient-centered, value-based healthcare.
---
About Rahul Sharma
Rahul Sharma is the CEO of HSBlox, which enables SDOH risk-stratification, care coordination and permissioned data sharing through its digital health platform.
About Lynn Carroll
Lynn Carroll is the chief operating officer of HSBlox, which assists healthcare stakeholders at the intersection of value-based care and precision health with a secure, information-rich approach to event-based, patient-centric digital healthcare processes – empowering whole health in traditional care settings, the home and in the community.