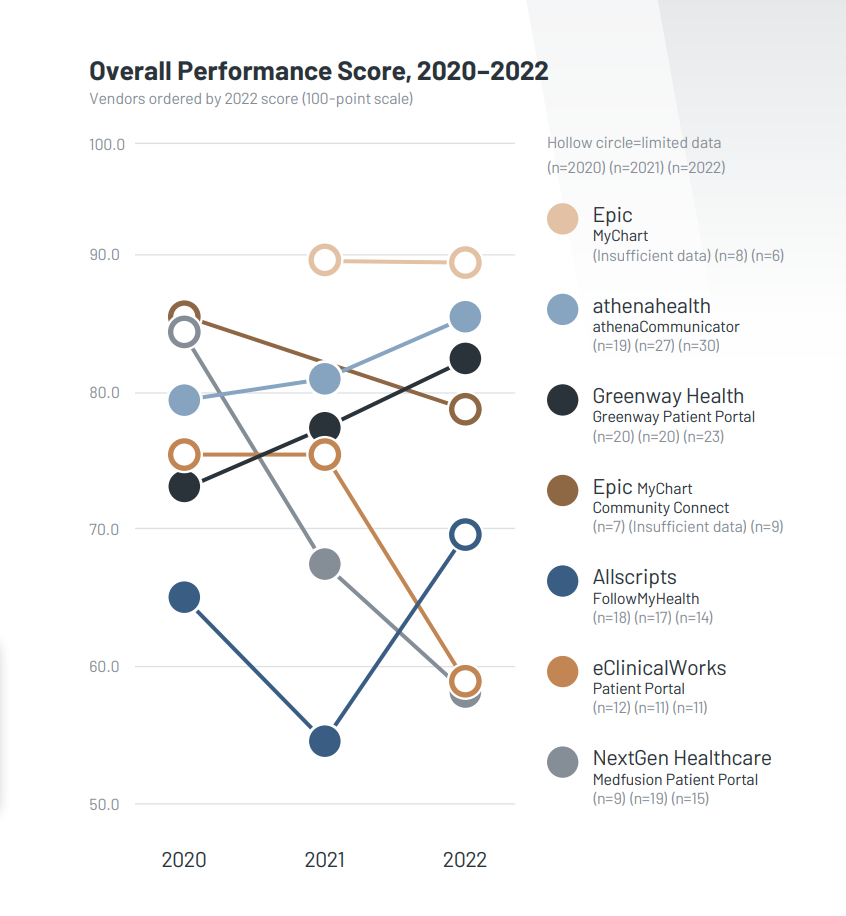 What You Should Know:
Patient portals (tools used by healthcare providers to engage with patients) can greatly influence a patient's ability to seek and receive care. Since the outbreak of COVID-19, healthcare organizations have become keenly interested in technology that gives patients ownership of their health and enhances office efficiencies.
Though KLAS has historically looked at how portals perform in the IDN setting, this report examines the experience of customers in the independent ambulatory space (clinics not owned by a hospital/health system) to share their perspective and help other such organizations understand portals' impact on patient care.
Seeking to Empower Patients Via Independent Ambulatory Portals
Each year, KLAS interviews thousands of healthcare professionals about the IT solutions and services their organizations use. For this report, interviews were conducted over the last 12 months using KLAS' standard quantitative evaluation for healthcare software, which is composed of 16 numeric ratings questions and 4 yes/no questions, all weighted equally. Combined, the ratings for these questions make up the overall performance score, which is measured on a 100-point scale. The questions are organized into six customer experience pillars—culture, loyalty, operations, product, relationship, and value.
Key insights are as follows:
Relationship – athenahealth, Epic Outpace Others Due to Strong Support; Most Respondents of eClinicalWorks Report Dissatisfaction
athenahealth's portal is seen as stable; consequently, customer respondents don't often reach out to the support team or their account representative to solve issues. When a need does arise, the account representatives are responsive and willing to help. Though respondents note the first-tier support can be variable, issues are generally resolved quickly and satisfactorily. Direct customers of Epic (limited data) appreciate the helpful support team, which resolves problems efficiently. When additional help is needed, customers can reach out to their Epic BFFs, who often rapidly address issues.
For Community Connect customers, the relationship quality varies; some would like their host organization to shorten turnaround and reach out more proactivity to share information about new functionalities and best practices. Almost all respondents of eClinicalWorks (limited data) are dissatisfied with the relationship, pointing to unresolved tickets that were preemptively closed, unempowered account representatives, and a support team that prioritizes selling new services over fixing broken functionality.
Product – Customers of Greenway Health, athenahealth, and Epic Satisfied with Solid Functionality
Greenway Health respondents are very satisfied with the portal's functionality overall, especially because they don't often receive complaints from patient users. Customers appreciate that upgrades happen behind the scenes without causing negative impacts. Additionally, Greenway Health is anticipated to continue investing in self-service functionality, which will boost customers' efficiency. athenahealth's respondents rate the product quality high, saying the cloud- based technology is strong and stable. Most are also satisfied with the overall functionality. Since the portal is part of athena's comprehensive platform, respondents appreciate how data flows seamlessly among their organization's different athena products. The ability to send out mass communication to patients is also highlighted.
Some have asked for more patient intake capabilities to reduce office staff burdens and are excited that athena is working to add these capabilities soon. Respondents of Epic (the limited number of both direct customers and Community Connect customers) believe MyChart is a high-quality, powerful, and robust tool for interacting with patients, and the integration with Epic's EMR allows organizations to easily share information with and about patients.
Because MyChart has functionality that goes beyond basic patient portal capabilities and is often used by larger, more-complex organizations, Epic respondents tend to have more-complicated functionality requests and requirements than other vendors' respondents. Some customers who already appreciate the customizability would like even more options. Other requests include improvements around additional languages, reporting, data release controls, and the patient experience. Some respondents of Allscripts (limited data) mention technology improvements, specifically highlighting the addition of post-visit summaries. Still, many feel that the overall usability for both provider users and patients leaves a lot to be desired.
Culture – athenahealth Has Tight Communication with Customers; Greenway Health Highlighted for Not Overselling Product Capabilities
athenahealth respondents say the vendor strives to keep customers informed about the product and that account managers proactively communicate. Additionally, new functionality is delivered when athena says it will be, leading respondents to feel that the vendor keeps promises. Those using Greenway Health appreciate that the vendor doesn't oversell the portal's capabilities and that they keep their promises around what functionality is included in future upgrades. NextGen Healthcare respondents are dissatisfied with the portal.
Bugs, glitches, and workflow issues contribute to respondents feeling the product does not work as expected. Further, NextGen Healthcare's proactivity is seen as declining; customers feel the vendor doesn't reach out to them or proactively solve issues. Regardless, executive involvement is acknowledged as a strength. Respondents of eClinicalWorks (limited data) struggle the most with their vendor's culture. Some mention unexpected additional costs to get the product to work, and less than 40% say the vendor keeps their promises.
Operations – Usability Problems with NextGen Healthcare and eClinicalWorks Diminish Customer Experience; Across All Vendors, Training Is Weaker Than Expected
The ability for office staff and patients to use NextGen Healthcare's portal does not meet respondents' expectations, with more than half reporting dissatisfaction with the ease of use. Patients are sometimes inexplicably locked out of the portal, and there are difficulties with creating accounts and receiving password-reset emails. Additionally, patients don't always know how to message a provider within the portal or find the results they are looking for.
Provider users who use the solution say the reporting capabilities don't have the necessary level of detail, and they struggle to send and receive attachments. Other provider complaints include disparate administration capabilities and having to pay for helpful features that were once included, like bill pay. Respondents of eClinicalWorks (limited data) spend a lot of time troubleshooting with patients, who note difficulties with seeing upcoming appointments, replying to messages, creating accounts when the patient doesn't own a cell phone and can't set up multifactor authentication, navigating the portal, resetting passwords, and more.
Value: Epic Portal Delivers Strong Value for Community Connect Customers, Demonstrates Potential for All Portals in the Future; athenahealth's Comprehensive Platform Increases Savings
Epic Community Connect respondents feel that the Community Connect model provides high value and allows for customization at a price that the organizations would be unable to afford otherwise. Additionally, the solution meets their needs through its integration capabilities. Those who rate MyChart's value highest speak extensively about the functionality that allows them to interact with patients on a previously unattainable level.
MyChart is seen as providing additional ways of engaging with patients, and it helps drive tangible results by simplifying the communication process. athenahealth respondents feel that having the portal as part of a comprehensive platform helps their practice save money compared to paying for a third-party solution. The portal offers capabilities that go beyond patient communication (e.g., patient engagement, group-call functionality, appointment confirmation), which respondents appreciate. Additionally, there is excitement about upcoming enhancements and the value they will bring to the patient experience.