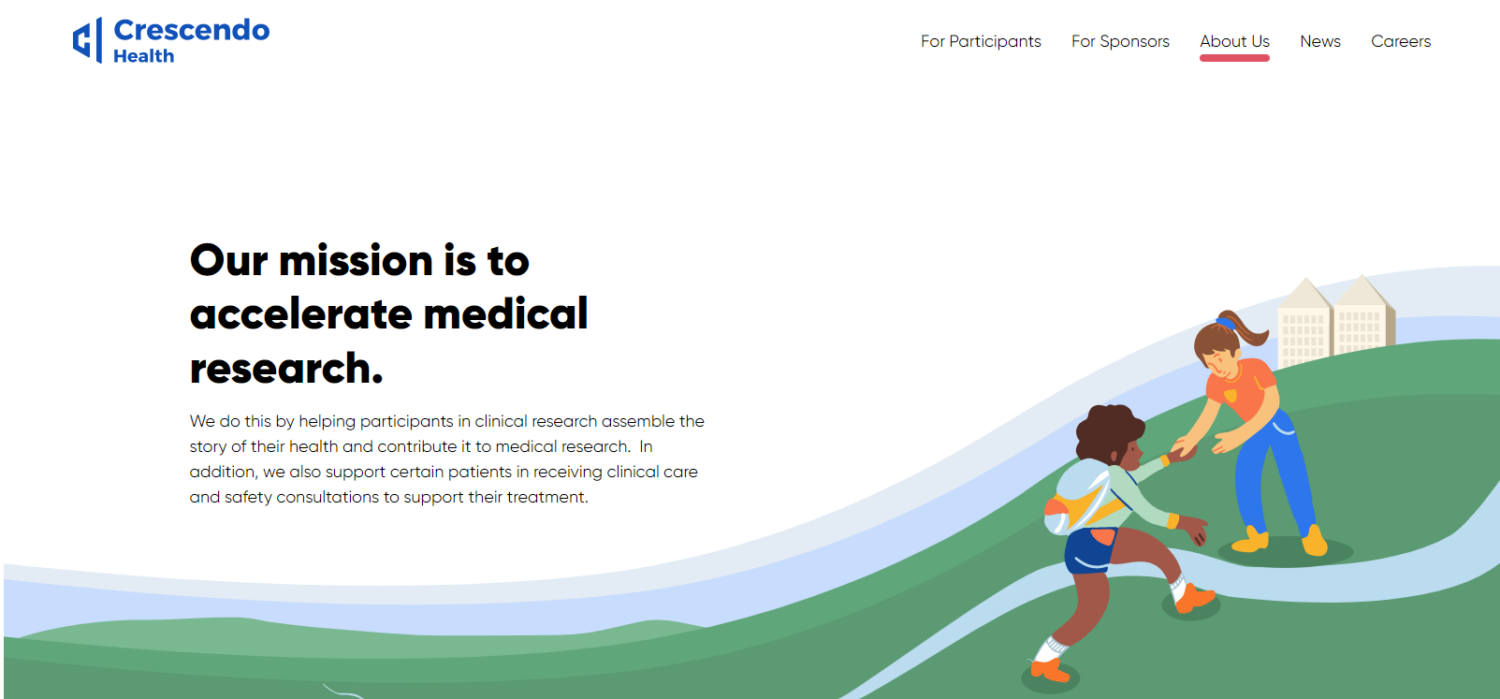 What You Should Know:
– Crescendo Health, a real-world data startup that's drastically reshaping how clinical researchers get access to hard-to-reach patient data to support their clinical research today officially announced its launch with $3.4M in seed funding from Define Ventures as well as the founders and CEOs of many other well-known organizations.
– Founded by the co-founder of Datavant (merged with Ciox in a $7 billion deal), and a top product-management leader from Grand Rounds (merged with Doctor On Demand to form Included Health), Crescendo Health is a public benefit corporation that is unlocking access to traditionally siloed health data for both patients and clinical research sponsors. Crescendo partners with research sponsors like pharma/biopharma, medical device makers and contract research orgs to get informed consent from study participants, then collects all of their longitudinal data from their providers, payers, EHRs, pharmacy claims, and even previous clinical trials.
Accelerate Clinical Trials By Unlocking Patient Health Data
Crescendo Health collects this information through APIs, data partnerships, and other methods, converting that data into a format that's accessible to patients and useful for researchers. As a result, clinical research sponsors receive an ongoing, longitudinal view of patient health that informs more comprehensive research. Sponsors can leverage Crescendo Health's model to support a variety of use cases, including:
– Health economics and outcomes research that reflects the whole patient journey, including the true costs of their care.
– Post-marketing observational studies or safety registries that reduce the burdens placed on sites and patients, while also reducing costs for sponsors; and
– Longer-term follow-up or observational extension studies that help researchers understand the impact of interventions over time.
Historically, clinical research sponsors have struggled to gather information from study participants beyond the limited points of contact that occur during a study. This leaves out critical data from participants' other encounters with the healthcare system, including information from primary care or emergency department visits, lab tests, prescription fills and more.
Crescendo Health helps fill these gaps for study sponsors using a novel approach made possible after the implementation of the 21st Century CURES Act, which empowered patients with more rights to collect and use their health data. As part of its core belief that every person has an absolute right to their own data, the company also makes the information it gathers available to each participant through a secure portal.
Crescendo Health plans to scale its services throughout the life sciences industry and will use the investment to build software tools that will enable its clients to research the longitudinal effects of treatments and track outcomes over time.