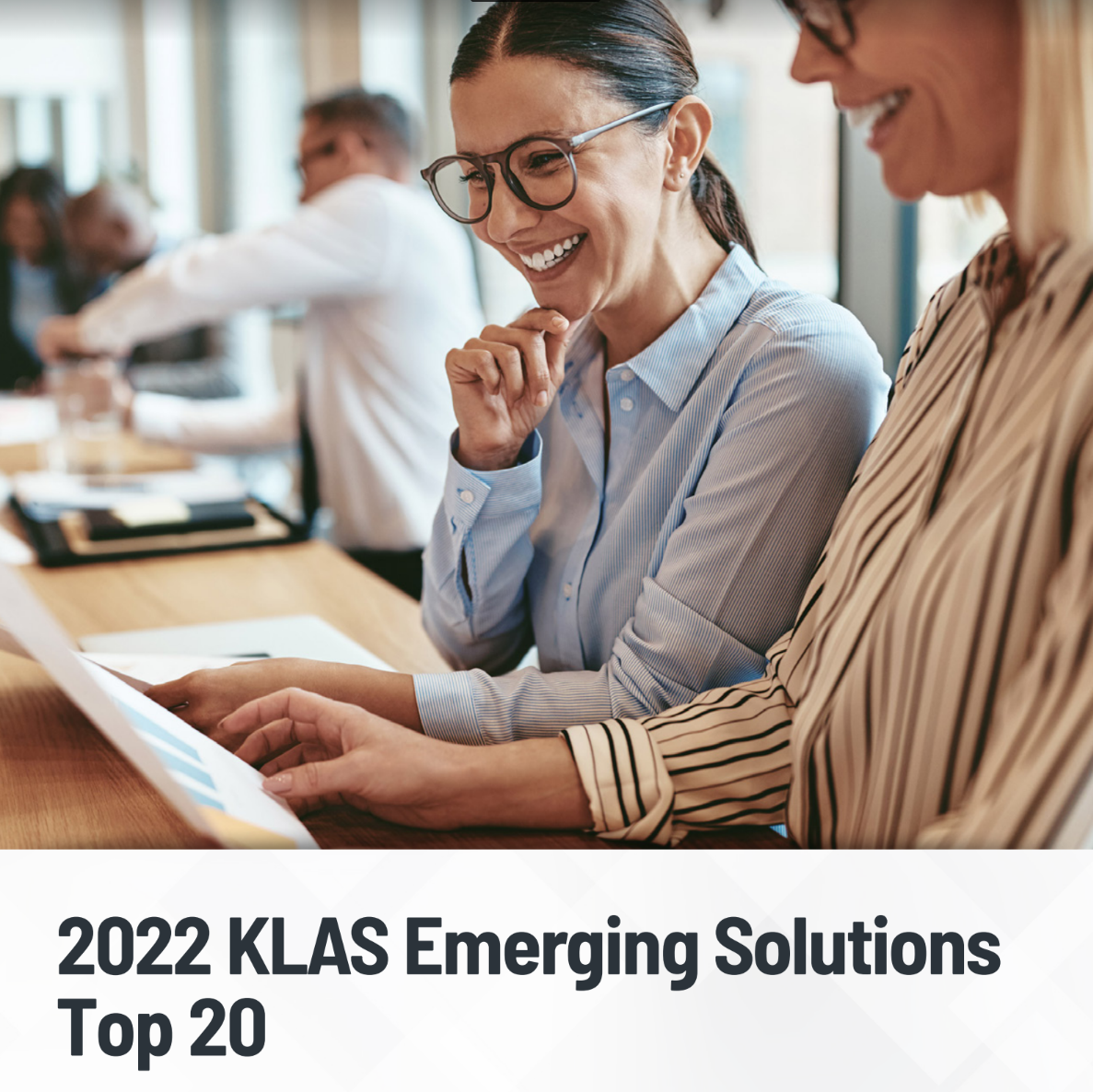 What You Should Know:
– KLAS asked 16 prominent members of the healthcare community with broad HIT expertise to read 42 KLAS reports on emerging technology and rate their perception of the solutions based on their potential to impact the Quadruple Aim of Healthcare: to improve outcomes, reduce the cost of care, improve the patient experience, and improve the clinician experience.
– The new report by KLAS (1) ranks these emerging solutions by their ability to disrupt the healthcare market and (2) provides insights from participating healthcare leaders into what innovation themes organizations should be aware of as they seek to provide the best patient care.
Analysing Insights to Improve Patient-Care
The partnerships that healthcare organizations make with technology vendors and services firms drive outcomes for years to come, and amidst a flood of new technologies, amazing potential partners can be missed. A new report by KLAS aims to analyse the insights presented in 42 reports on emerging technology, in order to ultimately improve patient-care by highlighting the key trends and patterns in previous reports. The companies mentioned below are those who received the top 5 scores in relation to each Quadruple Aim; those ranked for each aim combine to make up the 2022 Emerging Solutions Top 20. In addition to being featured in this report, the Top 20 emerging companies were recognized at KLAS ' 2022 Digital Health Investment Symposium.
The insights are as follows:
Top 5-Improve Outcomes
– Atlas Heath was lauded for being a game changer for nonprofit health systems, and for patients with limited resources who find themselves faced with a significant diagnosis that is expensive to treat. For that matter, the Atlas Health Solution is an exceptional use of AI to improve outcomes. Connecting patients with philanthropic aid is the need of the hour.
– Datos Health offers an interesting combination of RPM data along with data from patient questionnaires. The drag-and-drop interface design is a big bonus on top of an emerging patterns hip with Redox. This highlights the need for globally supporting remote care workflows while reducing care team workloads.
– Harnessing Big Data to generate actionable healthcare insights is paramount. The Clarify Health solution gets acknowledgement for being a beacon of hope for organisations with limited analytics, or for those who want to outsource or substantially augment their analytical capabilities.
– It is paramount that healthcare continues to move in a direction where technology-enabled logistics help improve its standards. "The vendor provides an innovative approach to closing the loop in the patient journey. The patient journey is not always the end of the encounter; rather, it is viewed as the beginning of care optimization and a successful outcome of the patient that is sometimes the hardest. I like the concept of Phox Health because it can complete the process of full patient satisfaction through methodology of medication and durable equipment delivery services through an expanded network of medical couriers to the patient's home. Phox Health mimics some of the consumer demand expectations like that of Amazon, Uber Eats, and others. Ultimately, patient satisfaction and patient value are typically seen at the last mile of care, closest to home." – Executive
– Finally, it is important to shed light on how improving patient access through patient engagement technology is not often discussed enough. Patient engagement that uses AI and other technologies is an exciting frontier for health systems around the globe. HealthTalk AI has completed integration with over 90 vendors positioning them well for success in the near term.
Top 5-Reduce the Cost of Care
– Remote monitoring needs to be better utilised to increase patient safety. With staffing being one of the biggest issues for operations today, AvaSure makes a lot of sense because it is a force multiplier. This way, one sitter can watch twelve patients with remote monitoring.
– Atlas Health seems to have found a unique niche in matching eligible patients with philanthropic medical financial programs. Their financial model is not clear from the customer feedback. Still, they can easily go into a risk-sharing agreement with hospitals and benefit from the upside potential of their solution. Atlas Health's strengths are the quick ROI and simplicity of their AI-based solution. They need to develop integrations with the key EMRs.
– Data aggregation through a cloud-based delivery mechanism is valuable, specifically for organizations that don't have a robust data team. Alignment with value-based purchasing contracts provides high value to organizations. Clarify Health appears to offer a high level of responsiveness and performance.
– An effective and reliable system that ties care-gap identification and closure to rapid payment will help improve provider adoption of VBC principles and practices leading to improved outcomes. This technology can certainly improve the payment for specific actions leading to the reinforcement of improved behaviors.
– Vatica Health provides high-touch services in the transition between fee-for-service and value-based care, therefore improving risk adjustment and closing care gaps.
Top 5-Improve Patient Experience
– Engaging and embracing patients via a well-designed, user-friendly mobile interface is key to ensuring patient loyalty. The digital front door is a new differentiator for health systems to improve the experience for the patients, caregivers, employees, and community. Streamlining functions into a single application with close integration to the EMR, PHM, and RPM systems is essential. The core EMR vendors are slower to capitalize in this space, and that allows niche vendors to show their strengths.
– Gozio's product appears to be a very effective wayfinding solution with great potential to impact patient satisfaction and visit efficiency. This improves the patient experience using location-aware technology.
– HealthTalk AI is leading the way for improving patient access through patient engagement technology. "The HealthTalk A.I. solution appears to be a positively received, well-executed, and well-designed platform that includes asynchronous patient contact, a chatbot, and scheduling. Solutions like this should be a core focus for healthcare systems because they can directly increase access and impact patients' ability to connect in the right way."
– Price transparency benefits for patients and providers also improves the patient experience. Furthermore, technology-enabled logistics for healthcare go a long way in ensuring that the patient experience is fundamentally improved.
Top 5-Improve Clinician Experience
– Improving patient-physician experience through Ambient Clinical Intelligence is one of the most exciting new frontiers in the sphere of medicine today. "Conceptually, the promise of a future automatic dictation solution that can just listen to the patient encounter and then write the note for me seems incredible. That would be a total game changer from a workflow standpoint, as documentation is one of the most painful pieces of the clinical experience as a practicing physician."
– Deliberate performance management and engagement, coupled with AI-driven workflow automation and digitisation were two factors identified in improving the clinician's experience.
– Lastly, other corporations can follow suit of SyncTimes and Vatica Health, who have been prime examples of optimising clinical efficiency and patient experience by improving risk adjustment and closing gaps present in patient-care.