Summary of Health IT/digital IPOs, merger & acquisition (M&A) activity, and public company performance during the month of July.
Digital Health IPOs in July

Breaking the digital health IPO drought, there were four initial public offerings (IPOs) during a five-week period from late June to late July, including Livongo, Health Catalyst, Phreesia, and Change Healthcare. The last health IT companies to reach IPO were iRhythym Technologies and Tabula Rasa Healthcare in late 2016 – representing an almost three-year IPO drought.
On July 25, Livongo (chronic care management) shares jumped 36% on the first day of trading to close at $38.10 after issuing at $28/share. The closing price valued the company at approximately $3.5 billion or 27.3x run-rate Q1 2019 revenue. Year-over-year Q1 revenue increased 157% to $32.1mm.
Also on July 25, Health Catalyst (healthcare analytics) shares soared 50% on the first day of trading to close at $39.17 after issuing at $26/share. The closing price valued the company at approximately $1.4 billion or 10x run-rate Q1 2019 revenue. Year-over-year Q1 revenue increased by 71% to $35.2mm.
On July 18, Phreesia (patient payments and registration) shares closed up 39% on the first day of trading to close at $25.08 after issuing at $18/share. The closing price valued the company at approximately $890 million or 7.9x run-rate Q1 2019 (April quarter) 2019 revenue. Year-over-year Q1 revenue increased 18.6% to $28.3mm.
Change Healthcare (healthcare connectivity and revenue cycle) closed up 15% on its June 27 IPO.
---
July M&A Activity
Walmart Acqu-hires Indian Health Tech Startup FloCare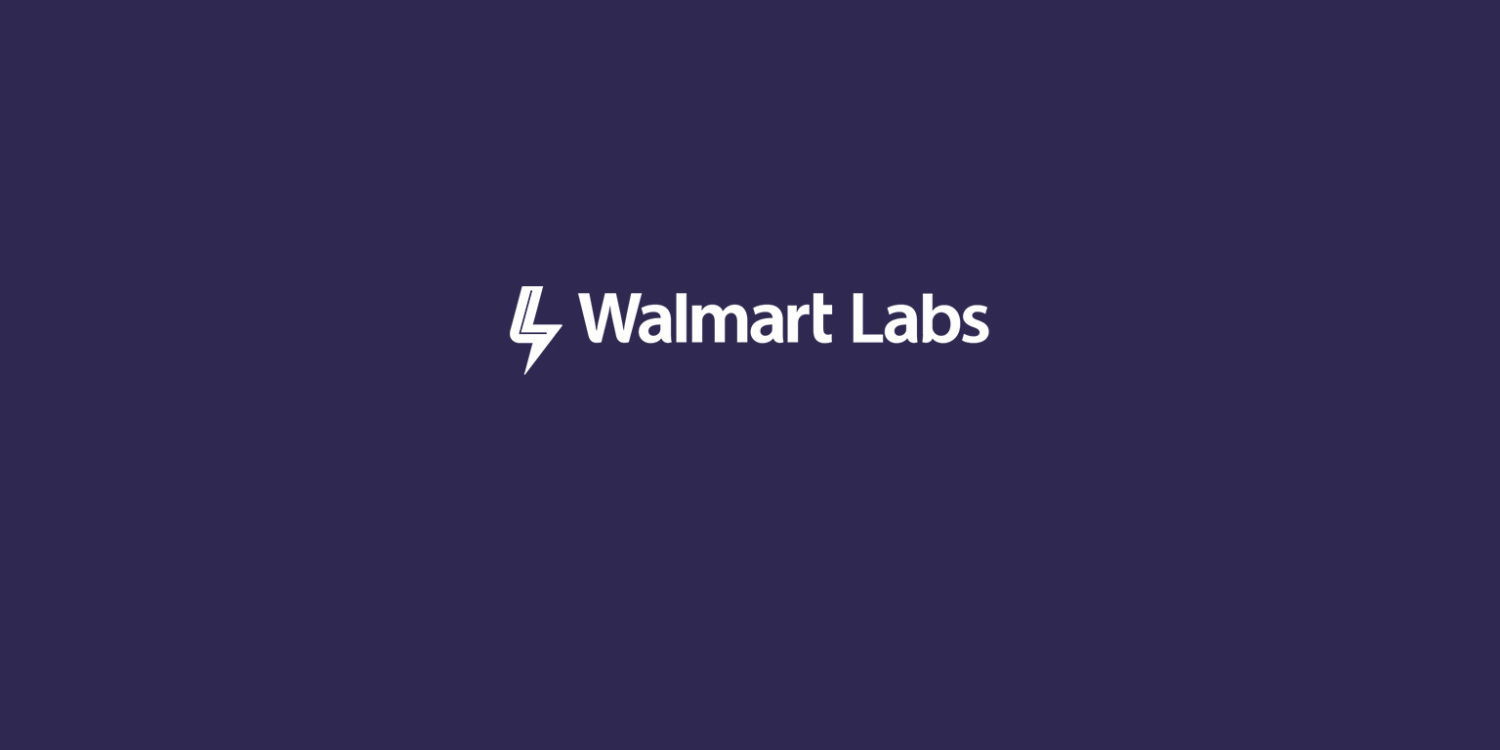 Walmart Labs, the technology division responsible for Walmart's global e-Commerce initiatives acqui-hires health tech startup FloCare. FloCare platform enables healthcare services to come together and make 'aging at home' more affordable and scalable
Philips Acquires Patient Navigation Platform Medumo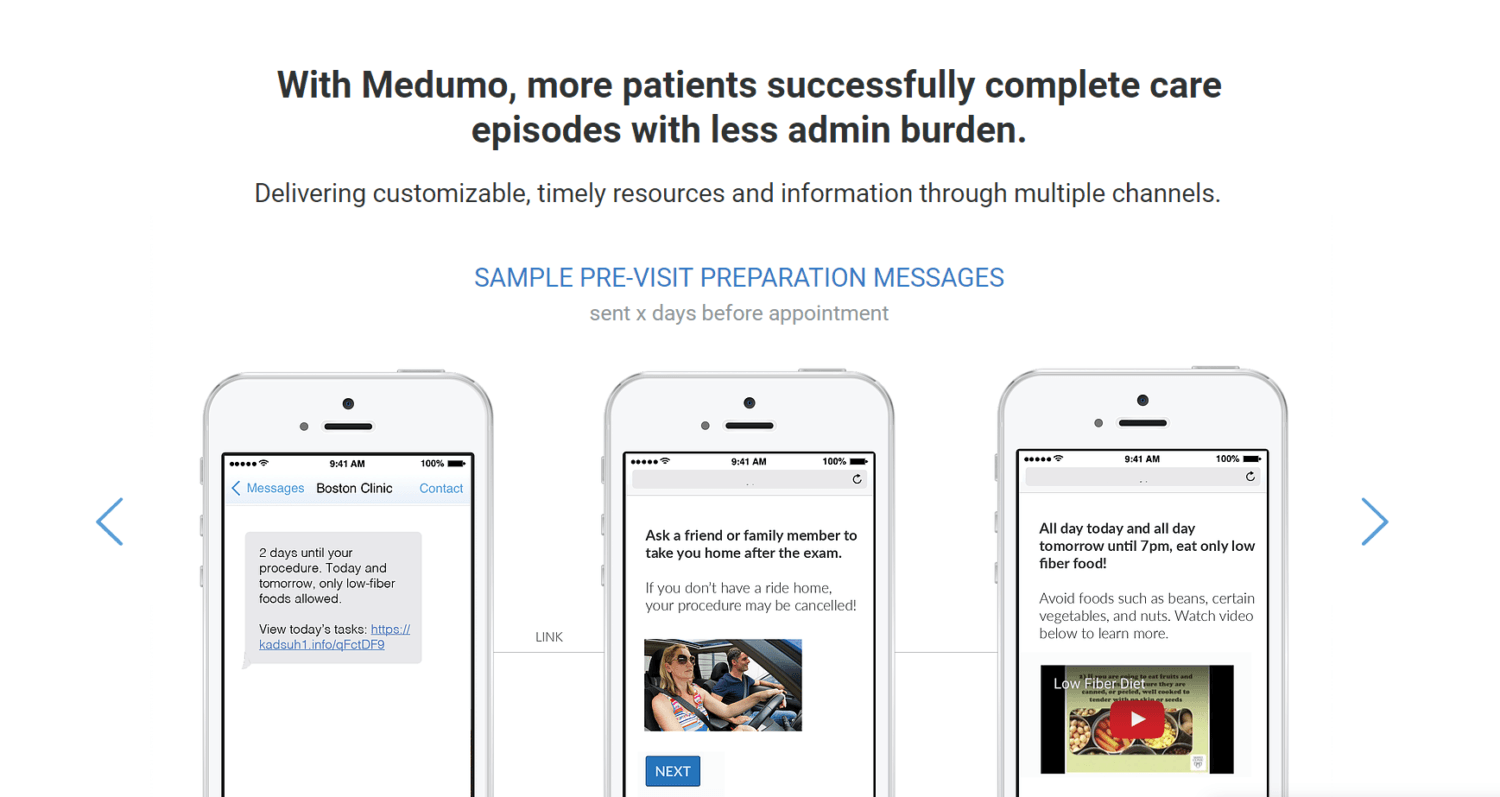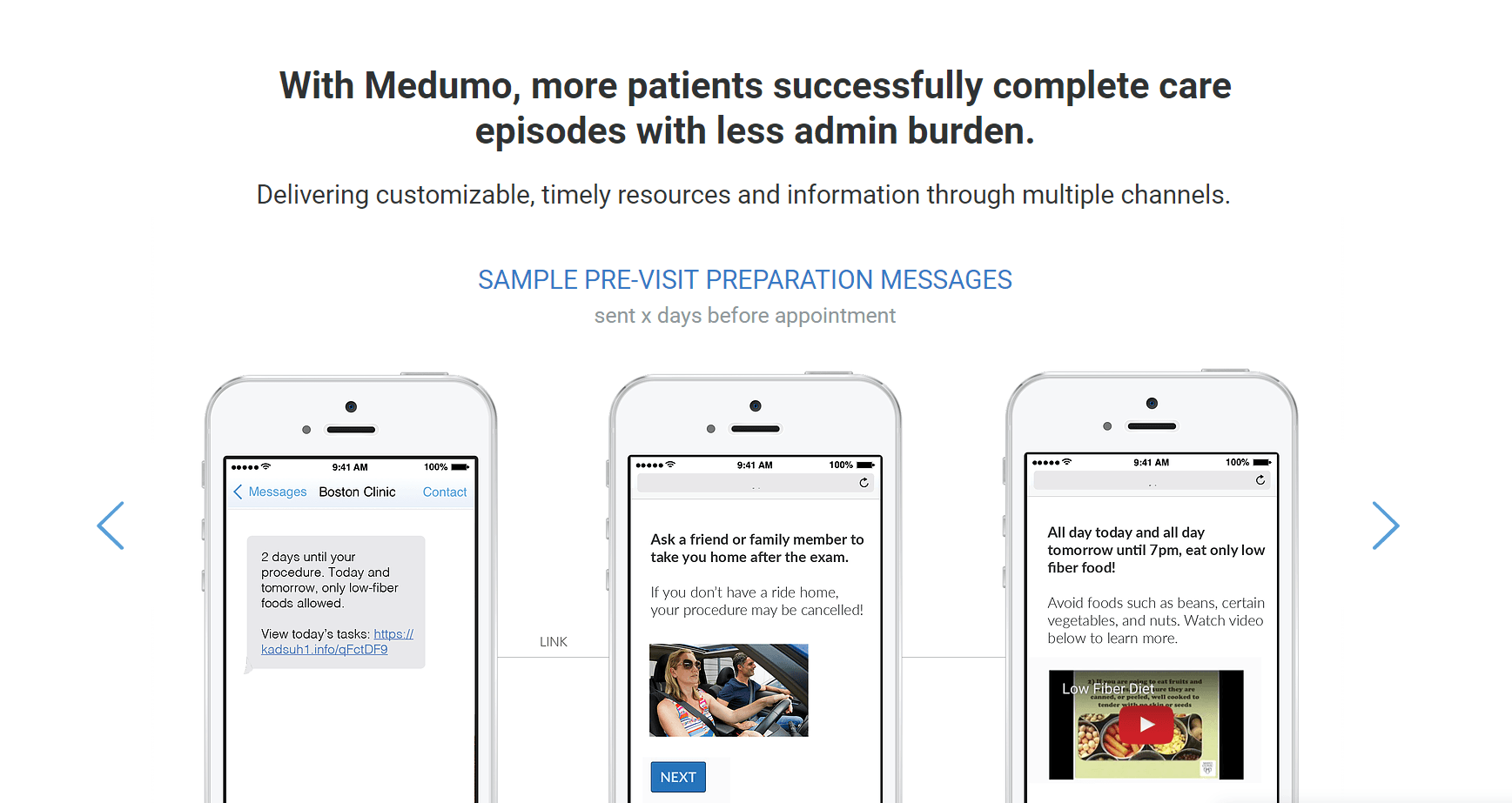 Philips acquires Boston-based patient navigation platform Medumo for an unclosed sum. Founded in 2013, Medumo helps hospitals, surgical centers, and care teams automatically guide patients throughout their care journey. The company has raised a total of $2.1M.
Rhapsody and Corepoint Merge to Support Healthcare Interoperability Initiatives Including FHIR

Rhapsody, a Boston-based international leader in healthcare interoperability and data connectivity solutions merges with Corepoint Health, a provider of enterprise healthcare interoperability software solutions, to develop a next-generation interoperability platform and enhance data integration and connectivity for existing and future customers. The companies will continue to operate as two separate entities for the foreseeable future.
Waystar Acquires AI Firm Digitize.AI to Tackle Prior Authorizations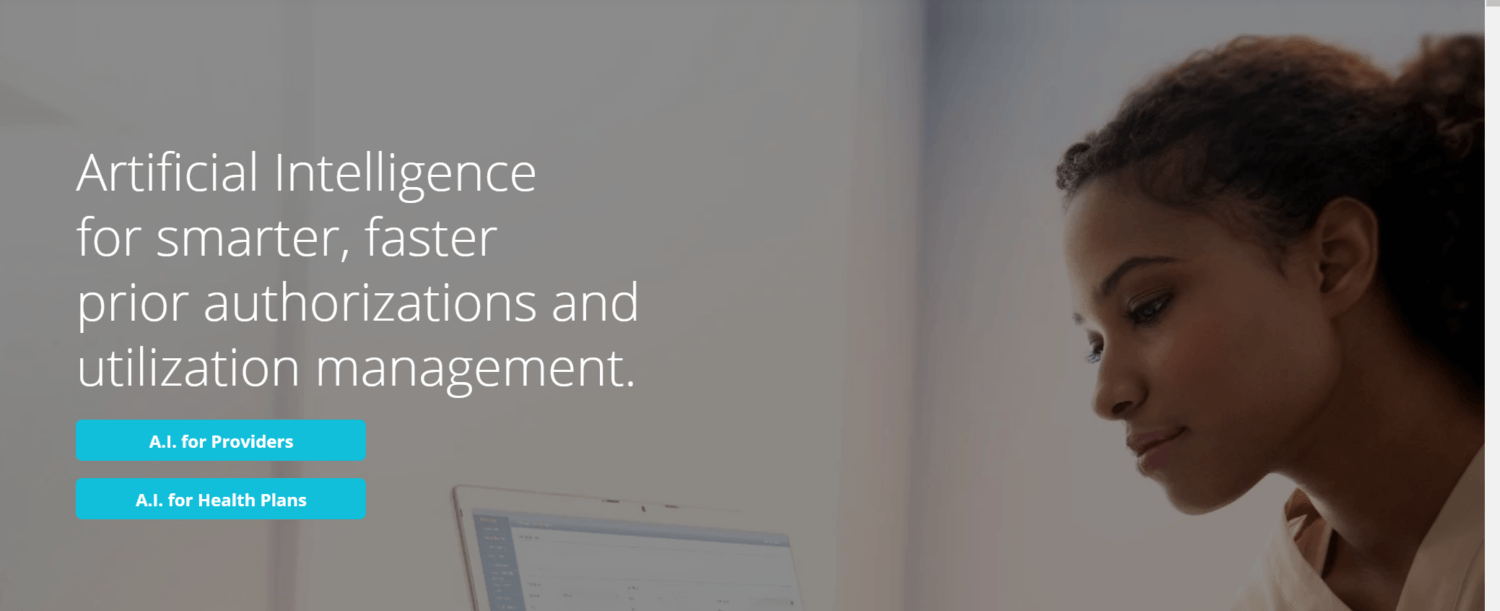 Bain-Capital-backed revenue cycle management company Waystar acquires Digitize.AI, an artificial intelligence firm, to enable faster and smarter prior authorizations in healthcare – one of the largest pain points for both providers and consumers.
ECG and Oncology Resource Consultants Merge to Expand Oncology Consulting Practice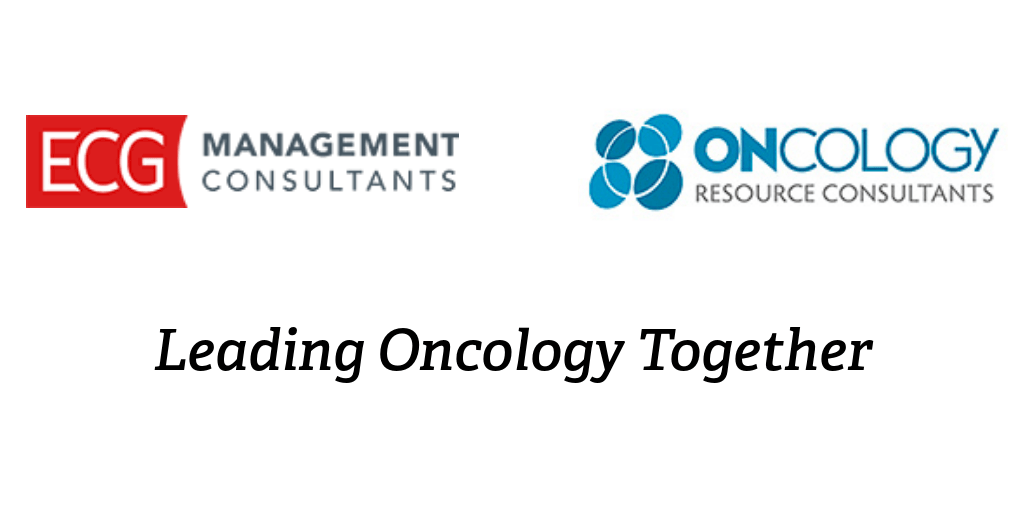 ECG Management Consultants (ECG), a national healthcare consulting firm expands its oncology consulting practice through a merger with Oncology Resource Consultants (ORC). By acquiring the ORC, ECG continues to build on its commitment to excellence in client services and expanding its oncology advisory expertise.
D2 Consulting Acquires Patient Engagement Company WorkUp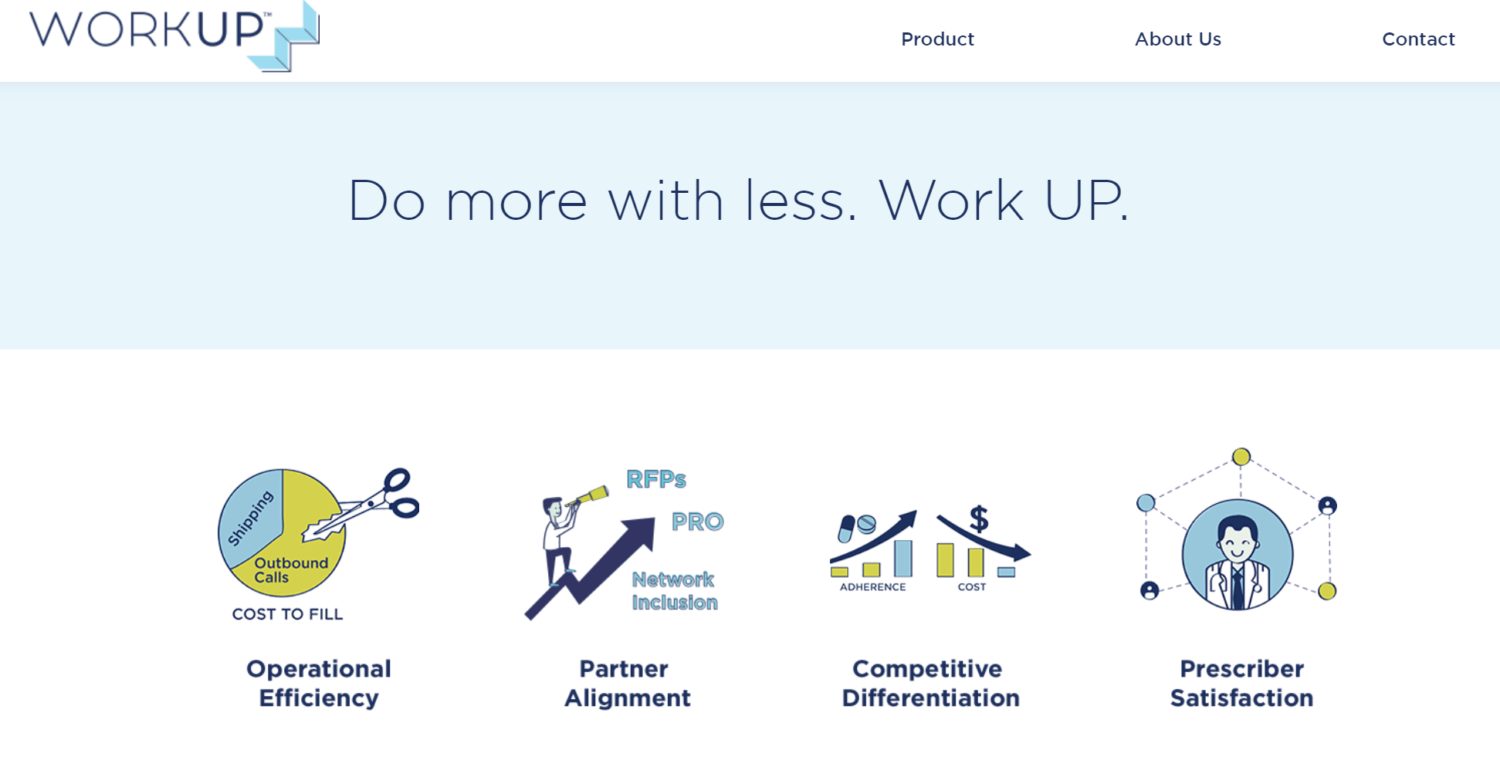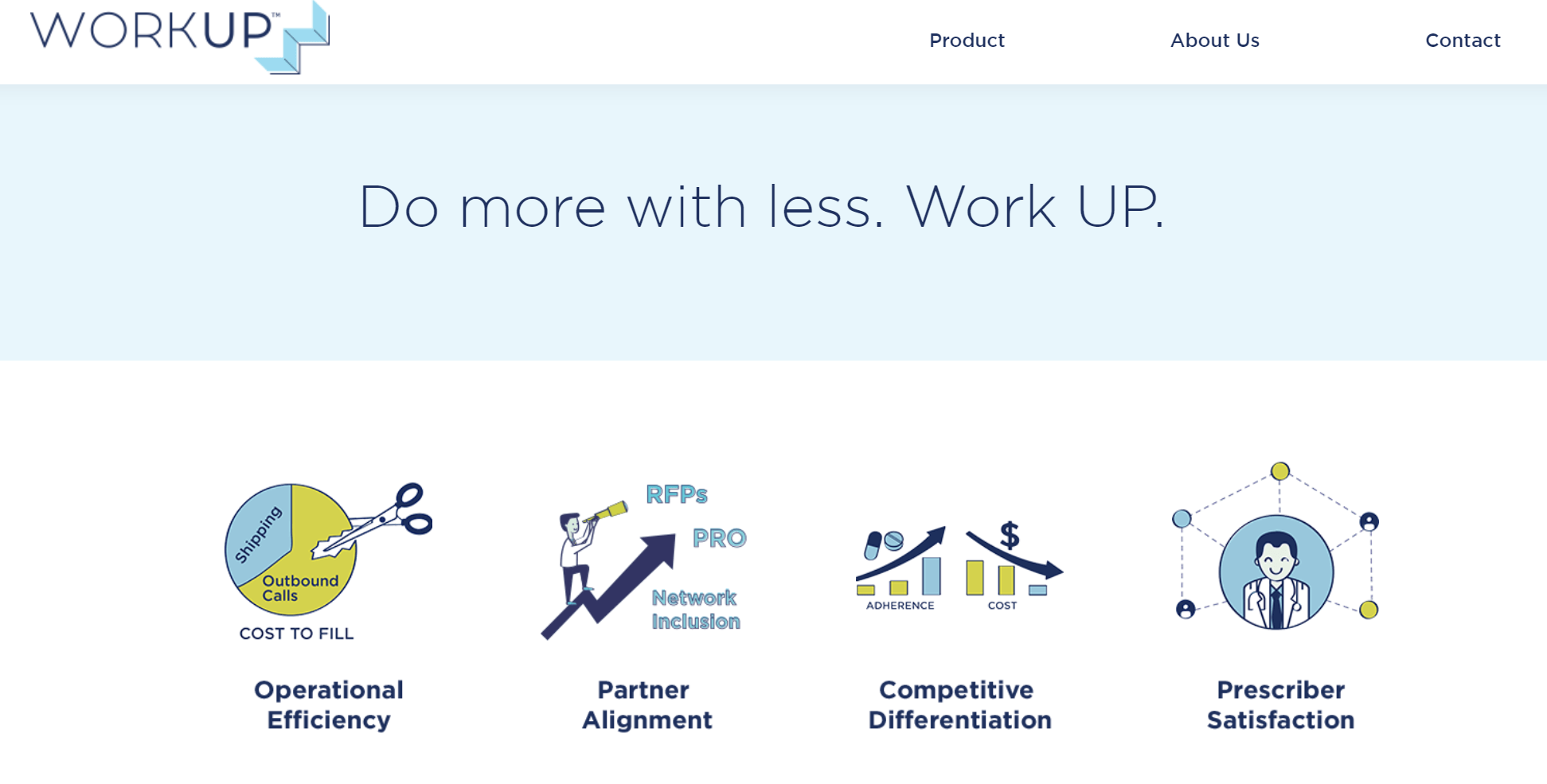 Life sciences consulting firm D2 Consulting acquires Brooklyn, NY-based patient engagement company WorkUp, Inc. The acquisition expands D2's existing technology solutions, providing value-added support for clients, including manufacturers, specialty pharmacies, HUBs, payers, pharmacy benefit managers and integrated delivery networks.
Net Health Acquires Post-Acute Care EHR Provider Optima Healthcare Solutions

Net Health, a provider of cloud-based software solutions for specialized outpatient care acquires cloud-based post-acute care EHR provider Optima Healthcare Solutions. Optima post-acute care EHR platform supports contract therapy companies, skilled nursing and assisted living facilities, outpatient therapy clinics, home health therapy providers and hospice organizations.
Carenet Health Acquires Engagement, Telehealth Subsidiary of Citra Health
Carenet Health, a San Antonio, TX-based provider of healthcare engagement, clinical support, advocacy and 24/7 telehealth solutions acquires the engagement and telehealth solution subsidiary of Citra Health Solutions. The acquisition is the second acquisition of its kind by Carenet in a span of seven months.
Avaap Acquires Navigator Management Partners to Expand Depth in IT Advisory & Management Consulting
Avaap, an industry-focused IT advisory, and management consulting firm acquires Navigator Management Partners, a cross-platform management and technology consulting firm specializing in ERP systems, business intelligence (BI), and change management. The combined organization creates a depth and breadth of services for the major ERP platforms for organizations in healthcare, retail, higher education, non-profit, government, manufacturing, and other commercial industries.
iMedX Acquires Axcension and Prevalent to Provide Advanced Healthcare Analytics

iMedX, Inc. (iMedX), a revenue cycle management, medical documentation, and health information solutions successfully completed the acquisition of Prevalent, Inc. (Prevalent) and Axcension, Inc. (Axcension). Both Axcension and Prevalent are proven providers of cutting-edge healthcare analytics and revenue cycle management consulting services.
---
Public Company Performance
Healthcare Growth Partners (HGP) tracks stock indices for publicly traded health IT companies within four different sectors – Health IT, Payers, Healthcare Services, and Health IT & Payer Services. The spike in the Payer Index on July 11 was a result of the Trump Administration abandoning its intent to modify drug rebate programs that would lower prices on drugs, which resulted in similar gains for PBM stocks. The chart below summarizes the performance of these sectors compared to the S&P 500 for the month of July: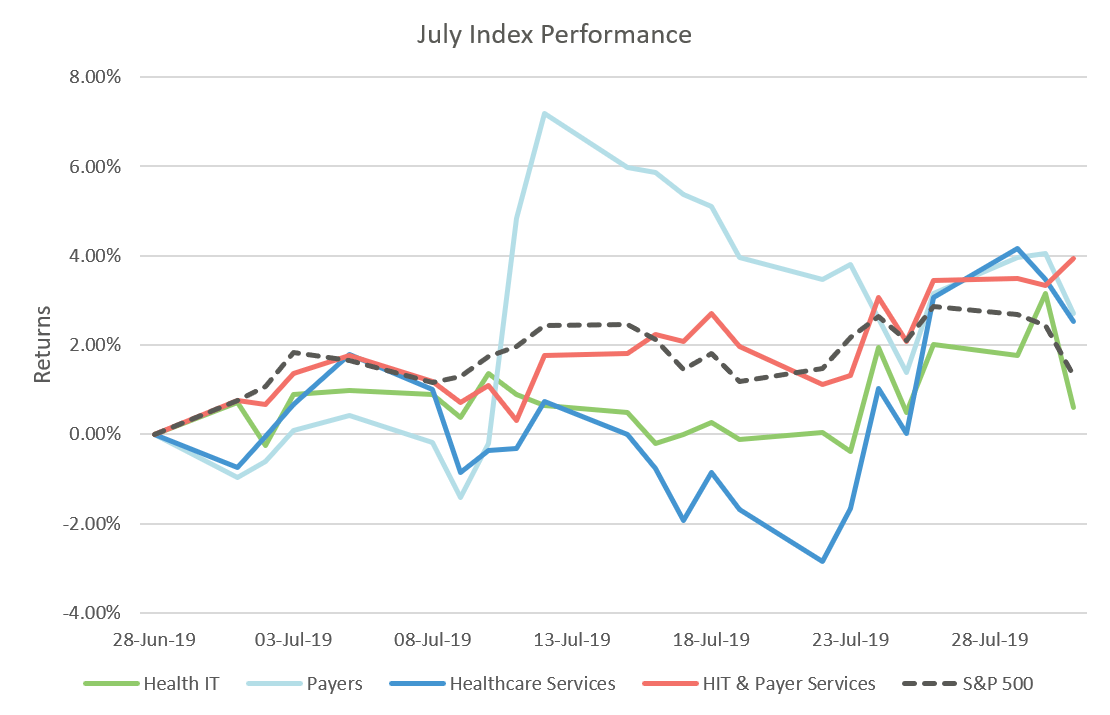 The following tables include summary statistics on the four sectors tracked by HGP as well as the S&P 500 and NASDAQ for July 2019: