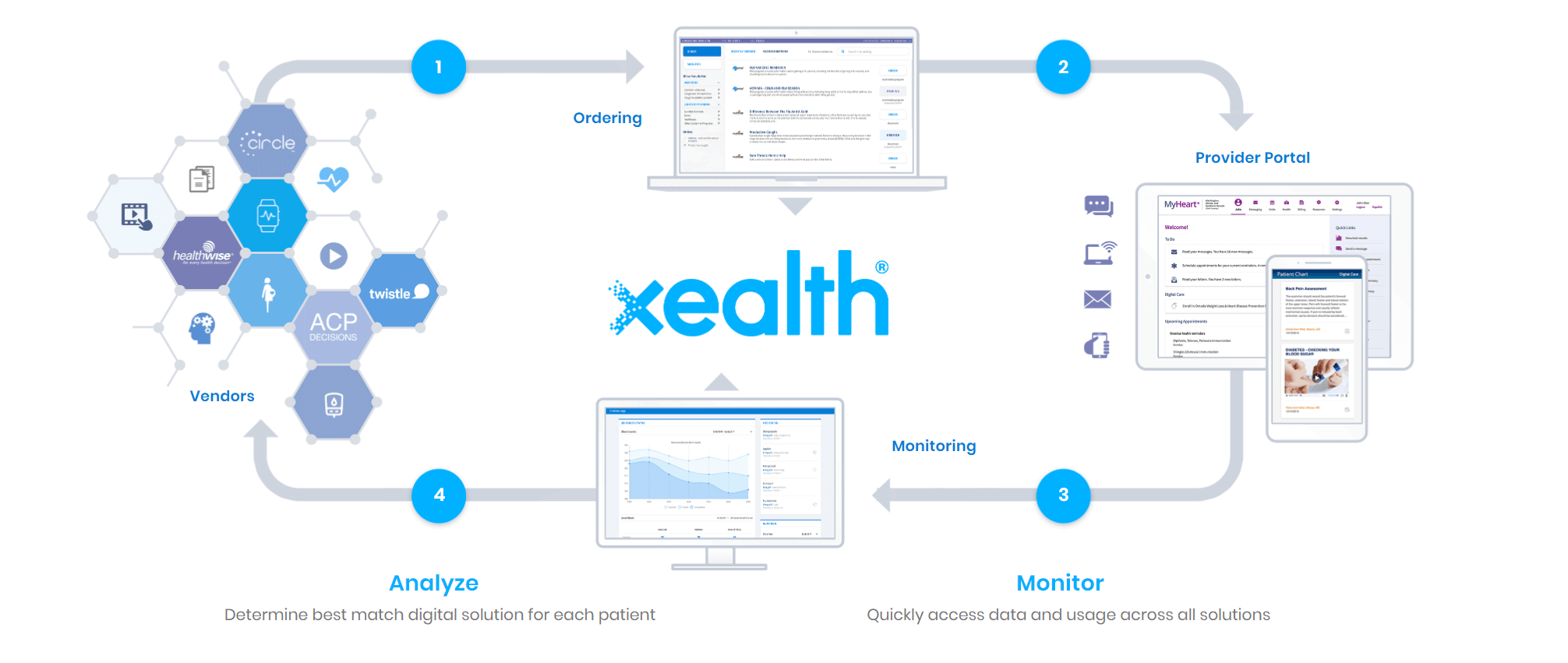 Xealth, a Seattle-based digital prescribing platform has raised an additional $3 million in its Series A financing, bringing the amount raised in this round to $14 million total. New investors Atrium Health, Cleveland Clinic and MemorialCare Innovation Fund join McKesson Ventures, Novartis, Philips, ResMed, Threshold Ventures (formerly DFJ Venture), Providence Ventures, UPMC and Froedtert and the Medical College of Wisconsin health network. Investments from this round will be used to advance the development and deployment of the Xealth platform for digital health programs.
Xealth Background
Spun out of Providence St. Joseph Health in 2017, Xealth enables clinicians to prescribe and monitor digital healthcare content, apps, devices, and services from within their electronic health record (EHR) charting interface, and to integrate the interaction into a health system's existing patient portal. These can include patient education, online third-party apps and programs, device monitoring, and non-clinical services such as ride shares, food delivery, and e-commerce product recommendations. Using the Xealth platform, care teams and physicians can monitor patient engagement and analyze the effects of more engaged patients.
Traction to Date
Xealth works with UPMC, the Froedtert and the Medical College of Wisconsin health network, Baylor Scott and White, Duke and other leading health systems.  To date, more than 30 digital health solutions and over a million patient interactions are being prescribed and monitored by these partners to connect patients with educational content, transportation, meal delivery, e-commerce product recommendations and other services needed to improve health outcomes.
"Fast becoming the preferred digital health formulary, Xealth works with stakeholders across all areas of health care, including providers, payors, pharma, devices, and supply chain," said Mike McSherry, chief executive officer of Xealth. "This gives Xealth insight and perspective that advances digital health strategies in a way that optimizes outcomes and assists physician workflows. By investing in Xealth and working with the company to advance their own digital health strategies, Atrium Health, Cleveland Clinic and MemorialCare are demonstrating their commitment to the patient experience."