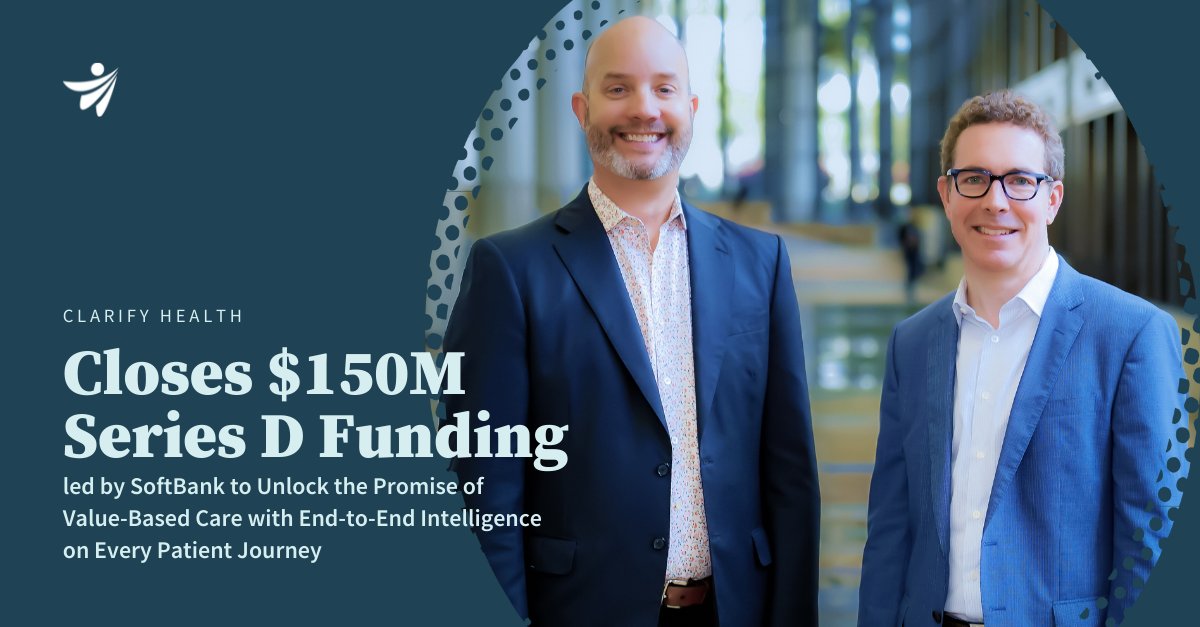 What You Should Know:
– Clarify Health, a cloud analytics and value-based payments platform company, announced today that it secured $150 million in Series D financing. SoftBank Vision Fund 2 led the round and was joined by funds and accounts managed by BlackRock and Memorial Hermann Health System, along with existing investors Insight Partners, Spark Capital, KKR, Aspenwood Ventures, Rivas Capital, and Sigmas Group.
– This newest round of funding comes on the heels of the company's Series C funding in 2021 and two recent strategic acquisitions—Apervita's Value Optimization Business and Embedded Healthcare—all driving expansion of the company's value-based payments platform.
---
Unified Solution for Value-Based Care
Being successful in value-based care (VBC) and scaling programs requires trust between partners. Clarify is building healthcare's system of intelligence, generating over 300 million annual patient journeys and 18 billion AI-powered predictions that empower providers, health plans, and life sciences companies to make better care decisions. The vast scale of the platform enables Clarify to apply the "Moneyball-style" analytical methods that predict outcomes in baseball to healthcare, objectively assessing the performance of hospitals and clinicians, and precisely identifying the right interventions and therapies for patients. Its scale creates the capability to pay for healthcare quality and outcomes more accurately and fairly. Following the company's breakout year in 2021, with over 100% revenue growth and over 75 of healthcare's largest and most influential organizations served, this latest investment will accelerate the expansion of Clarify's intelligence offerings and the adoption of its value-based payments platform.
Through its ability to serve insights that address fundamental business questions across payers, providers, and life sciences companies, Clarify is centered in a position of trust within the ecosystem of healthcare stakeholders—the key to enabling value-based payments. Clarify's comprehensive platform connects clinical performance to financial incentives to deliver a transparent source of truth and enable the transaction of value-based payments. Its customers have been able to simplify contracts, make performance transparent, identify opportunities to improve care and incentivize provider behavior change.
---
"We founded Clarify because we wanted healthcare organizations and patients to benefit from the big data efficiencies of the banking and consumer industries," said Todd Gottula, President of Clarify Health. "Clarify's enterprise system of intelligence has unleashed an exchange of AI-driven insights among providers, health plans, and life sciences companies. Going forward, our value-based payments platform will enable the transaction of all payments, driving better care decisions, scaling value-based care, improving outcomes, and eliminating waste."