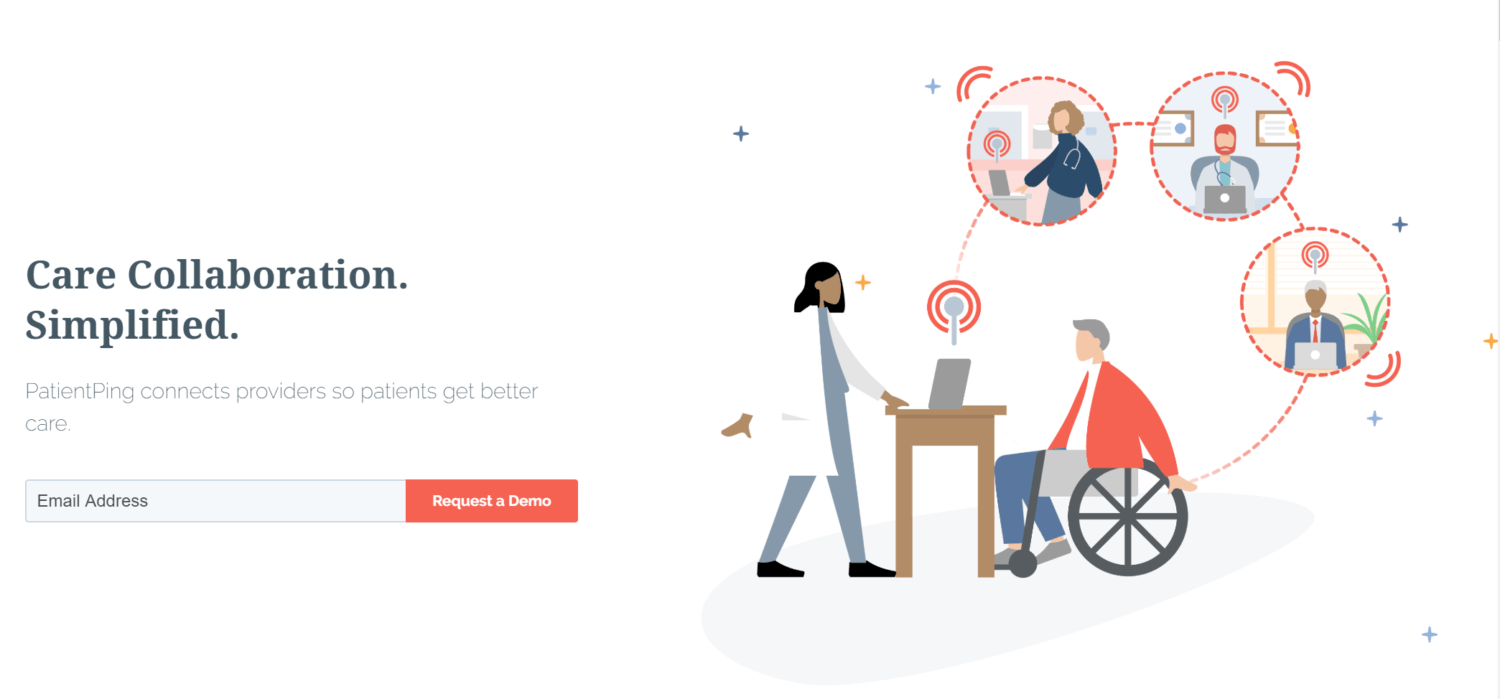 What You Should Know:
– PatientPing raises $60M in Series C funding to fuel expansion to new geographies and extends the capabilities of their care coordination network solutions.
– As the nation's leading care collaboration and patient event notifications (e-notifications) platform, PatientPing's comprehensive suite of solutions leverage real-time patient data and are used by provider organizations, hospitals, health plans, governments, individuals and the organizations supporting them to reach their shared goals of improving the efficiency of our healthcare system.
---
PatientPing, a Boston, MA-based care collaboration and e-notifications platform, today announced that it has raised $60 million in Series C funding to fuel expansion to new geographies and extend capabilities. The investment round co-led by Andreessen Horowitz, F-Prime Capital, GV (formerly Google Ventures), and Transformation Capital, with additional participation from existing investors, brings PatientPing's total funding to over $100 million.  
Seamless Care Coordination Across A Patient's Care Journey
Founded in 2013, PatientPing is an innovative care collaboration platform of Admission, Discharge, Transfer (ADT) data that connects thousands of healthcare providers and health plans across the continuum of care. The platform enables providers to collaborate on shared patients through a comprehensive suite of solutions and allows provider organizations, health plans, governments, individuals, and the organizations supporting them to leverage real-time patient data to reach their shared goals of improving the efficiency of our healthcare system.
Sharing ADT events via Pings is a secure and cost-effective way to activate a patient's entire medical team to take action to coordinate care. This enables providers to drive efficient care transitions in and out of emergency departments, hospitals, post-acute providers, and other care settings. By connecting care teams during clinical encounters, Pings keep patients from poor hand-offs between providers that frequently result in patients spending more time in hospitals and other care settings than they need.
"While monitoring a patient in the emergency department (ED), I saw a Ping come in that alerted me to quickly connect with the ED case manager as their ED treatment plan needed to consider my care manager's recent documentation of the patient having falls. As a result, rather than being admitted to the hospital, a discharge plan was developed for a Skilled Nursing Facility (SNF) stay," explains Aimee Traugh, Health Regional Care Management Director at UnityPoint Health, a network of hospitals, clinics, and home care services in Iowa, Illinois, and Wisconsin. "If I hadn't gotten the Ping and been able to reach out, the ED case manager would not have researched the patient's clinical history until discharge. This reduced the ED visit time, prevented a hospitalization, and expedited the admission to the SNF."
COVID-19 Pandemic Underscores Need for Real-Time Patient Sharing
The funding news comes in the midst of the COVID-19 pandemic, when sharing real-time information about patients' care encounters across providers and settings is critical to ensure better, safer, and faster treatment and care transitions for infected and recovering patients. In addition, the deadline nears for complying with the Centers for Medicare and Medicaid Services (CMS) interoperability rule, which adds a Condition of Participation (CoP) requiring hospitals to share ADT electronic event notifications (e-notifications) with other providers whenever patients have inpatient or emergency department care events- an approach PatientPing pioneered nearly seven years ago with its Pings solution.
Recent Traction/Milestones
PatientPing experienced record growth over the past year, adding thousands of hospitals, PAC facilities, provider organizations and health plans to new and existing markets, including new organizations in Texas, Washington, South Carolina, Pennsylvania, Illinois, Ohio, and Missouri. The Series C financing fuels the continued expansion of the PatientPing e-notifications network beyond the 1,000+ hospitals, and 5,000+ post-acute care facilities that are currently connected, enabling 135 million patient ADT events for 43 million covered lives. With its growth and breadth, PatientPing is well-positioned to be a compliance solution for hospitals under the new e-notifications CoP.
In addition to expanding its Pings network for e-notifications, PatientPing recently added two new solutions to its enterprise care collaboration product suite, Callouts, and Spotlights. Providers and health plans can use Callouts to improve patient engagement and enroll patients in available programs and supplemental benefits. Spotlights, a real-time network performance management tool, enables providers to view dashboards to monitor network-wide utilization patterns, performance trends and intervene, enabling faster quality improvement cycles instead of waiting for months for claims-derived analytics.
The company also introduced a COVID-19 Flag feature, which enables providers to identify and monitor presumptive COVID-19 patients' ADT data in real-time by alerting providers via text, email, and within the PatientPing web app whenever patients experiencing COVID-19-like symptoms have care events. Through this new flag feature, providers can better prepare for incoming COVID-19 patients, adhere to quarantine protocols, assess overall population health, and, most importantly, help improve outcomes for patients while keeping them and staff members safe.
"Patients often receive care from many providers and when they work together, care is safer and better," said Jay Desai, PatientPing's CEO. "PatientPing is committed to delivering the innovative products needed to support every patient and their full care team with real-time awareness into patients' treatment. With CMS recognizing this need through their CoP, we're excited to accelerate the growth of our national network that makes it easy for any two or more providers to collaborate anytime a patient is receiving care."