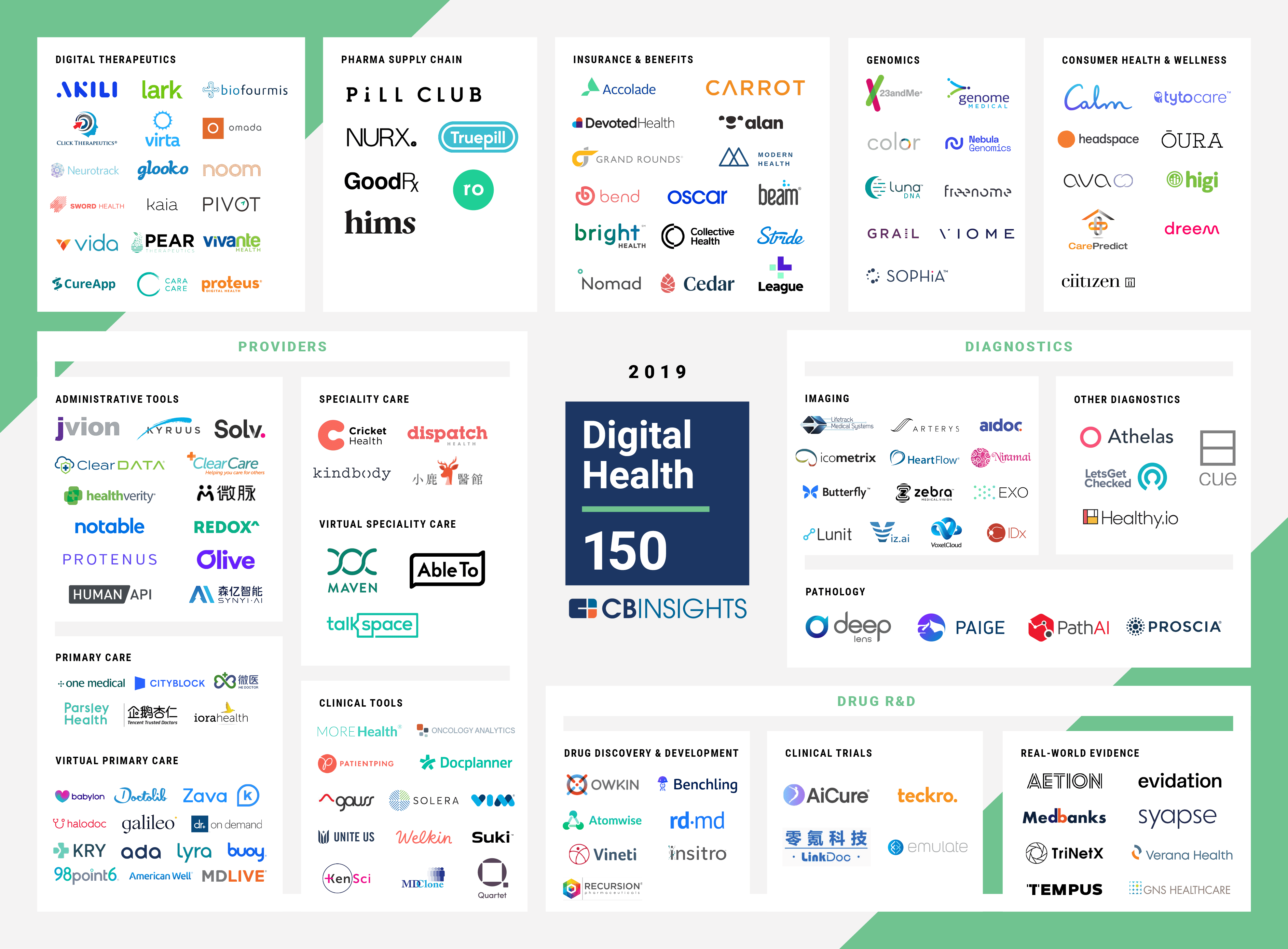 – CB Insights unveils first-ever annual 'Digital Health 150' list of digital health startups working to transform the healthcare industry.
---
– The Digital Health 150 companies span a wide spectrum of categories that involve all three key stakeholder groups for the healthcare industry — providers, payers, and patients.
---
– A total of 17 companies on the list are unicorns (private companies valued at $1B+). Of these, 12 companies are US-based, 3 are based in China, 1 is based in France, and 1 is based in the UK.
CB Insights, a machine intelligence platform, and investment database, today unveiled its first-ever cohort of Digital Health 150 startups, a list of 150 of the most promising private companies creating innovative products and services in the $5T+ healthcare industry, according to CB Insights' Industry Analyst Consensus. The Digital Health 150 was compiled from a pool of 5+ companies based on several factors, including patent activity, investor profile, news sentiment analysis, proprietary Mosaic scores, market potential, partnerships, competitive landscape, team strength, and tech novelty.
How CB Insights Defines Digital Health
CB Insights defines digital health as companies in the healthcare space that use technology/software as a key differentiator from their competition. This includes everything from disease diagnostics to tech-driven health insurance platforms to AI tools for drug discovery and more.
Other key facts about the Digital Health 150 include:
– Over the past five years, the Digital Health 150 group has raised $17.5B across more than 500 equity deals.
– A total of 17 companies have reached a unicorn valuation of $1B or more. GRAIL, Oscar Health, and WeDoctor round out the top three most well-funded companies on the list.
– Over 850 unique investors have funded the Digital Health 150, with F-Prime Capital, New Enterprise Associates, and Google Ventures taking the top three spots as the most active investors.
– Of the 150 selected digital health startups, 116 are headquartered in the US. Those based outside the US include 17 from Asia, 16 from Europe, and 1 from Canada
Here is the full list of the Digital Health 150:
2019 DIGITAL HEALTH 150 COMPANIES
---