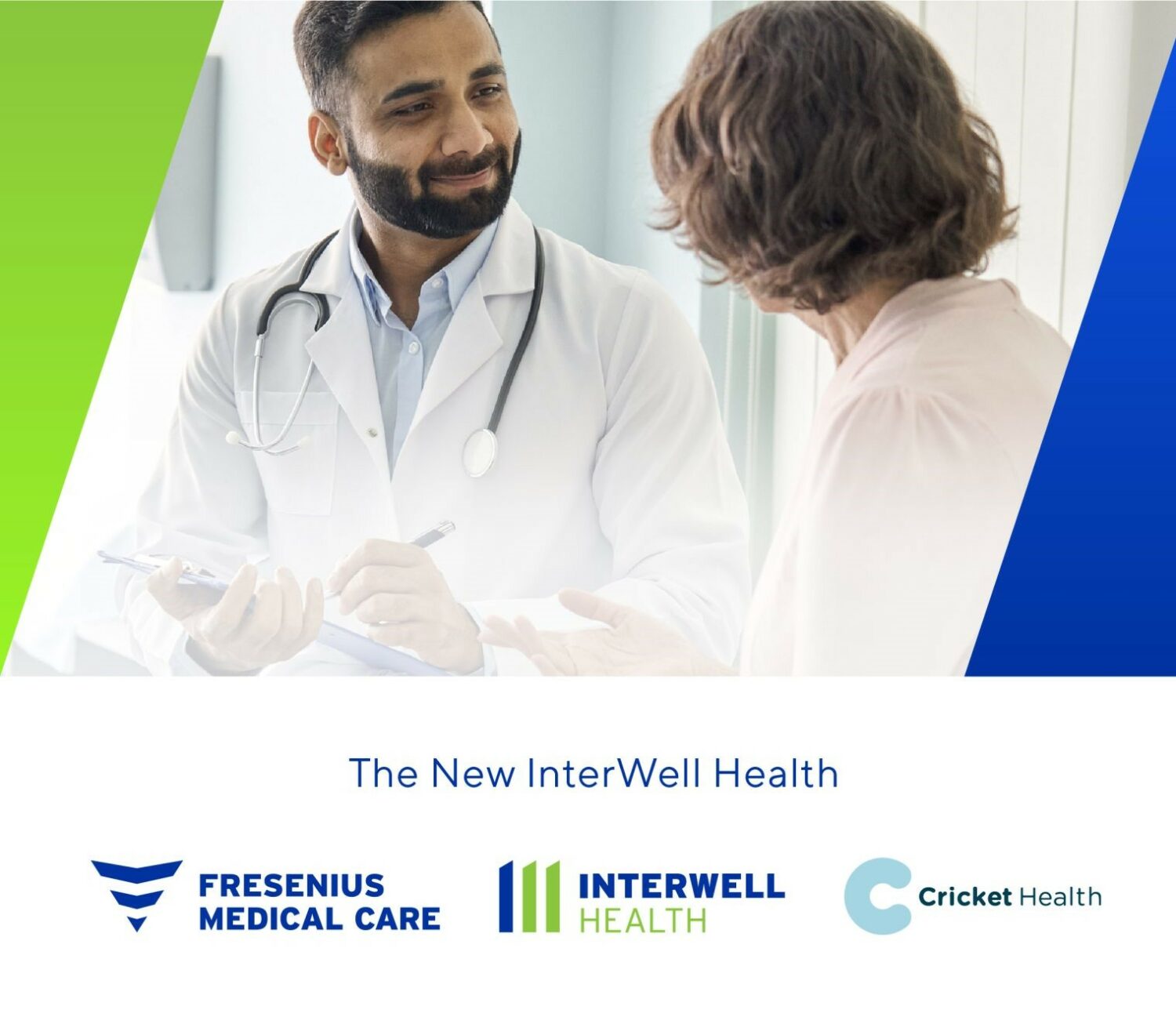 What You Should Know:
– Cricket Health is announcing today that it will merge with Fresenius Health Partners (the value-based care arm of Fresenius), and InterWell Health, to form the nation's premier, value-based kidney care provider with a totally new model of addressing kidney disease. The new company will operate under the InterWell Health brand and is valued at $2.4B.
– Together, Fresenius Health Partners, InterWell Health, and Cricket Health will drive innovation and industry transformation, and create a new standard in value-based kidney care in the U.S.
---
– Fresenius Medical Care, a provider of products and services for individuals with kidney diseases, InterWell Health, a physician organization driving innovation in the kidney care industry, and Cricket Health, a value-based kidney care provider with an industry-leading patient engagement and data platform, announced today they have entered into a definitive merger agreement to create an independent new company. The transformative deal brings together InterWell Health's strong network of more than 1,600 nephrologists, Cricket Health's technology-enabled care model and patient engagement platform, and the expertise in value-based kidney care contracting of Fresenius Health Partners, the value-based care division of Fresenius Medical Care North America, to create an innovative, stand-alone entity poised to transform kidney care.
Three-Way Merger Creates New Leader in Value-Based Kidney Care
With extraordinary capabilities, expertise, and reach, the new company will set the standard in value-based kidney care, with the goal of improving patients' lives and reducing costs to public and private payors, health systems, and all others that take risks for this vulnerable, complex, and costly patient population. The new InterWell Health will drive the healthcare industry to increase transparency and accountability and will be uniquely positioned to lead the way in transforming kidney care with its focus on covered lives, medical costs under management, and clinical and patient-reported outcomes. By holding itself to the highest standards, the new InterWell Health expects to improve patients' quality of life through reduced hospital admissions and readmissions, slower disease progression, increased transplant referrals and rates, accelerated transition to home dialysis and improved health equity.
The company will benefit from the integration of Cricket Health's StageSmart™ machine learning and predictive glomerular filtration rate (GFR) model (known as pGFR™). This transformative technology will enable the combined entity to identify and risk-stratify patients prior to kidney failure with 96 percent accuracy, helping slow disease progression and giving patients the time necessary to choose a treatment option that is right for them. Through Cricket's proprietary web-based patient engagement platform, the new company will be able to grow its operations across the U.S., providing patients with a deeply immersive and transformative experience with their care teams. The predictive analytics model and patient engagement platform meet the highest standards for information security, having earned Certified status by HITRUST.
InterWell Health was formed in 2019 as a partnership with nephrologists dedicated to driving value and innovation for chronic kidney patients in the U.S. This high-performing physician network provides individualized care to patients across the full spectrum of kidney disease – before and after kidney failure – including comprehensive 24/7 patient support service and access to the National Committee for Quality Assurance-accredited KidneyCare:365 CKD program. The new entity will expand the support physicians need to elevate the way they practice medicine. By closely aligning workflows and providing the data, education, and care management resources necessary to succeed in a value-based world, the new InterWell Health will work with practices to develop and implement care models specific to their community, as well as help them contract with national payors.
---
Post-Acquisition Plans
The new organization is valued at $2.4B and will operate under the InterWell Health brand. With a total addressable market of $170B, more than $6B of medical costs under management, and over 100,000 covered lives, the new company will accelerate growth in the mid-and late-stage chronic kidney disease value-based care population and will build upon a strong foundation of success to accelerate the transformation of kidney care. By 2025, the company expects to engage and manage the care of more than 270,000 Americans living with kidney disease, increasing its medical costs under management to $11B.
The new InterWell Health will be separate from Fresenius Medical Care, with the benefit of the company's experience, expertise, resources, and services. With the financial and strategic support of leading investors, including Valtruis, a WCAS company; Oak HC/FT; Cigna Ventures; and Blue Shield of California, the new company will have the financial flexibility to make further investments to strategically grow and explore adjacent value-based care opportunities. The management team for the new InterWell Health will include Robert Sepucha, Chief Executive Officer; David Pollack, President & Chief Operating Officer; and George Hart, M.D., Chief Medical Officer.