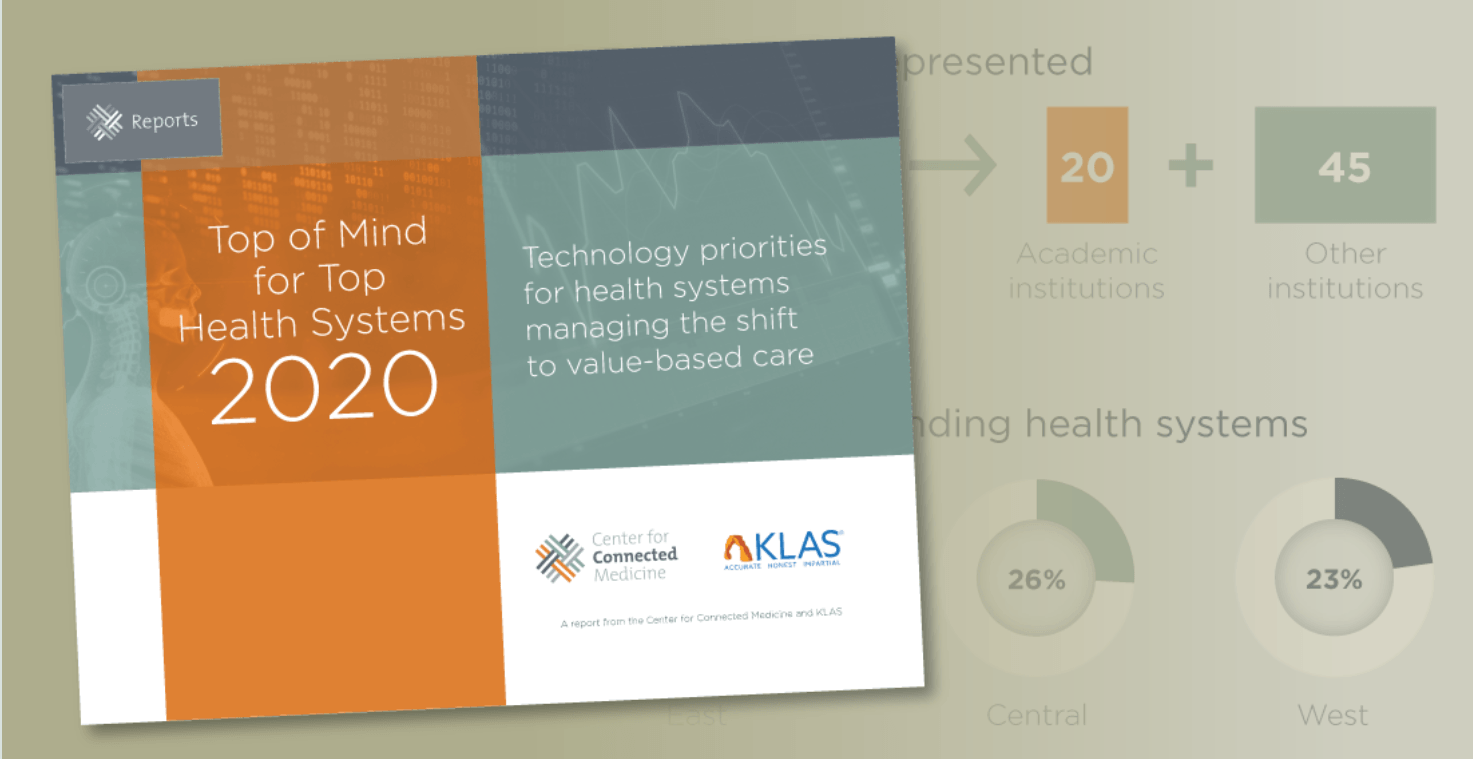 – Third annual Top of Mind for Top Health Systems survey from the Center for Connected Medicine (CCM) reveals value-based care depends on three underfunded technologies.
– KLAS Research shows patient engagement, data analytics, and precision medicine drives better treatments, but barriers remain.
As healthcare continues to shift toward value-based care, technology that boosts patient engagement, harnesses all available data for informed decision-making and enables more effective treatments will be increasingly vital for health systems to succeed. But limited resources and lack of reimbursement for these technologies remain significant barriers, according to the third annual Top of Mind for Top Health Systems survey from the Center for Connected Medicine (CCM).
Survey Background
The Top of Mind for Top Health Systems 2020 research is designed to explore health systems' strategies and priorities for top-of-mind health IT areas. Drawing on their market knowledge and previous research, the Center for Connected Medicine (CCM)—in consultation with KLAS Research and CCM partners—narrowed the scope of this year's research to three areas:
1.     Patient Engagement
2.     Data Aggregation and Analytics
3.     Precision Medicine
To determine what technology health systems are deploying in these three key areas, where they are seeing success, and what obstacles need to be overcome, KLAS Research conducted the latest survey from May through August 2019. Nearly half of respondents were chief information officers, while the rest were at the executive and director level.
"Health systems are moving toward a risk-based world where they will have a bigger financial stake in better managing the health of their patients. Having access to complete patient data and analyzing it, keeping patients engaged in their health and delivering more effective treatments are essential to managing risk," said Pamela Peele, Ph.D., chief analytics officer of UPMC Health Plan and UPMC Enterprises.
"Finding the money to deploy these important technologies, while managing the other financial pressures health systems face, is a challenge for all health care providers" continued Peele, who is a member of the steering committee for the CCM, which is jointly operated by GE Healthcare, Nokia and UPMC.
Patient Engagement
Meaningful use acted as a catalyst for many health systems to implement patient engagement technology, primarily patient portals. However, several trends have contributed to a growing demand for a broader variety of patient engagement capabilities.
Patients are increasingly demanding a digital experience on par with what they have in other, more technologically advanced industries, but adoption is still low. Organizations report that, on average, 35% of patients have adopted the technologies that are available to them, and 82% of survey-takers said their health system's patient portal, which is commonly an extension of the electronic health record, is the dominant technology for engaging with patients.
Data Aggregation and Analytics
Effective and comprehensive data aggregation has the potential to enable better clinical decision-making and power population health management efforts, making it a top priority as health systems attempt to shift from fee-for-service to value-based care.
The ability to aggregate and analyze data from multiple sources is essential for health systems that want to produce better outcomes and reduce costs. On average, respondents reported having 71% of data from clinical sources integrated; leaders said an average of 61% of all patient data, including claims and other non-clinical data, was integrated. Limited resources, lack of data standards and poor data normalization were cited as the greatest barriers to complete data aggregation.
Precision Medicine
With its potential to improve clinical outcomes, precision medicine is a growing area of interest for health systems. However, high barriers to entry and uncertain funding models so far have limited adoption. Nearly 70% of interviewed organizations report low maturity or no deployment of precision medicine efforts. Reimbursement and earning a return on investment were cited as the biggest roadblocks to adopting precision medicine.
The full report is available here.