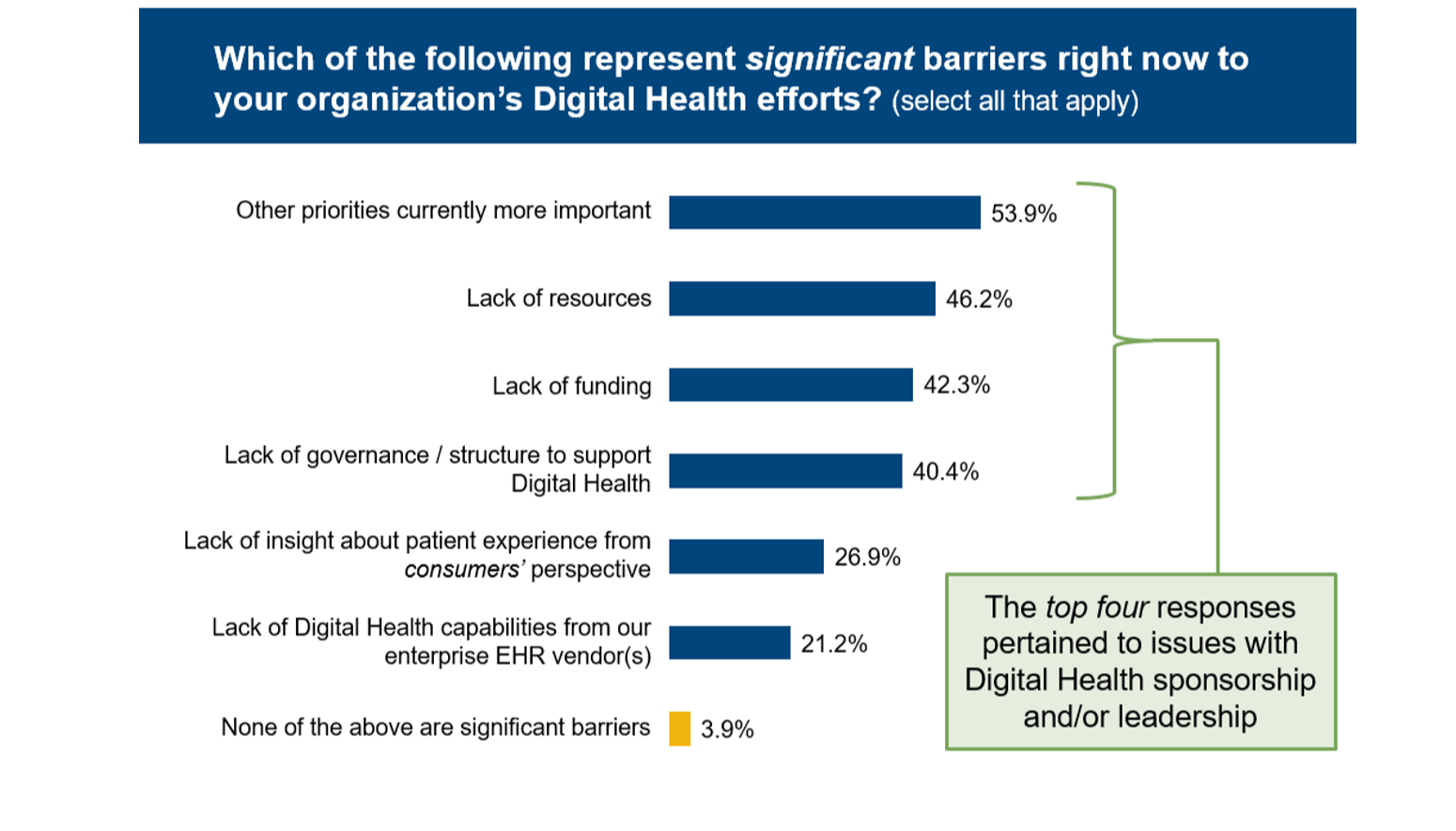 – When CIOs were asked about "significant" barriers to their Digital Health efforts, the top four responses pertained to issues with sponsorship and/or leadership.
– Currently, the health delivery industry as a whole is still in the earliest stages of what will prove to be a digital transformation. 
– 40.4% of surveyed CIOs believe enterprise EHR vendors will play the biggest role in their facility's digital health journey in the next two years. 
The concept of digital health information was introduced in the 1970s when professionals began moving away from problem-oriented medical records and making the transition to electronic health records (EHR).
At the time, many facilities didn't have the technology on hand to utilize digital health information and the process weren't standardized until the 2000s. Today, the ability to digitally transform a patient's experience is becoming a major competitive differentiator for hospitals and health systems.
These facilities are expected to compete with one another on criteria like experience, access, and convenience. In some cases, these metrics are becoming more important than traditional criteria like cost and quality. What are the six most common barriers impacting healthcare provider digital health transformation efforts?
Impact Advisor Report
Between April 23 and May 10, 2019, Impact Advisors conducted an online survey of the College of Healthcare Information Management Executives (CHIME) members. It collected information from 52 hospitals and their CIOs to find out how they are approaching the concept of digital health.
In this case, Impact Advisors defined digital health as "the innovative use of new technologies, data intelligence and organizational leadership aligned to achieve a patient- and consumer-centered vision of health."
Rising consumer demands and expectations fuel the majority of these changes. Of those surveyed, 59.6% cited this as the primary reason behind their transformation. About 21.2% cited competition from other providers and 19.2% are feeling pressured by nontraditional competitors like retail clinics.
Hospital Barriers to Digital Health Transformations
What is preventing hospitals and other healthcare facilities from transitioning to a digital health model? The survey found there are six primary challenges that hospitals and health services face when it comes to digital health.
1. 53.9% of CIOs surveyed when asked to select all that applied, stated that other priorities are considered more important than digital health.
2. 46.2% are lacking the necessary resources to start their transformation.
3. 42.3% do not have needed funding.
4. 40.4% stated they lack the proper leadership or structure to support digital health, even if funding and resources weren't an issue.
5. 26.9% reported they don't have enough insight into what their consumers want from a digital health system.
6. 21.2% don't have enough support from their enterprise EHR vendors.
Only 3.9% stated that none of these issues create any substantial barriers.
Establishing a Digital Health Center of Excellence (COE)
The results of this survey show that the primary barriers that are preventing the transition to digital health nearly all pertain to issues with leadership or digital health sponsorship. Agile and supportive guidance will be essential to support digital health in both new and existing healthcare facilities. 
One emerging solution involves creating a multidisciplinary center of excellence (COE) or something similar dedicated entirely to digital health. COEs gather small teams that have multifunctional skills, such as clinical, marketing, IT, patient care and more, that support the facility's transformation to digital health.
These teams define consumer-centered changes that are necessary for digital health, as well as building strategic partnerships both in and out of the healthcare industry to support these transitions. They'll serve to support facility leadership and ensure that once the transformation is complete, it provides a consistent consumer experience.
Currently, only 23% of CIOs surveyed say their facility has established a COE for digital health. About 21.2% have COE creation planned within the next year, and 9.6% have it planned sometime beyond the next 12 months. A whopping 44.2% have no plans to create a digital health COE for their facility.
Diverging Perspectives on the Role of EHR Vendors in Digital Health
About 40.4% of surveyed CIOs believe enterprise EHR vendors will play the biggest role in their facility's digital health journey in the next two years. However, this won't be the only source for digital health tools.
Approximately 26.9% expect niche healthcare startups to play the biggest role, 17.3% are relying on in-house resources and 9.6% are looking at big tech vendors like Google and Amazon. An additional 3.9% are looking toward niche vendors outside the healthcare industry.
Less than one-quarter of the surveyed CIOs have a COE set up in their facility. However, many of them already have a patient-facing tool used to support digital health in their system that didn't come from an EHR vendor. Many of the surveyed CIOs stated they rely on multiple third-party tools and applications to improve patient experience and promote digital health. 
These items vary from telehealth digital calls to patient education apps, on-demand appointment scheduling and even patient self-triage tools.
3 Key Stages of Digital Health Transformation for Providers
Ultimately, the study found that there are three key stages in the digital health transformation process for healthcare providers. Facilities need to start by being provider-centric, by utilizing EHR and portal-driven solutions, and supporting one-way patient engagement.
Once this is in place, leadership can take the next step toward becoming consumer-centric. At this stage, facilities will start working toward active patient engagement and creating a consumer-driven experience.
The third key stage of this digital evolution is moving into a marketplace-centric mindset. At this stage, facilities will take the steps necessary to scale their services and experiences while seamlessly connecting their digital infrastructure to their partners. This stage is still relatively new, but it will serve as the foundation for the digital healthcare ecosystem for years to come.
The Future Is Digital
The goal here is to give CIOs, hospitals and healthcare facilities the tools they need to provide a more comprehensive customer experience. The industry shouldn't avoid digital health. Instead, each facility should see where they can make the changes necessary to move forward into the digital health future.
Currently, the health delivery industry as a whole is still in the earliest stages of what will prove to be a digital transformation. It's a good time to lay down the foundation for the sweeping changes that will impact the industry in the future.