A brief summary of noteworthy news, health IT M&A activity, IPOs, and public company performance during the month of March.
Noteworthy News
Amazon, JP Morgan, Berkshire Names New Joint Venture Haven
Amazon, J.P. Morgan, and Berkshire Hathaway name joint venture Haven.
In January 2018, the three founding companies announced plans to create this independent organization, now called Haven, which is free from profit-making incentives and constraints. Haven's focus is the 1.2 million employees and families affiliated with Amazon, Berkshire Hathaway, and JPMorgan Chase across the United States and over time it intends to share what it learns to help others.
HIMSS Writes New Definition of Interoperability
HIMSS defines Interoperability as the ability of different information systems, devices or applications to connect, in a coordinated manner, within and across organizational boundaries to access, exchange and cooperatively use data amongst stakeholders, with the goal of optimizing the health of individuals and populations.
Stanford Releases Preliminary Results from Apple Heart Study
Stanford Medicine researchers released preliminary results of the Apple Heart Study, the largest study ever of its kind, which enrolled over 400,000 participants from all 50 states in a span of only eight months.
U of Michigan Launches 3-Year Health Data Collection Study Using Apple Watch
The study called MIPACT (Michigan Predictive Activity and Clinical Trajectories), is already underway, with 1,000 participants enrolled with plans to enroll thousands more patients from its academic medical center over the next year. Participants will be asked to complete surveys while using an Apple Watch and a blood pressure monitor for researchers to better understand their overall health and level of activity.
FDA Chief Steps Down
Food and Drug Commissioner Scott Gottlieb announces his resignation to focus on his family. Gottlieb had been subject to increasing pressure from some Republicans in Congress and others in the conservative moment for his strong stance against youth vaping and traditional cigarettes
Epic Suspends App Orchard
In December 2018, Epic temporarily froze enrollment in the Epic App Orchard Marketplace due to security and privacy concerns with some third-party developers.
Mount Sinai Opens $15M Digital Health Institute
Hasso Plattner Institute for Digital Health at Mount Sinai launches with the goal to develop digital health products with real-time predictive and preventive capabilities that empower patients and health care providers and improve health and health outcomes.
UPS Will Use Drones to Deliver Medical Samples in North Carolina
UPS has announced a landmark new logistics service to deliver medical samples via unmanned medical drones through a collaboration with autonomous drone technology provider Matternet. The medical drone program will take place at WakeMed's flagship hospital and campus in the Raleigh, N.C., metropolitan area, with oversight by the Federal Aviation Administration and North Carolina Department of Transportation. 
Cleveland Clinic Launches New Center for AI
Cleveland Clinic launches a new center for artificial intelligence that aims to further collaboration and communication between physicians, researchers and data scientists as AI and machine learning efforts evolve and gain traction across the health system.
Providence Health Digital Unit Confirms Layoffs & Addresses Toxic Culture
Providence confirms that 12 people were let go last November and additional nine were laid off in January.
---
Healthcare IT Mergers & Acquisitions (M&A) Activity
Philips Acquires Carestream's Health IT Business
Royal Philips acquires Carestream Health'shealthcare information systems (HCIS) business unit. Carestream's HCISbusiness unit includes enterprise imaging IT solutions for multi-site hospitals, radiology services providers, imaging centers and specialty medical clinics. The acquisition of Carestream's enterprise imaging platform will help expand Philips' healthcare IT business portfolio of VNA, diagnostic and enterprise viewers, multimedia reporting, workflow orchestrator and clinical, operational and business analytics tools.
Hil-Rom Acquires Mobile Communications Platform Voalte for $180M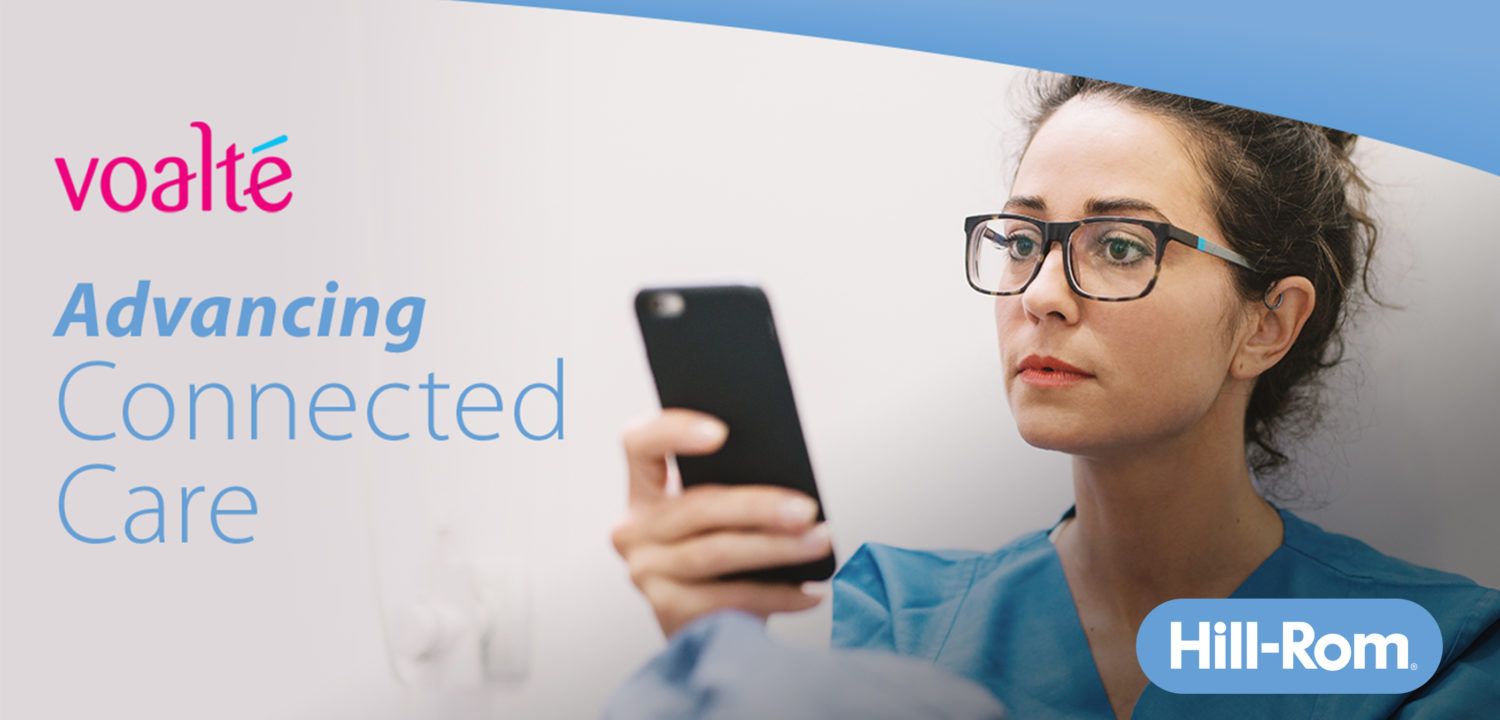 Hill-Rom Holdings, Inc. acquires Voalte, a Sarasota, FL-based real-time, mobile healthcare communications for $180 million in cash and up to an additional $15 million in payments related to the achievement of certain commercial milestones. For the Hill-Rom, the acquisition will accelerate its capabilities in clinical communication.
Teladoc Acquires French Telemedicine Provider Medicin Direct
Virtual care provider Teladoc Health acquires Paris, France-based telemedicine provider MédecinDirect to offer its full continuum of services to insurers and employers in Europe's third largest market. As part of the acquisition, MédecinDirect will become the French country unit of Teladoc Health, adding to existing operations in the U.K., Australia, Canada, Spain, Portugal, Hungary, China, Chile, and Brazil.
Guardant Health Acquires Cancer Diagnostics Company Bellwether Bio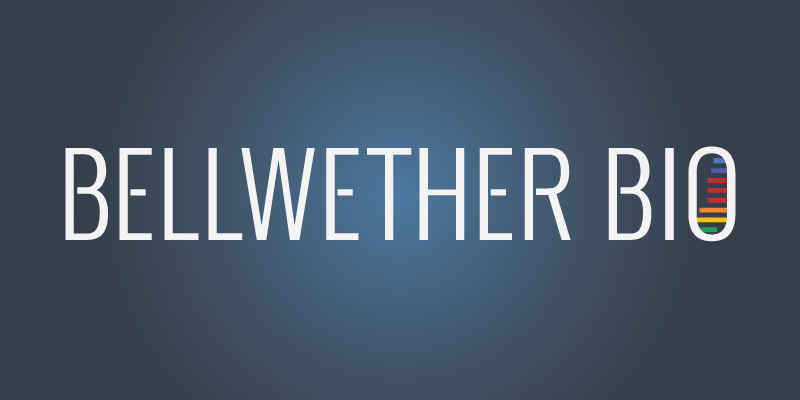 Precision oncology company Guardant Health,acquires Seattle-based Bellwether Bio, an oncology startup developing next-generation cancer diagnostics using cell-free DNA. The Bellwether Bio team will join Guardant Health to further advance its liquid biopsy-based detection product pipeline that was launched in 2014.
AbleTo Acquires Digital Therapy App Joyable to Strengthen Virtual Behavioral Healthcare
AbleTo, Inc., a provider of virtual behavioral healthcare proven to improve clinical outcomes and lower healthcare costs acquires Joyable, an app-based digital therapy innovator. The acquisition strengthens AbleTo's high-quality virtual behavioral healthcare with a digital platform that delivers clinically-based therapies supported by coaches to help individuals overcome depression, generalized anxiety, and social anxiety.
Signify Health Acquires Tav Health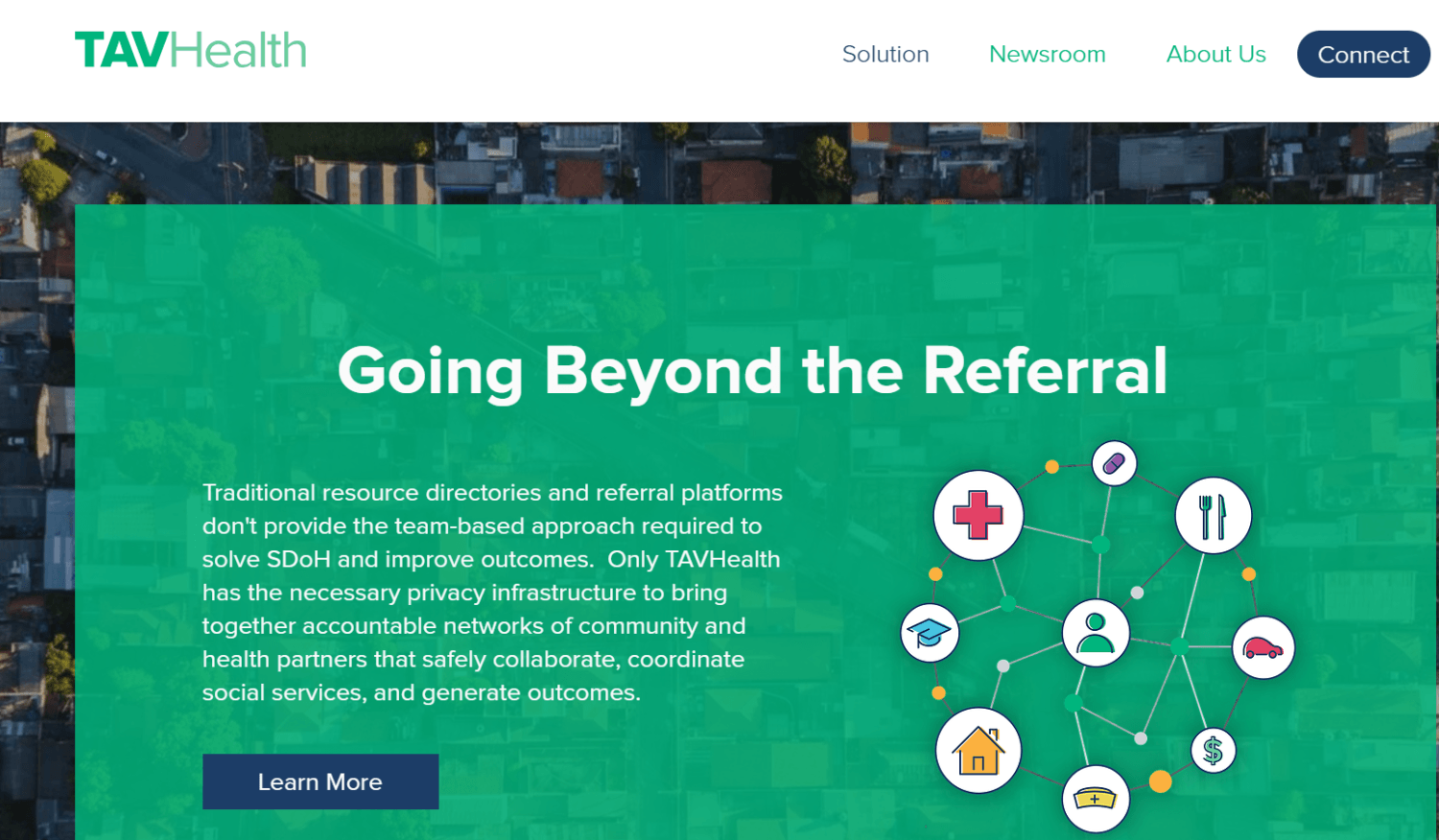 Signify Health, a provider of technology-enabled, in-home care and complex care management services announced acquires TAVHealth, a platform for collaborating with risk-bearing and community-based organizations to address social determinants of health (SDOH). The acquisition of TAVHealth adds a curated network of community-based organizations and the technology capabilities for Signify to directly manage these SDOH needs on behalf of its clients, creating a closed loop between identification of SDOH needs, enrollment into SDOH programs, and coordination of services to better manage and improve health outcomes for members.
---
Health IT IPOs
Change Healthcare Files for $100M IPO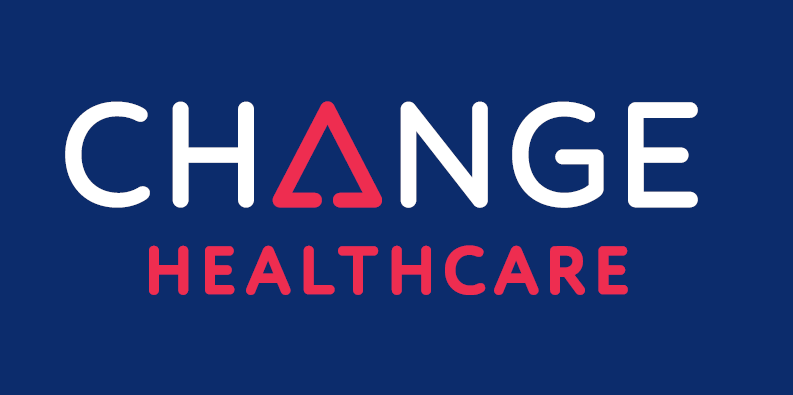 Change Healthcare has filed a prospectus with the Securities and Exchange Commission (SEC) for a $100 million initial public offering (IPO). The company plans to be listed on the Nasdaq Exchange under the trading symbol "CHNG."
---
Health Catalyst Hires Banks for IPO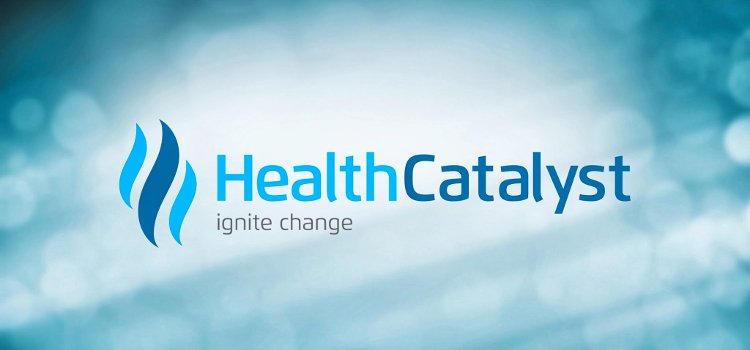 Health Catalyst has hired Goldman Sachs and JPMorgan to lead the IPO process. The company raised $100 million in Series F equity and debt funding led by OrbiMed, valuing the company at over $1B. Health Catalyst Health Catalyst's data warehouse and application development platform powered by data from more than 100 million patients and efficiency and lower costs for organizations ranging from the largest US health system to forward-thinking physician practices.
Livongo Health Prepares for $1B IPO Later This Year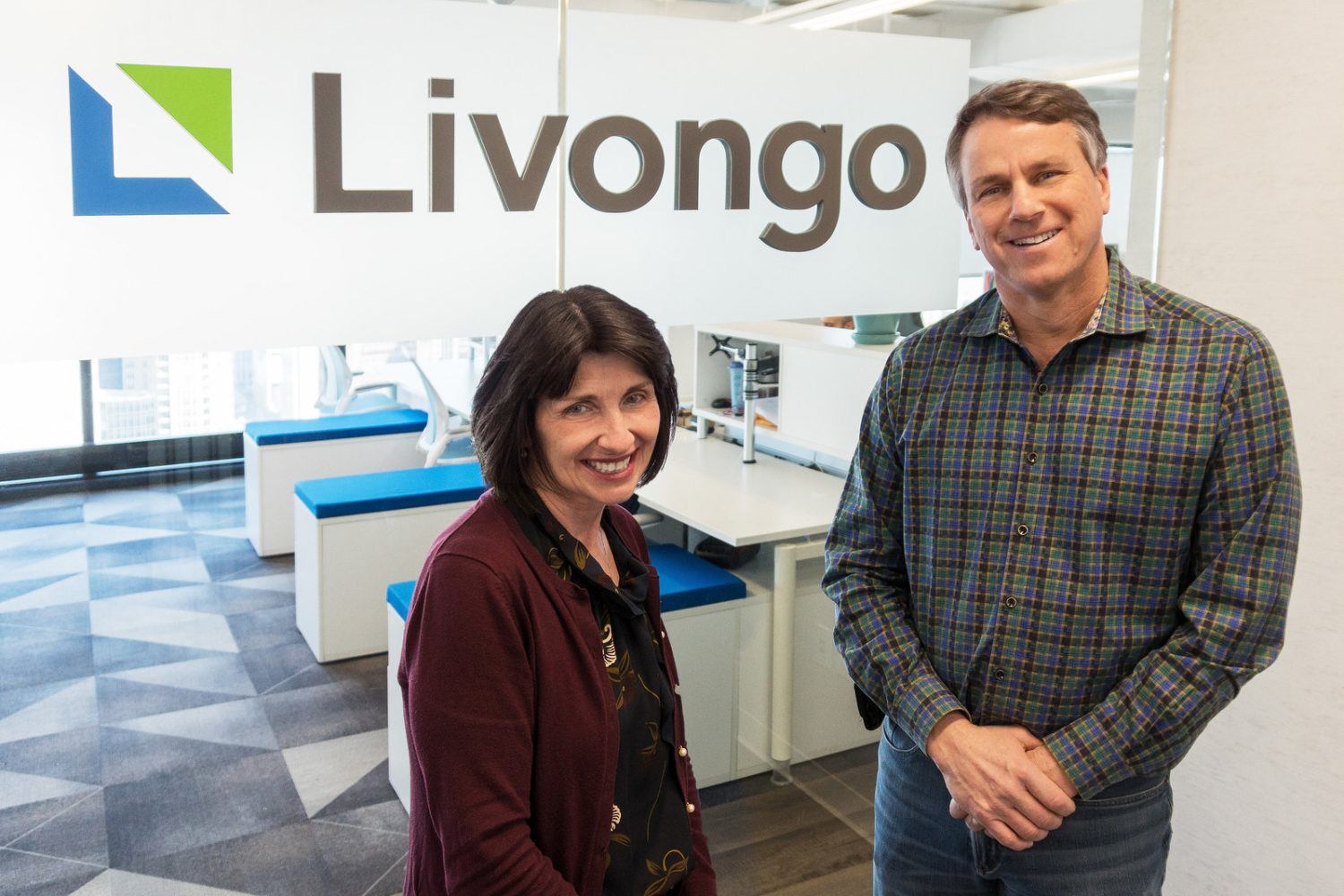 Livongo Health has hired Morgan Stanley, Goldman Sachs and J.P. Morgan Chase to underwrite the IPO, valuing the company at more than $1 billion, according to sources familiar with the dealings. Livongo provides cloud-based glucose monitoring to diabetics via employer-based health plans.
Health IT Public Company Performance
Healthcare Growth Partners, an investment banking & strategic advisory firm exclusively focused on the transformational Health IT market tracks stock indices for publicly traded health IT companies within four different sectors – Health IT, Payers, Healthcare Services, and Health IT & Payer Services. The chart below summarizes the performance of these sectors compared to the S&P 500 for the month of March: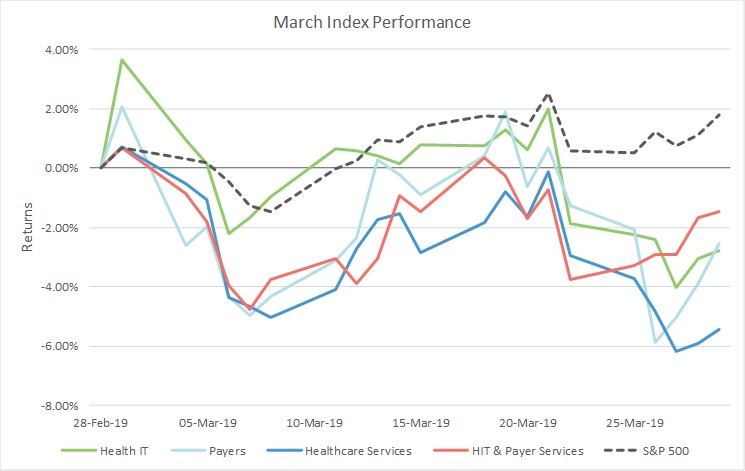 The following tables include summary statistics on the four sectors tracked by HGP as well as the S&P 500 and NASDAQ for March 2019: