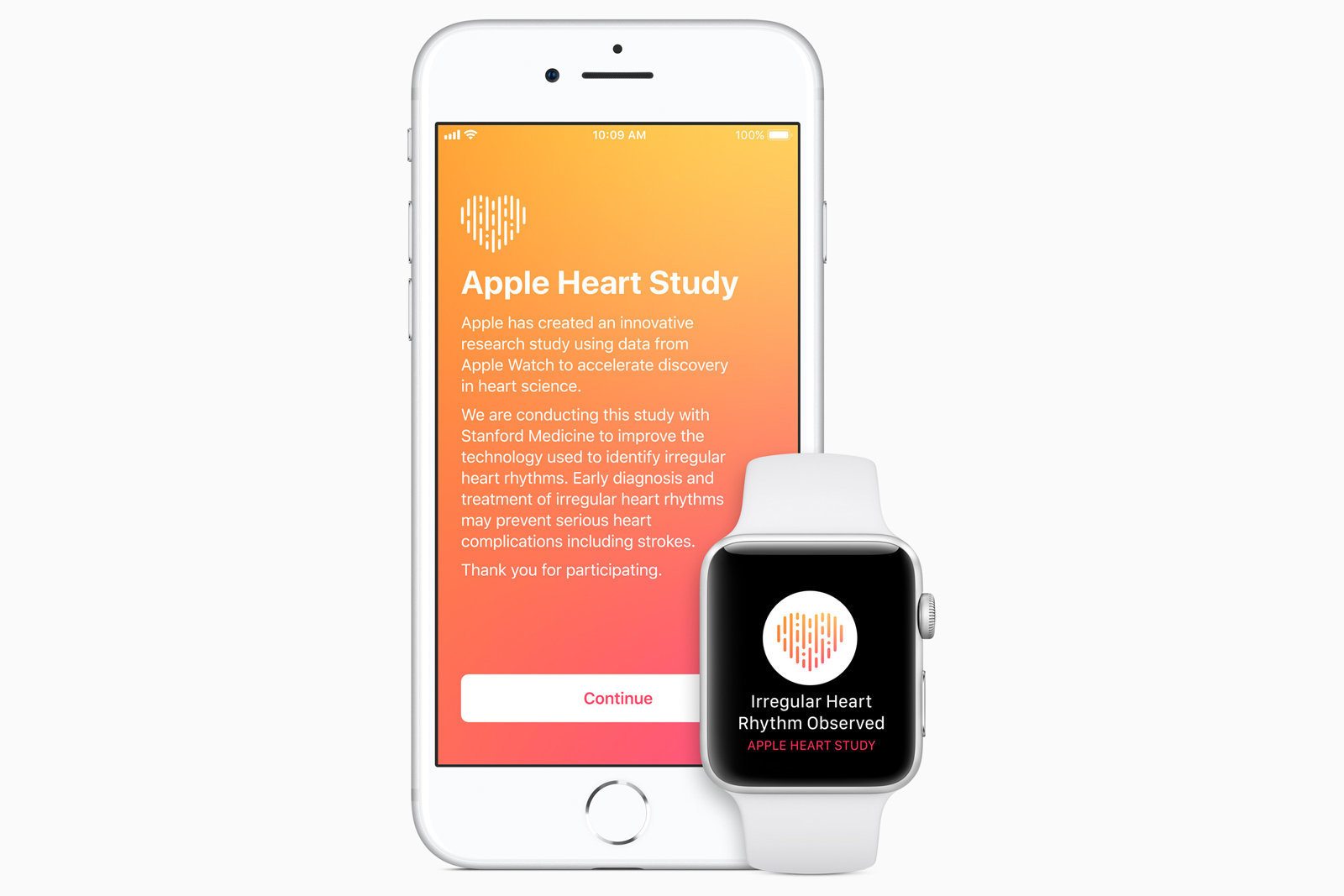 Stanford Medicine researchers recently released preliminary results of the Apple Heart Study, the largest study ever of its kind, which enrolled over 400,000 participants from all 50 states in a span of only eight months.
Apple Heart Study Overview
Presented at American College of Cardiology's 68th Annual Scientific Session and Expo in New Orleans, the study was launched in 2017 to  evaluate Apple Watch's irregular rhythm notification, which occasionally checks the heart's rhythm in the background and sends a notification if an irregular heart rhythm appears to be suggestive of atrial fibrillation (AFib). AFib can lead to that can lead to blood clots, stroke, heart failure, and other heart-related complications.
As part of the study, if an irregular heart rhythm was identified, participants received a notification on their Apple Watch and iPhone, a telehealth consultation with a doctor through AmericanWell and an electrocardiogram (ECG) patch through BioTelemetry for additional monitoring.
Related: U of Michigan Launches 3-Year Health Data Collection Study Using Apple Watch
Apple Heart Study Key Findings/Results
Here are five key findings from the massive Apple Heart study:
1. 0.5 percent of the over 400,000 participants received an irregular heart rhythm notification, illustrating the feature's ability to give a user important health information without creating an unnecessary burden to their doctor's schedule.
2. Comparisons between irregular pulse-detection on Apple Watch and simultaneous electrocardiography patch recordings showed the pulse detection algorithm (indicating a positive tachogram reading) has a 71 percent positive predictive value.
3. Eighty-four percent of the time, participants who received irregular pulse notifications were found to be in atrial fibrillation at the time of the notification.
4. One-third (34 percent) of the participants who received irregular pulse notifications and followed up by using an ECG patch over a week later were found to have atrial fibrillation. Since atrial fibrillation is an intermittent condition, it's not surprising for it to go undetected in subsequent ECG patch monitoring.
5. 57 percent of the participants sought medical advice following their irregular rhythm notification, using the information to have more meaningful conversations with their doctors.
Impact of Apple Heart Study for Connected Health 
"The results of the Apple Heart Study highlight the potential role that innovative digital technology can play in creating more predictive and preventive health care," said Lloyd Minor, MD, dean of the Stanford School of Medicine. "Atrial fibrillation is just the beginning, as this study opens the door to further research into wearable technologies and how they might be used to prevent disease before it strikes — a key goal of precision health."

"The study's findings have the potential to help patients and clinicians understand how devices like the Apple Watch can play a role in detecting conditions such as atrial fibrillation, a deadly and often undiagnosed disease," said Mintu Turakhia, MD, associate professor of cardiovascular medicine and principal investigator for the study. "The virtual design of this study also provides a strong foundation upon which future research can be conducted to explore the health implications of wearable technology."