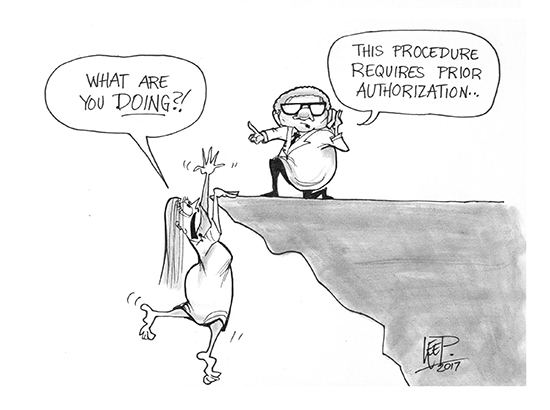 Editor's Note: Co-written by Scott Herbst, Senior Vice President and General Manager of Provider Solutions and Ryan Miller, Senior Vice President of Strategy & Corporate Development at Availity.
Prior authorizations may be as popular among providers as ants at a picnic, but they have become a common and necessary part of the reimbursement process. As a result, being able to manage prior authorizations efficiently is critical to maintaining a healthy revenue cycle and avoiding issues such as denied claims, administrative waste, excessive staff turnover and, of course, patient dissatisfaction.
It isn't the concept of requiring prior authorization before a procedure that makes providers' skin crawl. They understand the need. It's the arduous manual processes that must be undertaken in order to receive them. It often feels like the 12 Labors of Hercules, only with a healthcare spin.
Recently, that has started to change as automation is beginning to replace the time-consuming, labor-intensive manual processes typically required to obtain prior auths. Progress is slow so far, however, as they have proven difficult to automate given that prior auths do so many things and can cover everything from Magnetic Resonance Imaging (MRI) to major surgery.
Even the authorization process itself contributes to the challenge. Rather than fitting neatly into a single workflow, it is typically a complicated procedure involving many steps.
So how do you choose between competing offerings? Start by ensuring the automated prior authorization solutions you're considering address three key areas – verification, submission, and status.
1. Verification
Once it is integrated into your existing Radiology Information System (RIS) or electronic health records (EHR), the prior auth technology must be able to check for Current Procedural Terminology (CPT)-specific eligibility and benefits automatically to determine right away if authorization is required. If not, it should immediately send a notice to pre-certification team members.
2. Submission
Although you will still need pre-certification specialists to become involved, your prior auth solution should automate the administrative "busy" work of the submission and allow your staff to focus only on the more important clinical portion of the process. This enables them to work at the top of their licensure.
3. Status
Finally, the prior auth solution should eliminate the need for humans to check on whether the authorization has been given by continuously scanning the patient portal itself. Once the authorization is obtained, which usually takes less than 20 minutes, the solution should forward the authorization approval number, valid dates, and an archived screen capture of the authorization details. Additionally, it should automatically attach the documentation to the medical record for audit purposes.
Choosing between solutions
That's the high-level view of what automating prior auths can do for your organization. Once you're ready to make the leap, the next challenge is which of the many competing solutions to choose. Here are nine key considerations that will help you narrow down your choices.
1. Steps the solution automates. Some solutions only automate determination, while others do that plus status. Very few automate submission. If they do, you want to ask how they handle clinical intervention. Most prior auths require it, which means most submissions can never be completely automated. Know that electronic submission does not mean "automation", so make sure to ask the right questions.
2. Data used to determine if authorization is required. While automated solutions are primarily rules-based, payer rules change all the time without notice. Out of date rules can lead to a denial. The solution should have the ability to obtain proof that an authorization is not required. It should also include an integrated medical necessity check to avoid denials based on a lack of medical necessity, even when a prior auth has been obtained.
3. How the solution stays up-to-date with payers. You need to understand how frequently the data regarding payer rules is updated, how many CPT codes are maintained, the modalities supported, the rules validations conducted and more.
4. How data is exchanged. Automated prior auths are typically processed using EDI 278 transactions, an Application Program Interface (API), or an HL 7 feed. Each has its advantages and disadvantages. You want to compare those, as well as ensure all the payers you work with can accept the data exchange method you plan to use.
5. Management of order changes. If an order changes after a prior auth has been received, how does the technology handle it? A good system will flag the discrepancy so the staff knows to resubmit the order now to avoid a denial later.
6. Ability to integrate. Ideally, the solution you choose will integrate into your EHR, practice management, or RIS rather than requiring a separate interface.
7. Customization. Your solution should also be customizable to fit the complex needs of your organization.
8. Level of Support. Prior auths are complex transactions that incorporate a significant amount of data. Things are bound to happen. When it does, you want to be sure you have real, human support from a pre-certification expert who can evaluate the problem and guide you to a solution rather than someone who has learned the technology but doesn't understand prior auths.
9. Check for proven results. Many technologies work in theory, but getting prior auths right is too important to leave to chance. Be sure to speak with organizations that are already using the technology to see if their experience matches the hype.
With healthcare organizations running on ever-thinner margins, ensuring timely payments becomes even more essential to survival – not to mention success. The right automated prior auth solution can reduce denials and reworking claims submissions while lowering costs and improving overall cash flow. It's definitely an investment whose time has come.
Featured image credit: Medaxiom