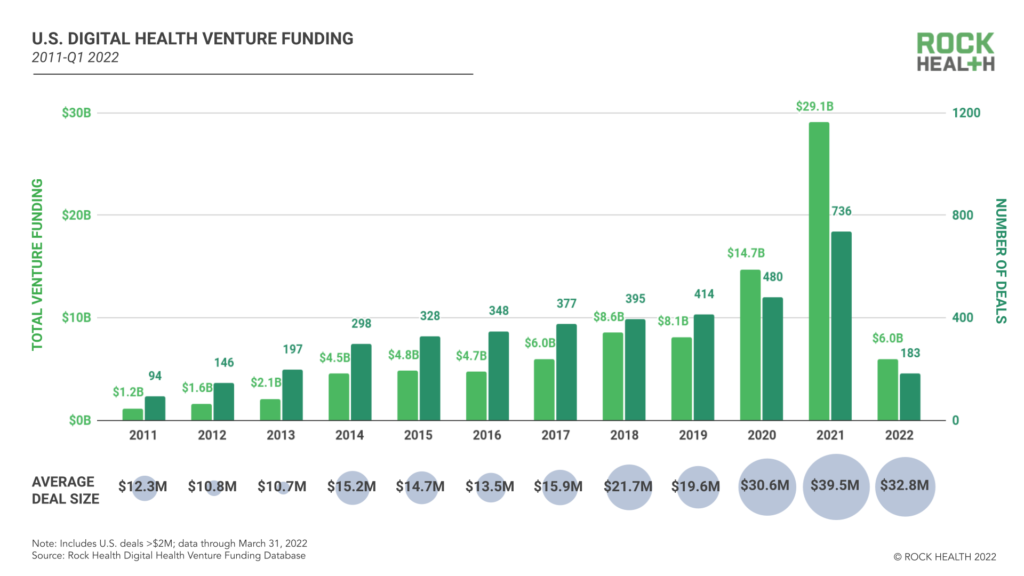 What You Should Know:
– Rock Health report reveals Q1 2022 digital health funding closed with $6.0B across 183 deals, and an average deal size of $32.8M.
– Q1 2022 digital health funding was significantly behind Q4 2021's $7.3B and the trailing twelve month quarterly average of $7.1B.
---
Digital health funding reached a total of $6B in Q1 2022 across 183 deals, and an average deal size of $32.8M, according to Rock Health, a full-service venture fund dedicated to digital health. The rise-and-fall of COVID variants, energy shocks, and inflation numbers signal caution for digital health investors.T he Q1 2022 Rock Health report produced by Adriana Krasniansky and Pavan Shah with help from Charlotte Hawks and Jasmine DeSilva reveals digital health venture funding trends and public market performance along with emerging sectors.
Other key findings of the report include:
Public Market Performance Decline: From the beginning of Q3 2021 (July 1, 2021) to the close of Q1 2022 (March 31, 2022), the Rock Health Digital Health Index (RHDHI), our composite of publicly traded digital health securities, tumbled 38%, far below the S&P 500's 5% dip over that same time period. Findings suggest Digital health companies that exited onto the public markets before 2020 saw, on average, a 17% drop in stock price from Q3 2021 open to Q1 2022 close (similar to NBI performance), while digital health's 2020 and 2021 exit cohort saw a 55% drop in share value over the same timeframe.
SPAC Turmoil & Deflation: 17 of digital health's 31 public market exits from 2020-2021 were SPAC mergers—digital health's SPAC exits' average stock price fell 57% from Q3 2021 open to Q1 2022 close, while IPO exits' average stock price fell 29% during the same time period. This key finding reveal that digital health's SPAC class exerted downward pressure on overall RHDHI performance. Q1 2022 experienced digital health SPAC deals canceled, SPAC exits taken private, and SPAC targets sued for misleading funders.
Factors contributing to SPAC turmoil, including that SPAC targets are, on average, three years younger than their IPO counterparts (suggesting that some SPAC targets may not have been ready for the public markets), and that incentives may be misaligned between SPAC sponsors and other investors (suggesting that stock price may be compromised at time of deal close).
Huge Later Stage Deals: Mega Series D+ deals in Q1 2022, include TigerConnect ($300M), Lyra ($235M), Alto Pharmacy ($200M), Omada Health ($192M), and Ro ($150M). The increase in Series D+ activity might signal that some companies are delaying their exits until public market conditions stabilize, or may be recalibrating away from SPAC exit roadmaps (or, in the case of Alto Pharmacy, scrapping SPAC plans already in the works) and possibly moving toward IPO pathways, which takes much longer.
Changes in Funding Allocations: Funding for digital health startups catalyzing R&D in biopharma and medtech ($1.0B) dropped slightly to second place this quarter, while funding for startups augmenting clinical workflow ($888M) rose eight spots to third place. Clinical focus area, startups offering mental healthcare/behavioral health kept the top spot with $1.0B, bolstered by employer-focused Lyra Health's Series F ($235M) and Omada Health's Series E ($192M).