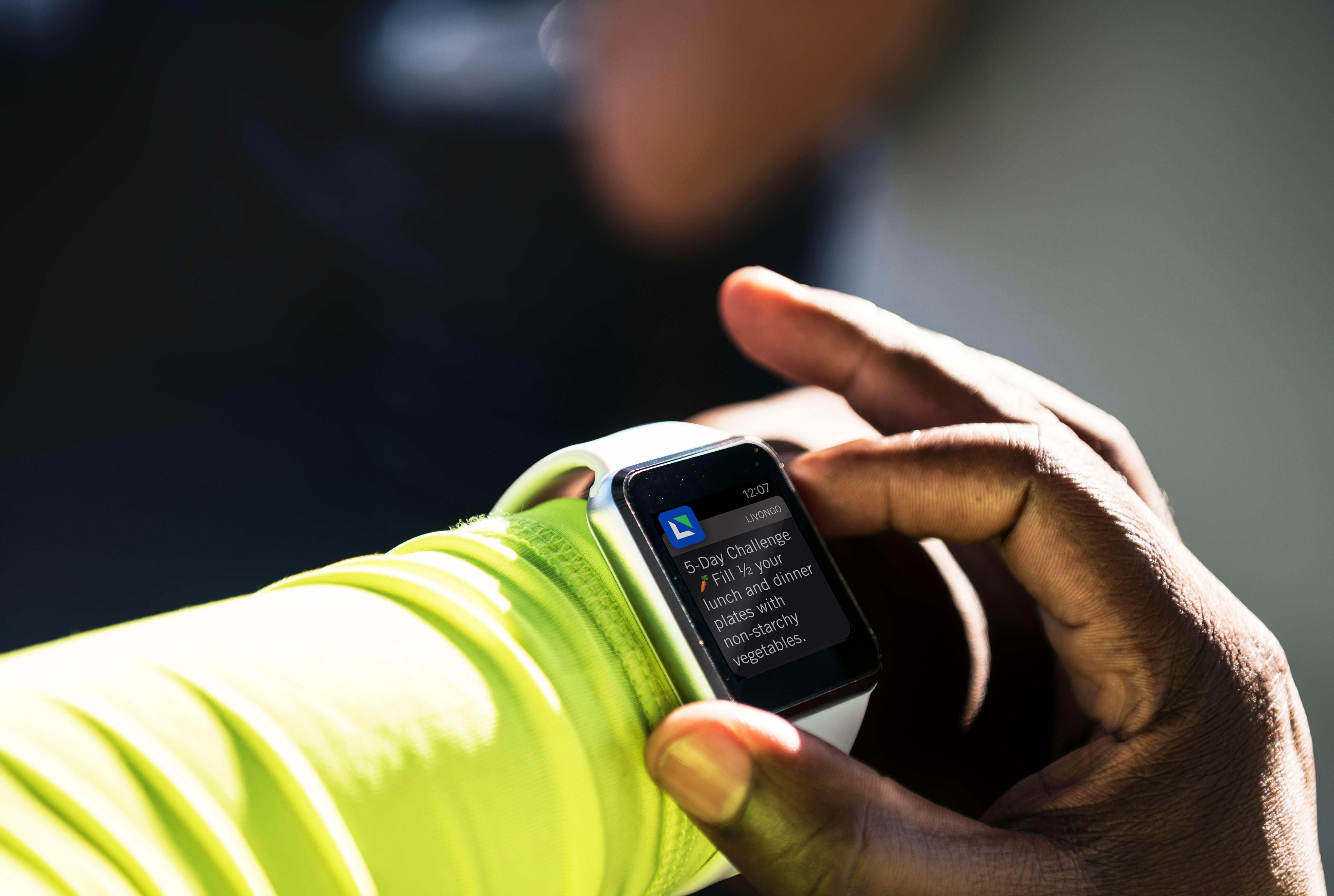 Livongo, a leading Applied Health Signals company empowering people with chronic conditions, today announced the launch of a bi-directional integration with the top smartwatches in the market, including leading models from Apple, Fitbit, and Samsung. Livongo Members can now connect their smartwatches to the Livongo mobile app to receive real-time Livongo notifications on the surface of their choice enabling Livongo to provide more timely and relevant information to Members and their care teams.
Bi-integration Provides Personalized Activity-Related Insights
Smartwatches are one of the fastest growing new technologies today and it is estimated that one in six people in the United States own a smartwatch[1]. These new integrations allow Livongo to offer Members behavioral Health NudgesTM and health information directly to their smartwatch. In addition, Livongo now offers Members the ability to sync their steps data from their Apple, Fitbit, or Samsung smartwatches with their Livongo app. This data enables Livongo's AI+AI engine to provide more personalized activity-related insights.
"Our smartwatch integration allows us to capture information from our Members, add it to our AI+AI engine, and return actionable, personalized, and timely information back to them," said Dr. Jennifer Schneider, M.D., M.S., President of Livongo. "By offering another way to access personalized health insights, we are able to more easily influence positive behavior change, which we know can lead to better health."
Livongo Now Offers Notifications for Interactive Challenges
As part of the new smartwatch integration, Livongo now offers notifications for interactive challenges. These challenges are designed to empower Members to form healthy lifestyle habits that support their diabetes management and other chronic conditions in areas such as nutrition, exercise, sleep, stress management, and more. Each challenge lasts five days and is designed to enable sustainable lifestyle behavior changes that are known to drive measurable clinical outcomes by providing Members with specific and achievable goals, tools for tracking progress, and daily educational content.
Examples of current challenges include incorporating walking into a daily routine or replacing sugary beverages with water. Livongo is able to anticipate potential barriers that Members might face during their behavior change journey and uses educational content to proactively address those barriers.
"We are excited to offer our Members the opportunity to conveniently access valuable health information and Health Nudgesusing their existing smartwatch devices," said Livongo Chief Product Officer Amar Kendale. "As we continue to expand our Applied Health Signals platform, we can use the integration to aggregate more important health data that we can then interpret to better understand the unique needs of our Members."
References
[1] https://techcrunch.com/2019/02/12/sixteen-percent-of-u-s-adults-own-a-smartwatch/