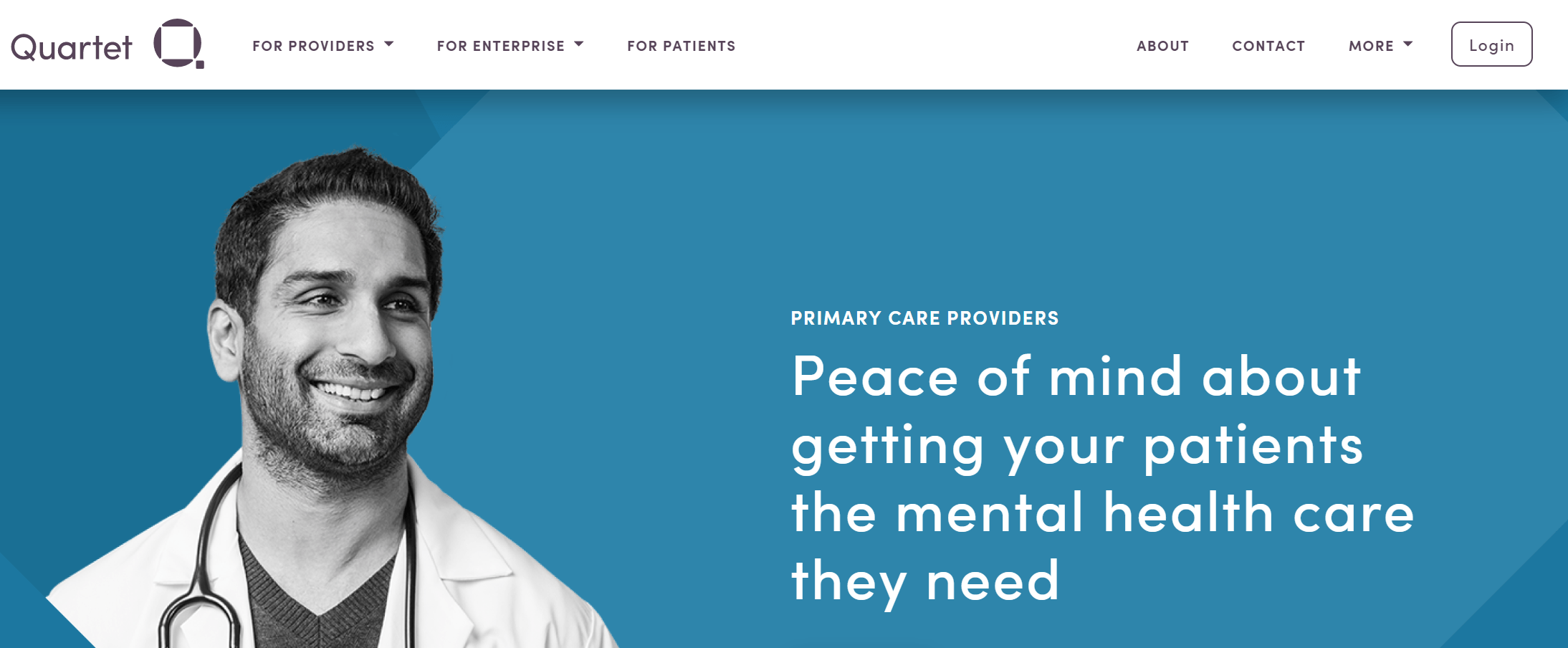 Quartet, an NYC-based innovative healthcare technology, and services company has announced a strategic partnership with Centene Corporation to ensure the most vulnerable populations have access to mental healthcare. In addition, Quartet has raised $60 million in Series D funding led by Centene Corporation, and returning investors F-Prime Capital Partners, GV (formerly Google Ventures), Oak HC/FT, and Polaris Partners. The latest round brings total funding raised to date to $153M.
Growing Focus on Supporting Medicaid Beneficiaries with Mental Health Conditions
Medicaid, which supports nearly one in five Americans to access health care, is the largest payer of mental health care in the United States. The average spend of a Medicaid beneficiary with mental health conditions is 4x greater than someone without. This excess spend often shows up through physical health complications and costly episodes such as emergency room visits. Research shows that when mental health is integrated with primary care, patient health improves, and cost of care goes down.
Founded in 2014, Quartet enables the integration of mental health and primary care through scalable products and services built for the provider community. Through a HIPAA-compliant technology platform, Quartet supports collaborative care teams at the local level, placing both primary care and mental health providers at the center of patient care.
Physicians are supported with data and resources to better identify patients who may have underlying mental health conditions, and empowered to easily connect their patients to a trusted network of mental health providers. Sharing treatment plans, notes, and updates on clinical assessment results, primary care and mental health providers are empowered to support the overall mental and physical health of their patients.
Quartet Expands Platform to Support More Members of the Patient Care Team
Supporting patients with mental and physical health conditions – including those on Medicaid – often takes a team. Today Quartet is announcing a new feature of the company's Care Team product that will enable clinicians, clinically-adjacent providers, and community-based professionals – such as case managers – to support patients and connect them to mental health care. This will empower a greater number of professionals to support patients to get the right care at the right time.
Over time, the Care Team product will deliver a unique opportunity to care for the full patient journey, including a more collaborative approach with all stakeholders who are a part of a member's care journey. This product evolution is highly relevant for Medicaid beneficiaries, many of whom are served by Federally Qualified Health Centers (FQHCs) and other community resources, and have numerous non-clinical professionals as a part of their care team.
"We are committed to building a health care system in which every person with a mental health condition gets the care they need," said David Wennberg, MD, MPH, CEO of Quartet. "In all we do, the patient is our north star. Centene's partnership enables us to continue to support the experience of individuals in need of mental health care services, including Medicaid beneficiaries and their team of care providers."
Quartet plans to utilize the funding to fuel continued growth as the company works to help ensure people with mental health conditions get the care they need.