GoCheck Kids, the creators of an FDA-registered and CE certified iPhone app that screens for amblyopia in pre-verbal children used by over 4,500 pediatricians announced it has raised $6M in Series B funding led by FCA Venture Partners. The investment will be used to add artificial intelligence capabilities with Apple's CoreML and ARKit and accelerate further electronic health record (EHR) integrations.
Amblyopia: The Leading Cause of Vision Loss in U.S. Children
According to the CDC, Amblyopia is the leading cause of monocular visual impairment for children in the US, a leading cause of childhood vision impairment worldwide, and affects about 1%–4% of preschool-aged children in the US.6 Left untreated, amblyopia can result in permanent vision loss, but can be effectively treated if detected early. Studies have shown that photoscreening in children under the age of 3 years can be a reliable method to detect amblyogenic risk factors. Various medical organizations recommend vision screening, but actual screening rates remain low as a result of perceived and real barriers, including parental perceptions that the procedure is too time-consuming or that children are uncooperative.
Photoscreening Device for the Detection of Amblyopia 
Co-founded by David Huang, co-inventor of OCT in 2013, GoCheck Kids is the first iPhone app registered with the U.S. Food and Drug Administration to screen the one in four children under six years old that have a correctable vision impairment, including amblyopia. GoCheck Kids makes early screening affordable, reducing the cost by over 60 percent by leveraging the iPhone's manufacturing scale and bi-directional EHR integrations.
"Many childhood eye diseases, including amblyopia, myopia (near-sighted), hyperopia (far-sighted), and even retinoblastoma (rare but fatal childhood cancer) are not readily apparent or easily diagnosed by health care professionals," said David Huang, MD, PhD, co-founder and CIO of GoCheck and leads innovation for the GoCheck Kids technology. "Instrument-based vision screening has proven effective in identifying vision issues in children, however, it is cost-prohibitive for many pediatricians. We are changing this dynamic by bringing pediatric vision screening into the digital age."
Today's Physicians Depend on Unreliable Eye Charts
Until GoCheck Kids, the only way for pediatricians and hospitals to screen pre-verbal children was to purchase expensive, antiquated hardware devices that can cost more than $20,000 to operate over several years because of repairs and warranties while lacking EHR integration. As a result, many hospitals and pediatricians choose to rely on eye charts that are not reliable for young children, causing a gap in care during a vital period of time when prevention is possible.
How GoCheck Kids App Works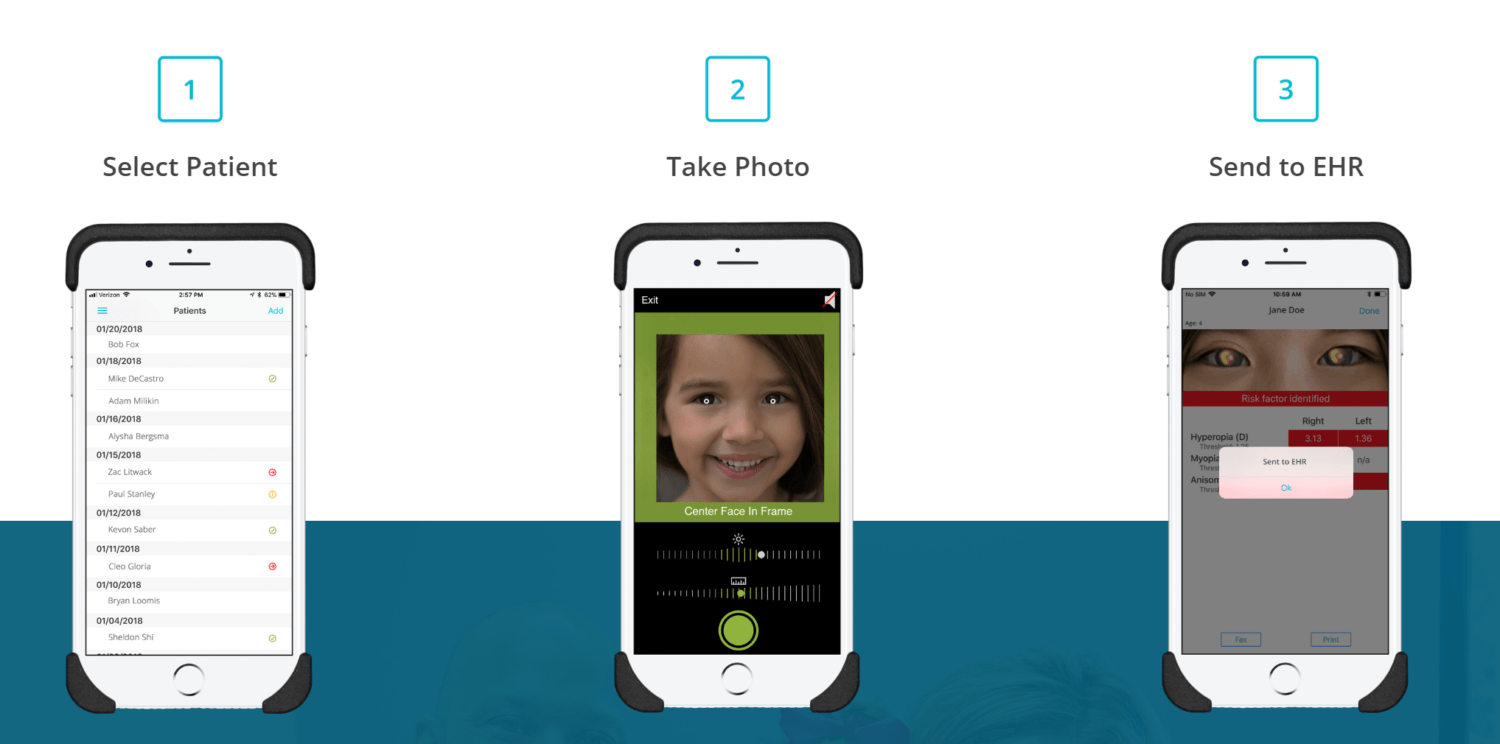 GoCheck Kids is easy and convenient to use. A nurse or technician takes a picture of the child's eyes with an iPhone, the app captures the image, and proprietary algorithms analyze the result, providing immediate information on the status of the child's vision. This process provides the pediatrician with the information necessary to determine if the child should see an eye care professional for a full exam. The procedure, known as photoscreening, is reimbursed under CPT codes 99177 and 99174 by most insurers and endorsed by the American Academy of Pediatrics, American Academy of Pediatric Ophthalmology and Strabismus, and the American Academy of Ophthalmology. Pricing starts at $149 per month per phone.
"I am most excited about closing the loop through health systems' EHR integration," said David Huang. "By connecting the pediatrician and pediatric ophthalmologist we can use AI and deep learning techniques and tools like Apple's ARKit and CoreML to increase effectiveness and potentially get better referral criteria than even the collective ophthalmology wisdom."
GoCheck Kids iPhone Photoscreener from GoCheckKids on Vimeo.