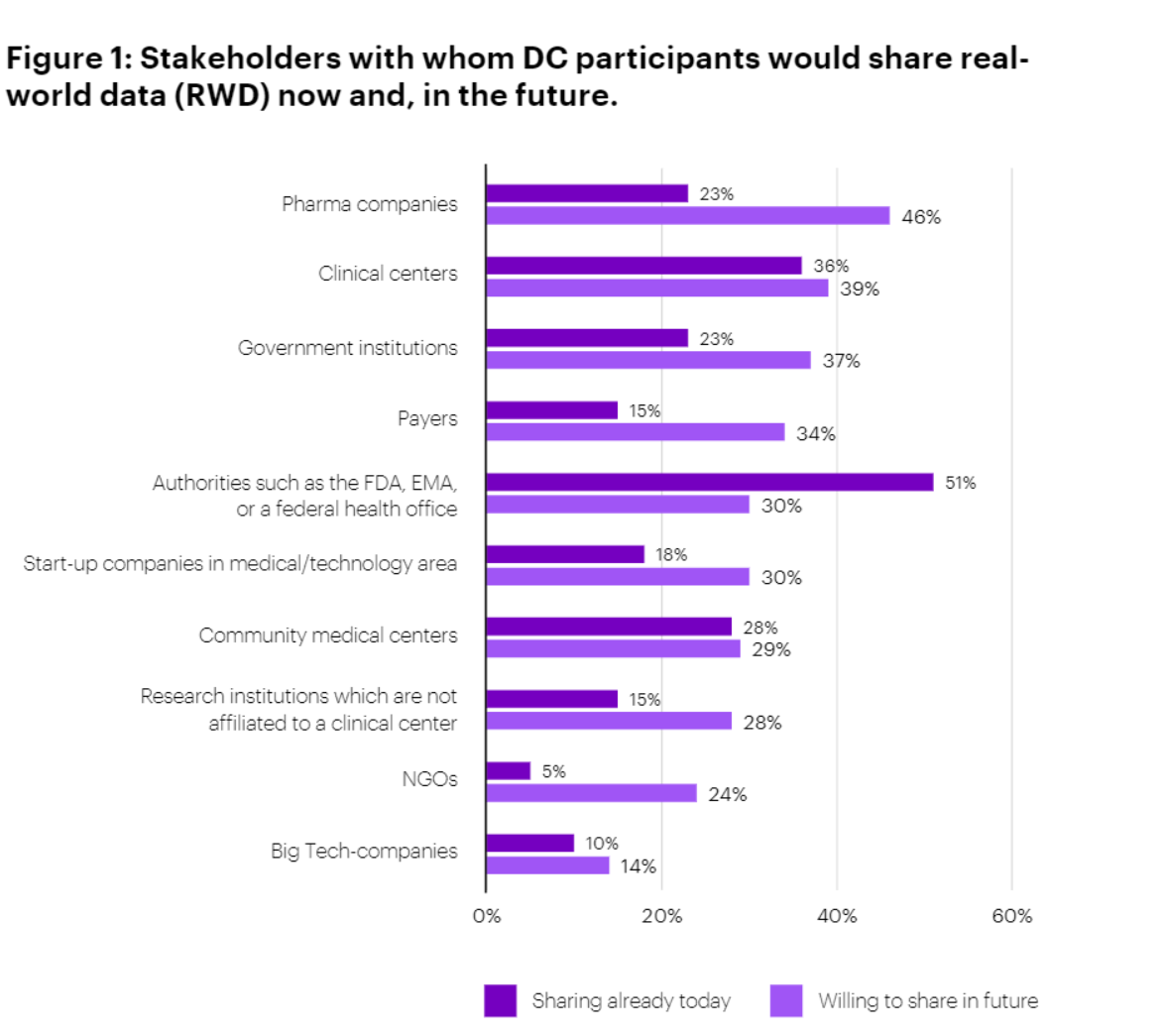 What You Should Know:
– Accenture published Fast-Forwarding Healthcare through Data Collaboratives Report to discover how best health ecosystem players access data to fast-forward healthcare.
– Data generated by technical and scientific advances, like connected health devices, consumer health and medical-grade digital apps, individual multi-omics profiling data and the move to cloud storage, holds great promise for accelerated healthcare progress and precision medicine, and data collaboratives (DCs) might be the path forward. This report takes a closer look into DCs with a specific focus on oncology, as one of the largest therapeutic areas in terms of industry spending and new medications' launch pipelines.
Understanding the Potential Data Collaboratives Hold to Generate Value in Healthcare
Life sciences companies increasingly use DCs to access high-quality data from ecosystem partners. The aim is to accelerate research and early development (R&D), clinical development, and post-launch insight generation. To better understand the extent, implications, and potential benefits of DCs, a survey was conducted among 59 people who are heads of oncology and institutional review board (IRB) members. Of those surveyed, two-thirds already participate in DCs, and the remainder does not. This quantitative research was supported with qualitative research among 18 cross-industry experts (pharma & MedTech, technology service providers, cancer registries, research institutions, patient communities). The research was conducted across the US and the top five EU countries.
Oncology was deliberately selected for a close look into the therapeutic implications of DCs as it is one of the largest therapeutic areas (TAs)3 in terms of industry spending and new medications' launch pipelines. The outcomes of the findings could apply across TAs. First, the researchers wanted to understand oncologists' key DC participation drivers—including their preferred ecosystem setups. Then we profiled the key challenges involved in establishing DCs. Challenges to success were assessed and accelerator were looked at, along with, success factors, and strategies vital to effective DC establishment.
Oncologists believe that data collaboratives generate value\
The overall trend was clear: respondents were unanimous in their view that DCs generate significant value for patient outcomes. Nearly two-thirds (64%) agree strongly and 36% agree somewhat. They also generally believe that DCs generate significant value for research outcomes, though the agreement is more muted on this point (38% strongly agree and 54% somewhat agree). The survey indicates that DCs are more significant for patient outcomes than for research outcomes. Although Pharma and MedTech companies were not surveyed, it would be expected to see significant DC value in the R&D space. While DC participants currently tend to share data more readily with regulatory authorities and clinical stakeholders, they are open to sharing more data with pharma companies in the future.
Technical and human obstacles to data collaboratives: As far as obstacles go, technology and sponsorship seem to be common threads among all respondents. The top five challenges, in order, are:
– Technical integration.
– Lack of sponsor commitment.
– Compliance with federal data protection regulations.
– Lack of trust among participants.
– Data harmonization
Life sciences companies can't wait to have an extensive data ecosystem at their fingertips. The implications for product development are immense, and DCs represent a particularly attractive opportunity to stimulate innovation and access large datasets from multiple parties. However, establishing a DC is not to be underestimated as a venture. Many of them fail for lack of a solid business case or because the needs and interests of participating parties are not well understood, preventing the realization of cross- organizational benefits. Some fail at the point of conception, while others are unsustainable in the longer term. Yet, the faster and more effectively companies can implement DCs, the greater the competitive advantage they derive. Ultimately, the pioneering insights they obtain could drive improved healthcare—and make it more sustainable.
The report also highlighted pertinent challenges associated with DC's which are as follows:
Business Challenges: Business challenges associated with DCs apply to both oncologists participating in DCs and those not doing so. High participation costs are flagged by 40% of those surveyed. Another key issue is that for 25% of the sample group, the benefit of participation is unclear – and the absence of a business model to generate a return on investment makes sponsors reluctant to commit. Single-sponsor dependence is also very risky for a DC project. A sustainable business model will generate value and improve revenues, winning over more than one sponsor. The study reveals that prospective DC partners want to use RWD from the collaborative to identify new treatment targets and biomarkers. Oncologists already using data collaboratives find the greatest value in clinical care improvement and decision-making. This dichotomy of interests suggests that a clear understanding of prospective partner needs is essential to attracting the right DC partners.
Data Challenges: Among oncologists spoken to, a hefty 64% of those who participate in data collaboratives have faced obstacles with the data (insufficient variety). Nearly half (44%) of the academic medical centers said that key required data sets weren't available from the partners in the collaborative (too much data heterogeneity). Nearly a third (31%) said the DC provided poor- quality data. Other challenges included data heterogeneity (more than half (56%) of respondents said data harmonization is one of the biggest challenges). As a consequence, 21% of respondents highlighted the onerous process of agreeing on a common data model and terminology to reduce heterogeneity. Every potential DC partner follows its own standard or has simply adapted standards to some degree—a finding confirmed by our expert interviews. Disparate standards make it difficult to share data usefully between institutions—which applies mostly to unstructured data but not exclusively so. Overcoming these challenges is vital.
Technical Challenges: Almost all (92%) of academic medical centers in data collaboratives have faced technical issues. The main technology challenges involve the technical integration of hospital systems with the collaborative. A third have faced technical difficulties with the DC platform itself or its associated services. The survey indicates that more than 90% of academic medical centers still use a purely centralized approach for data exchange with the DC. The centralized approach creates lengthy legal discussions on data transfer. When DCs generate copies of data, adherence to data privacy regulations becomes more complex. The approach inherently prevents expansion into certain countries due to local data privacy and security laws that prohibit data copying or transfer. Further drawbacks of the centralized approach include consent management difficulties, double- data entry, and large data transfer costs.
Data Privacy Challenges: Compliance with data sharing or data protection regulations is important. Data privacy issues are more common in Europe than in the U.S—on average, almost seven in 10 of those we surveyed have faced data privacy/legal obstacles. That number rises to nearly eight in Europe. The experience of setting up data collaboratives and enabling data-sharing initiatives across regions has shown that transferring health data across country borders is also an obstacle. For oncologists not currently participating in a DC, data security and privacy constraints represent the top barrier to participation in a DC. In fact, data privacy and security constraints are a hurdle for 60% of potential partners. addressing and implementing technical data security and privacy requirements was a challenge for 21% of our sample group.The challenge is underlined by the fact that 31% of medical centers want better data privacy and security approach.
Partner Ecosystem Challenges: Appropriate partners are, per definition, indispensable to the success of a DC. Potential partners must be identified, approached, and evaluated against a set of criteria. Among our respondents, almost nine out of ten have faced obstacles with the partner ecosystem. In terms of ecosystem partner challenges, a lack of trust among participants was the fourth most mentioned challenge overall among participating medical centers. It was also one of the challenges most often raised by industry experts. Political conflicts and partners' personal interests could be related to a lack of trust, and respondents mentioned them as important challenges.
Legal Challenges: Research found that 64% of academic medical centers have faced governance and legal challenges. Challenges include the creation of data transfer, usage, and governance agreements and agreeing on intellectual property (IP) and other contractual terms. Industry experts we spoke to confirmed that contractual and governance agreements and signings are particularly onerous hurdles. Yet it is crucial to create an overarching (and binding) legal structure to achieve mutual trust and transparency.