– The "death" of provider referrals is imminent as patients now prefer to use online resources 2x more than using traditional referrals to find a doctor, according to the newly released report by Doctor.com
– Customer Experience Trends in Healthcare report reveals that the use of referrals to find a provider has declined by 44% since 2018.
Doctor.com, a provider of critical infrastructure and integrations necessary to enable modern digital experiences for patients has released its annual "Customer Experience Trends in Healthcare" report that signals the death of provider referrals is imminent. Based on survey results of more than 1,600 U.S. adults, the report reveals that patients now rely on online sources 1.7x more than they do provider referrals to find a doctor.
Will 2020 Mark the Death of the Referral?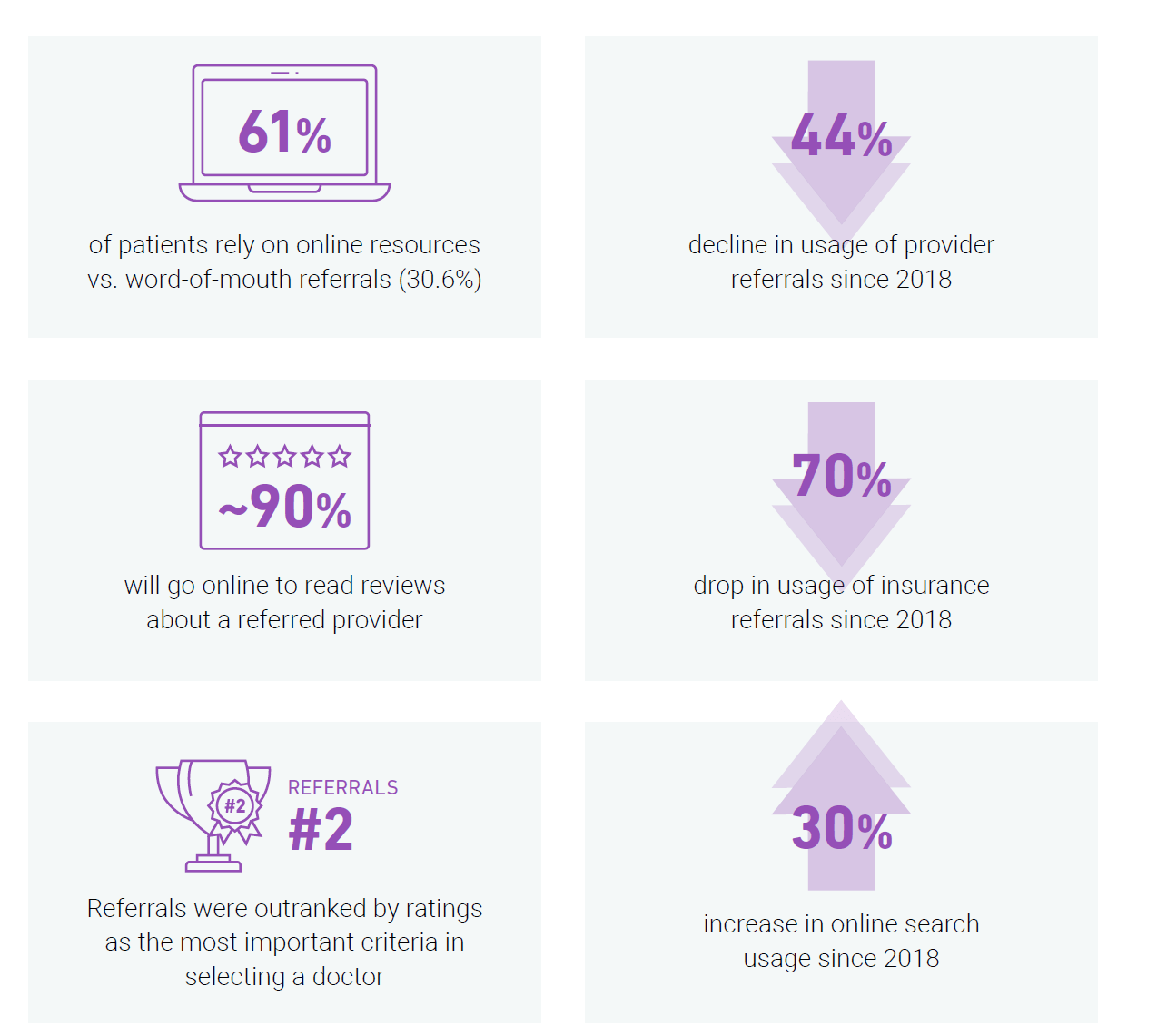 The digital era has ushered in a more empowered patient as more patients are utilizing available digital tools to conduct their own healthcare journeys from the comfort of their homes, very similar to what they do in other customer journeys: browsing the web for options, comparing providers through profile descriptions and patient reviews, and booking appointments through convenient digital apps. Patients are now making healthcare decisions long before they step foot into a doctor's office.
The report finds that the use of referrals to find a provider has declined by a whopping 44% and a 26% decline in phone usage to make an appointment since 2018. However, despite the advancements in digital health tools, more than half of consumers find the patient journey to be difficult. Survey respondents expressed frustrations in "finding enough information about a provider online."
Despite the roadblocks, patients are increasingly moving to digital channels to conduct their healthcare research and transactions, becoming an essential part of today's patient journey. In 2020 and beyond, patients will select their provider based on the online information, reviews, and tools available.
The survey finds 88% of patients will go online to read reviews about a provider they've been referred to. Patients ranked ratings and reviews as the most important factor when making a doctor's appointment, with referrals coming in second.
Growing Importance of the Patient Experience
Until someone enters an examination room, he or she goes through a series of actions that highly resemble any customer journey: researching and evaluating providers, comparing services and reviews, taking action to schedule an appointment, and advocating for your providers or services via 5-star reviews. A broken, frustrating, or inconvenient experience at any of these touchpoints could lead a patient right to a competitor's practice or hospital.
2020 Patient Journey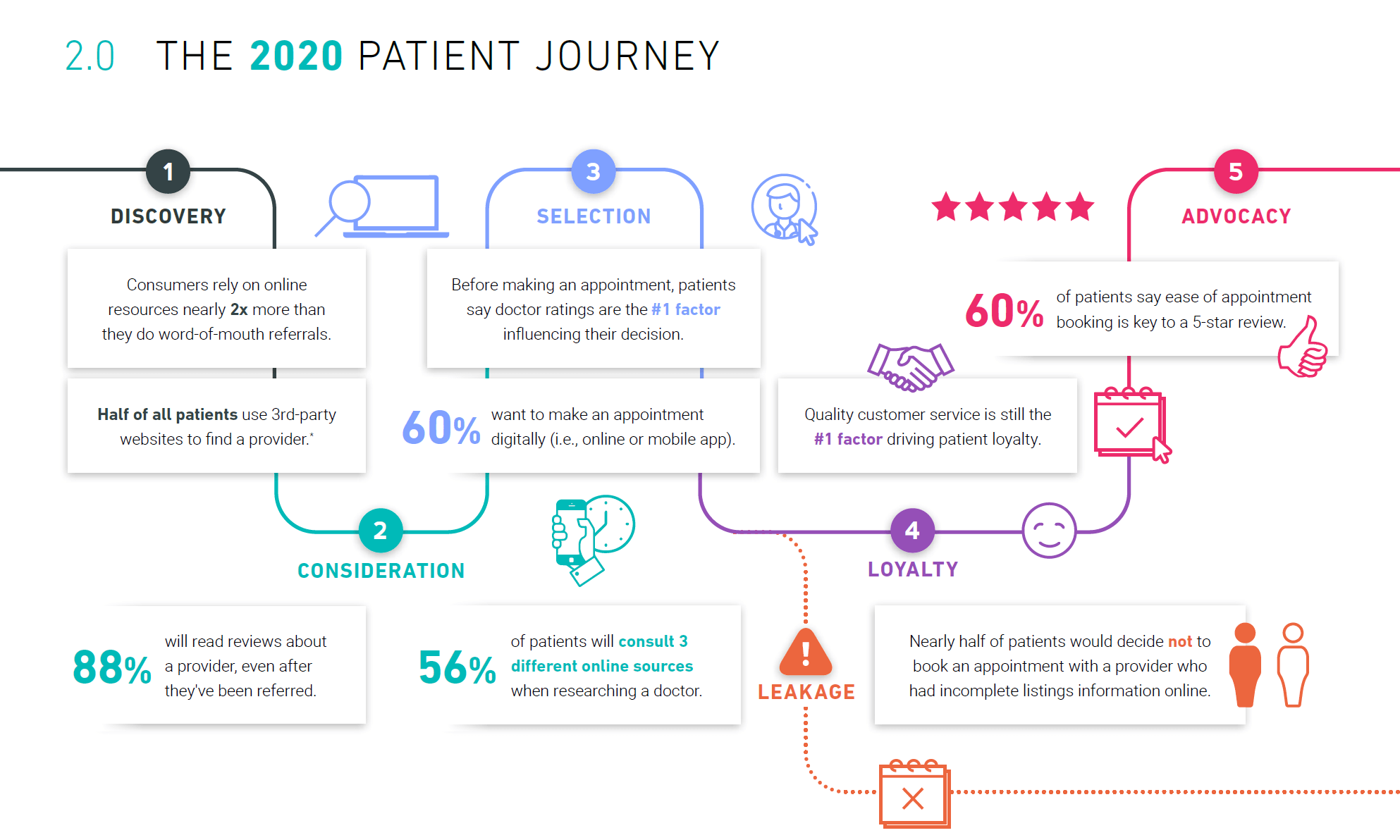 Discovery: Half of all patients use 3rd-party websites to find a provider
Consideration: 88% of patients will read reviews about a provider, even after they've been referred
Selection: Before making an appointment, patients say doctor ratings are the #1 factor influencing their decision.
Loyalty: Quality customer service is still the number one factor driving patient loyalty.
Advocacy: 60% of patients say ease of appointment booking is key to a 5-star review.
Healthcare Organizations Can No Longer Rely on Referrals Alone
Healthcare organizations and providers are no longer immune to digital consumerism trends, especially when it comes to online reviews. A provider referral is now just one data point among many for the modern patient.
Referrals still matter, but organizations can no longer stand on the strength of referrals alone. Patients who rely on referrals will almost always go online to read reviews. Hospitals and providers must take their online presence seriously, not only for future patient acquisition but to prevent further referral leakage as well.
"Over the past year, we've observed a fundamental shift as patients turn to digital over traditional channels at almost every touchpoint of the patient journey. From discovery, evaluation, and selection to ultimately booking with a provider, patients demand the convenience and empowerment of digital information and tools to make their own healthcare decisions," said Andrei Zimiles, CEO of Doctor.com. "2020 marks a major turning point in which healthcare organizations and providers can no longer afford to neglect their digital patient engagement strategies and, instead, must make them a priority in order to protect their bottom line."
Other key findings of the report include:
Rise of mobile health "shopping": The preference for using a mobile device to search for a provider has increased by 50% this year, and the preference for mobile appointment scheduling (i.e., via browser or app) has increased by 92%. There's been a 33% uptick in telehealth visits this year.
Voice (AI) search in healthcare is lagging: Only 15% of patients report that they've used an AI voice assistant to search for a provider.
Digital appointment scheduling is the new standard: The majority (60%) of patients prefer digital scheduling options over a phone call (a 36% increase from 2018). Almost half (48%) of all patients have chosen a doctor based on their ability to schedule or reschedule an appointment online.
Preventing patient leakage: the #1 reason that would prevent the patient from booking an appointment is "difficulty contacting the office." This is, perhaps, why the majority of patients prefer to use digital methods to schedule an appointment — no hold times, busy signals, or out-of-office voicemails.
Customer experience remains the key to loyalty and advocacy: The majority of patients (70.8%) consider quality customer service to be the most important factor when giving 5 stars to a provider. The same goes for patient loyalty — in order to ensure a returning patient, you need to deliver a great customer experience.
The millennial vs. boomer gap is shrinking: Younger generations remain the drivers of digital behavior. However, as new technologies have become more mainstream in the healthcare space, boomer adoption is quickly following suit.
For more information about the report, please visit: www.doctor.com/cxtrends2020