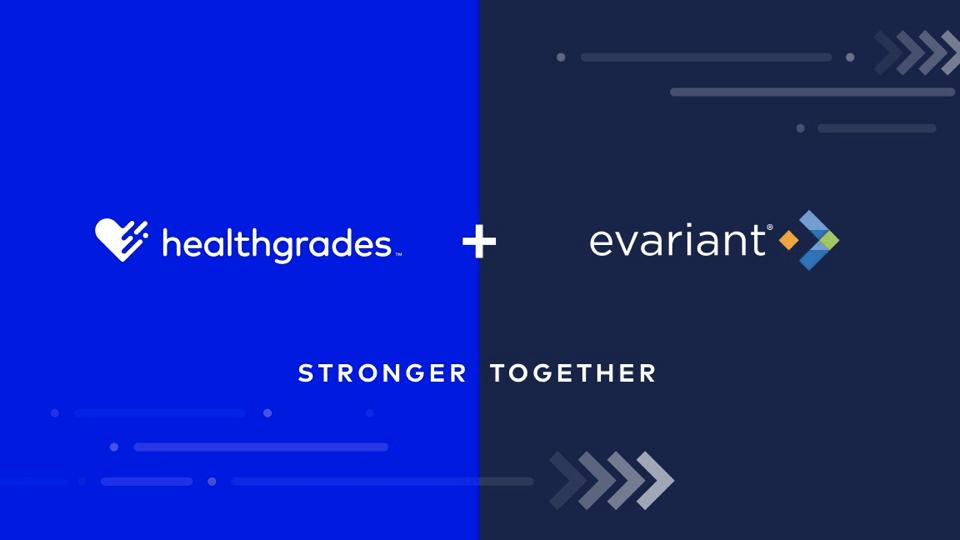 – Healthgrades acquires Evariant, a leading healthcare consumer and physician engagement company to create the most comprehensive consumer website to help educate consumers and connect them with a physician.
– The acquisition signals a major shift in our industry, where health systems are moving towards a more consumer-centric system of care. 
Healthgrades, a Denver, CO-based resource that connects consumers, physicians and health systems, today announced it has acquired Evariant, a Farmington, CT-based healthcare consumer and physician engagement company. With the combination of these two market leaders and innovators, Healthgrades will offer the most comprehensive end-to-end engagement platform in the healthcare industry, enhancing the company's value proposition for its combined base of 2,000+ hospitals and life sciences customers. 
Evariant Background
Founded in 2008, Evariant enables providers to optimize growth through smarter consumer acquisition, patient retention, and network utilization strategies through healthcare's only Patients for Life Platform. Over 1,000 hospitals have turned to Evariant technology and expertise to find, guide, and keep patients for life. The Evariant Platform was built specifically to manage the needs of hospitals. Relying strictly on state-of-the-art technology with sizable breadth and depth, we created a solution that's secure, compliant, reliable, scalable and user-friendly (even towards your plenty-busy IT team)—with real-time reporting and data integration that easily syncs with all systems/solutions, internal or external.
Acquisition Benefits for Healthgrades
"Following the successful integration of Influence Health, this acquisition further positions Healthgrades to lead the industry in improving connections between consumers and providers across multiple solutions and media channels," said Rob Draughon, CEO, Healthgrades. "Since the beginning of 2019, Healthgrades has significantly expanded its product suite, added exciting new talent, and enhanced its ability to innovate, invest and grow. Our goal remains clear: to better inform consumers along their health journey, powered by data and insights, improving the overall care experience and ultimately driving improved health outcomes."
Healthgrades' products and services enable physicians and health systems to optimize growth through smarter consumer acquisition, patient retention, and physician network utilization strategies. The combined offering includes:
– the most advanced healthcare customer relationship management (HCRM) solution;
– a leading physician relationship management (PRM) solution;
– an Engagement Center application that transforms call centers into profit centers;
– a web content management solution (CMS) supporting an integrated digital experience;
– a full-service healthcare marketing agency and strategic services arm focused on accelerating ROI;
– and the most comprehensive consumer website to help educate consumers and connect them with a physician.
This integrated technology platform will leverage more than 30 years of experience with predictive analytics and patient communications to engage consumers at every step of the patient journey, redefining their relationships with healthcare providers in the digital age.
Acquisition Extends Patient Lifetime Value
"At Evariant, we have successfully partnered with health systems to achieve high-value service line growth, extend patient lifetime value and improve network utilization and planning," said Clay Ritchey, CEO, Evariant. "We are excited to become a part of Healthgrades and look forward to the significant opportunities ahead as the scale of our combined companies will fuel expansion of our products, services and support resources to benefit our collective client base."
Financial Details
Terms of the transaction were not disclosed. Evariant shareholders will retain a minority stake in the combined company and will have a representative on the Board of Directors. Healthgrades is a Vestar Capital Partners portfolio company.