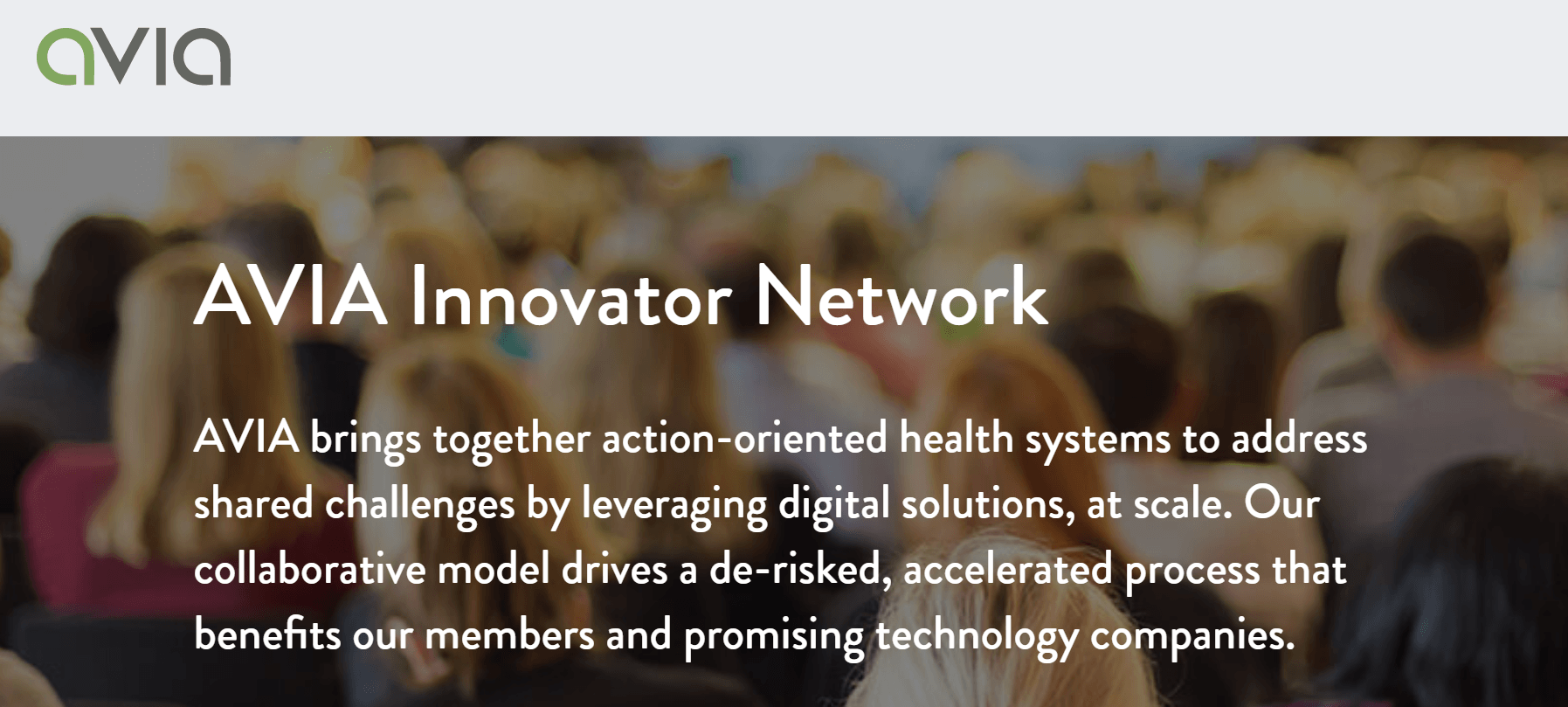 Healthcare innovation network AVIA launches AVIA Partner Network for health systems to gain access to proprietary insights and resources.
American Hospital Association, Deloitte, Cerner Corporation, and the Healthcare Financial Management Association among leading organizations collaborating to accelerate digital transformation in healthcare.
AVIA, the nation's leading healthcare innovation network, today announced the launch of the AVIA Partner Network, which brings together several prominent industry associations and private organizations committing to the advancement of healthcare through digital innovation.
AVIA Innovator Network Partners
As a result, the health system Members of the AVIA Innovator Network will gain access to proprietary insights and resources from the following:
– Healthcare Financial Management Association (HFMA): Co-developing an industry-standard model to measure and value the relative digital maturity of each healthcare organization, guide progress and quantify financial impact
– HLTH: The largest and most important conference for health innovation will leverage the network's underlying technology platform to produce "connective tissue" between conferences – empowering attendees to engage virtually anytime to advance operationalizing the ideas shared at its live events
– Deloitte: Broadening market access and contextual engagement with the company's thought leadership on key topics that influence how healthcare organizations chart their futures
– Cerner Corporation: A global health platform and innovation company that has helped digitize nearly 50% of U.S. healthcare and supports health systems to improve health outcomes and reduce costs, as they work to align their foundational technology investment with the broader digital ecosystem
– Ziegler: Integrates its domain knowledge, market insight and industry relationships with its long-standing investment bank, leading M&A advisory practice as well as its healthcare/senior living industry focus
– WindRose: Healthcare-focused private equity investor that manages over $1.4 billion of capital will help healthcare organizations understand where and why capital is being invested in digital health
– Scottish Development International (SDI): The economic and trade development agency of Scotland will bridge the needs of the U.S. healthcare market with the digital health innovations being developed in Scotland
Over the past five years, AVIA has worked with over 50 health systems to accelerate their digital strategies. These noted innovators turn to AVIA for access to the trusted insights and resources that propel their futures. The introduction of AVIA's Partner Network extends this concept. AVIA's health system Members can now access an expanded universe of resources and perspectives created by strategic partners to improve digitally enabled health in communities worldwide.
Users will see a custom feed of information and resources, based on their individual preferences and areas of focus. Members of the Partner Network will curate content offered to AVIA Members and use that as a targeted way to reach health system leaders who are driving meaningful change in their organizations.
Leadership Appointment for AVIA
Leading this work for AVIA is health industry veteran and digital innovator Bruce Brandes, who has joined AVIA as General Manager, Digital and Partner Network. In this role, Bruce will set the vision for the Strategic Partner Network – what it can become and the value it can deliver to all participants at every step of the journey.
Bruce comes to AVIA with over 30 years of executive experience in healthcare technology. Most recently, he served as CEO and Founder of Lucro, a digital platform used by health systems for vendor management and purchasing optimization. Previously, he led strategy and growth functions at multiple organizations, including AirStrip, Eclipsys, and IBM.
"AVIA was built on the idea of driving rapid, decisive action in digital health to gain advantage. The launch of the AVIA Partner Network advances this further," said Eric Langshur, Co-founder and CEO of AVIA. "Through this growing network of selected partners, AVIA Members now have one-stop access to an even broader array of resources that inform their digital futures – on issues that range from regulatory policy and affordable health to cybersecurity and interoperability."