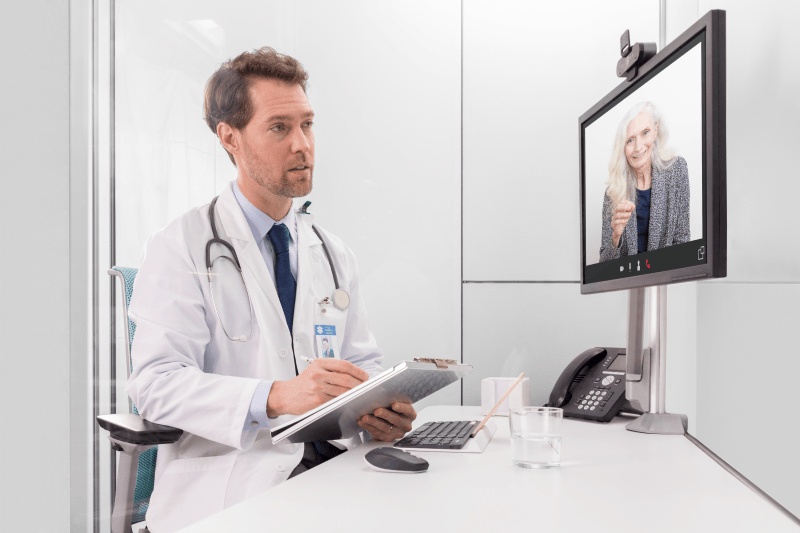 VSee, a San Jose-based telemedicine company and Doctor.com, a web-wide listings management, reputation, and patient communications platform — are partnering to create a seamless online patient journey from Google, Bing, Yelp search to virtual visit. Doctor.com's platform currently serves more than 200K providers and leverages the only partner network in the industry of 50+ integrations, including Google, Bing, Yelp, Healthgrades, Vitals, YP, and other major consumer health destinations.
VSee & Doctor.com Partnership
The VSee and Doctor.com vision is unlike the failed Google Helpouts for Health which tried to match those Googling health symptoms with a live provider. Helpouts also required providers and patients to have Google+ accounts. Instead, the VSee and Doctor.com partnership focuses on enhancing provider profiles and using what they already know about how patients choose a physician online. From search to a video telehealth visit,  the integration will enable providers to expand their practice reach.
Dr. Milton Chen, VSee CEO, says, "Currently it's too much work to go from searching for a doctor to consulting with a doctor. VSee envisions a seamless experience where we can go directly from a Google or Bing search to live chatting with a doctor's front desk. From the search or live chat we can then book a telehealth appointment or do a walk-in video visit. VSee is excited about our partnership with Doctor.com to revolutionize and streamline the process of finding and seeing a doctor online." 
Impact of Partnership
According to a Salesforce report, 60% of millennials support the use of telehealth visits as a replacement for in-person visits. Doctor.com's 2018 CX Trends in Healthcare report found that nearly 70% of consumers will choose one provider over another because of a strong online presence and an Accenture report found that 84% of patients use online reviews to choose a doctor. As millennials and digital natives become the dominant consumer group, telehealth will continue to grow in demand, and an online presence will become increasingly important for provider practices.