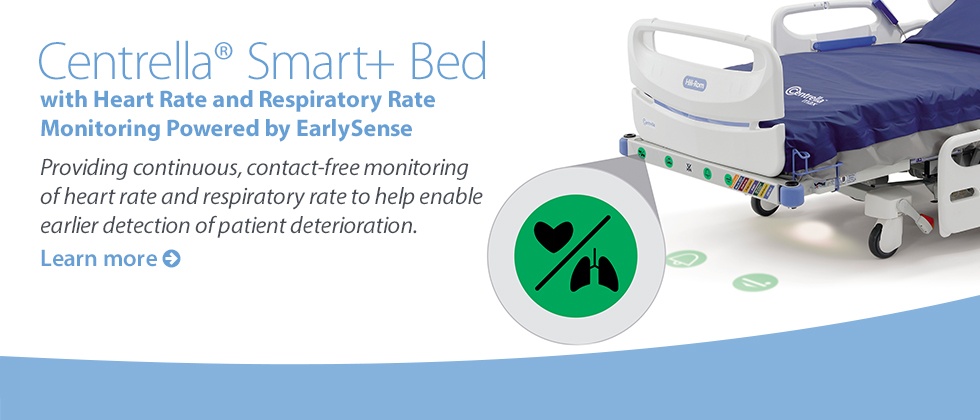 Hill-Rom, a global provider of medical technologies and the world's leading hospital bed manufacturer, today announced that EarlySense, the market leader in contact-free continuous monitoring solutions across the care continuum, has integrated its continuous contact-free heart rate and respiratory rate sensing and analytics technology into Hill-Rom's Centrella® Smart+ bed platform.
The Rise of the Smart Hospital Bed
The hospital bed -a consistent fixture in every hospital room- now takes on an important medical care role, alerting staff to engage at the earliest warning signs of risk when care is most effective. The Centrella bed, which offers optimized patient safety, enhanced patient satisfaction and advanced caregiver-focused technology, now allows for continuous monitoring of patients' heart and respiratory rates over 100 times per minute without ever touching the patient. EarlySense technology alerts clinicians to potential patient deterioration events much earlier than traditional monitoring methods, enabling health teams to intervene and avoid "failure to rescue" scenarios more effectively.
Centrella Bed Results/Outcomes
Specific improved clinical outcomes demonstrated with this technology include helping reduce mortality related to "code blue" events by 83 percent1, and cardiac arrests by 86 percent.2 In addition, clinicians reported overall hospital length-of-stay was reduced by 9 percent2 and ICU days by 45 percent.2 Several EarlySense customers have reported that the system also assisted with early detection of sepsis, a condition that, when not identified and treated rapidly, may be life-threatening.
"No patient should deteriorate without prior warning in the hospital environment. Continuous vital signs measurement should be the standard of clinical practice in the United States," said Dr. Frank Overdyk, a Charleston, SC-based anesthesiologist and expert on respiratory compromise. "Events such as opioid-induced respiratory depression and loss of life from failure-to-rescue are no longer acceptable given the availability of continuous vital signs monitoring."