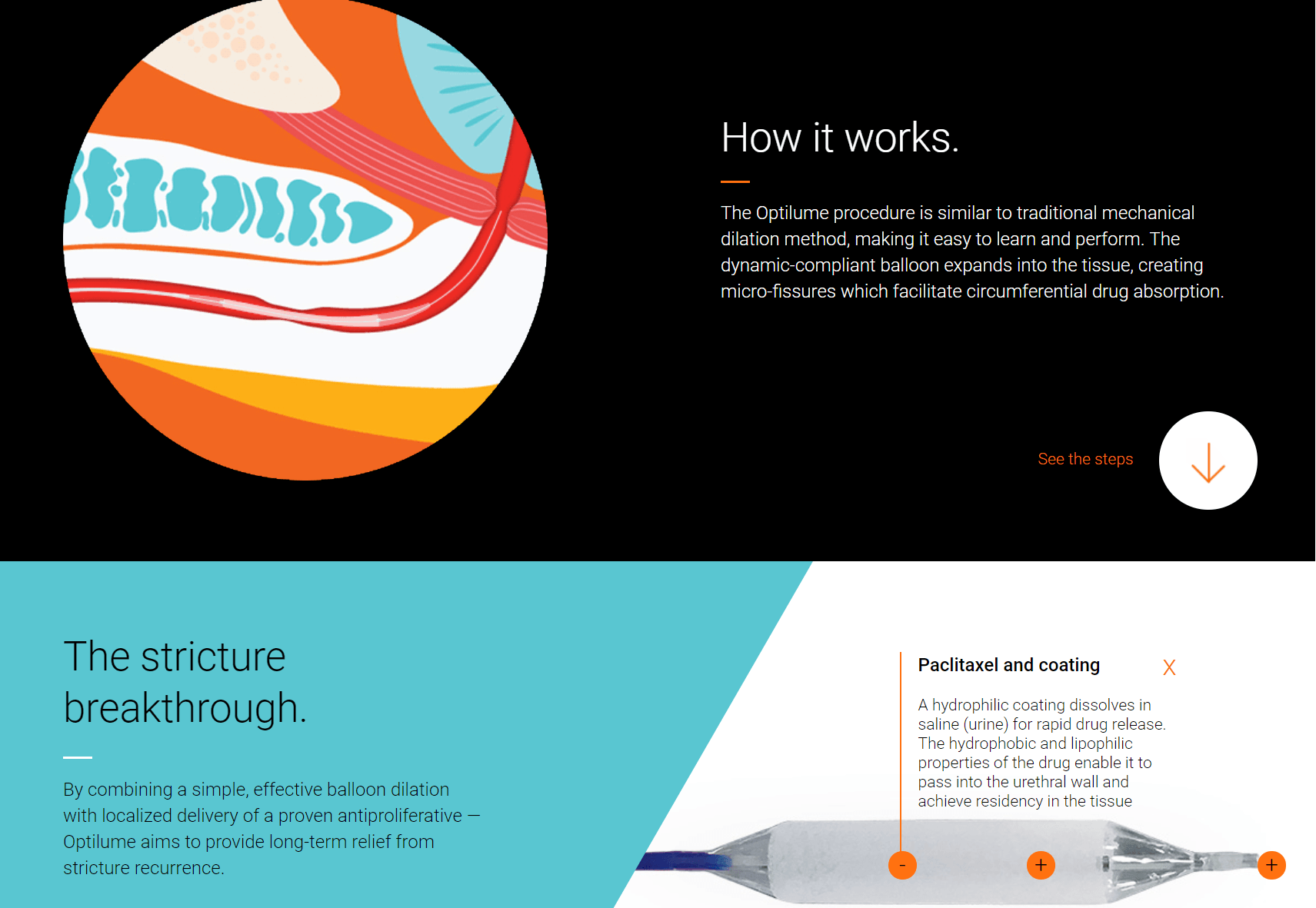 Plymouth based Urotronic, today announced it has raised $20 million in Series B funding led by HM (Hillhouse & Mayo Clinic) Ventures. Additional investments were made by CDBI Partners, OCXPROURO Limited andLegend Capital.  The investments will support the growth of the innovative device called Optilume which combines balloon dilation with the delivery of an anti-proliferative drug to inhibit recurrence of blockages in the urinary tract.
A minimally invasive urethral stricture treatment, the Optilume drug-coated balloon was developed in response to severe patient and physician dissatisfaction with current stricture solutions. This proprietary technology combines balloon dilation and drug delivery and is well-tolerated by patients. Rapid uptake of the highly lipophilic drug, paclitaxel, limits hyperactive cell proliferation and the fibrotic scar tissue generation that results in stricture recurrence.
In clinical trials performed both in Latin America and the United States, Optilume™ has performed as intended in both opening blockages and inhibiting the formation of scar tissue which can develop quickly after any medical intervention.  The procedure can be performed in an outpatient setting, making it easier for physicians to learn and deliver to regions of the world where access to medical care is challenging.
The number of urological procedures is growing rapidly as the global population's age and men are more susceptible to urinary tract problems.  BPH, or benign prostatic hyperplasia, impacts half of men by the age of 50.  It becomes more prevalent with age as the prostate gland surrounds the male urethra, becomes enlarged and obstructs the flow of urine from the bladder. Likewise, urethral strictures impact millions of men each year.  They are brought on by infections, trauma and other urological procedures and can also block the pathway for urine.  
In both cases, conventional treatments provide temporary relief but also include painful side effects.  Some of the most invasive treatments include cutting, steaming or permanent implants which can lead to tissue damage and prolong healing time.
"This technology is very disruptive and the end beneficiary is going to be the patients," said investor and company board member Doug Kohrs. "Urotronic has embarked on an approach to treating BPH and strictures that no one else has ever taken."
The Series B funding will be used to expand the Urotronic team, manufacturing space and complete the required clinical studies toward commercial approval in international and domestic markets.