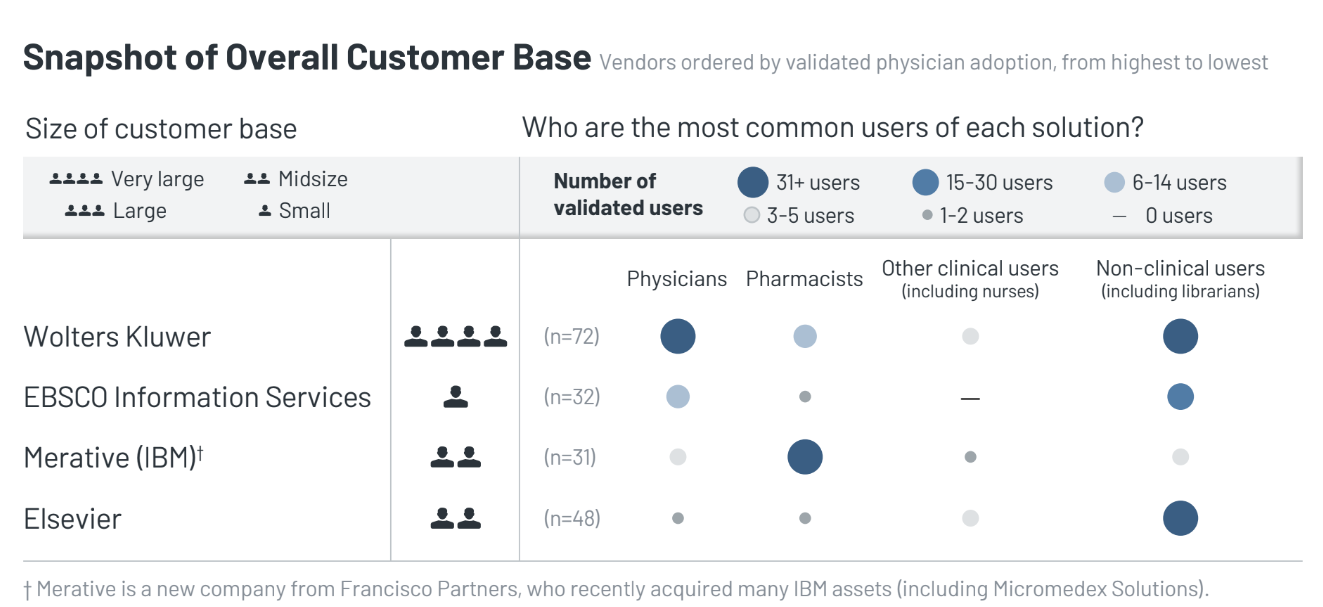 What You Should Know:
– CDS reference tools enable clinical users to follow standard treatment recommendations and more quickly and confidently make clinical decisions. However, tools that lack strong content, searchability, and EMR integration are not efficient for point-of-care workflows and can frustrate users, especially those already experiencing burnout.
– To understand the customer experience and how each solution is being adopted, a new report by KLAS draws on feedback from a subset of clinical users (defined in this report as physicians, nurses, and pharmacists) as well as feedback from vendors' general customer bases.
Executive Insights into the Trends in Point-of-Care Reference 2022
Each year, KLAS interviews thousands of healthcare professionals about the IT solutions and services their organizations use. For their latest report, interviews were conducted over the last 12 months using KLAS' standard quantitative evaluation for healthcare software, which is composed of 16 numeric ratings questions and 4 yes/no questions, all weighted equally. Combined, the ratings for these questions make up the overall performance score, which is measured on a 100-point scale. The questions are organized into six customer experience pillars—culture, loyalty, operations, product, relationship, and value.
Key takeaways are listed and explained as follows:
1. Wolters Kluwer: UpToDate Improves Patient Care & Workflow Efficiencies for Clinical Users at Point of Care
Customers of market-share leader Wolters Kluwer report that UpToDate is easy to use due to its broad, deep, and digestible evidence-based content. Many interviewed physician and nurse users report being able to efficiently find needed information at the point of care, especially when using the mobile functionality. Clinical users also appreciate being able to earn and track CME credits. Pharmacists report using the tool to verify medication and IV compatibility and rate the solution's ease of use higher than that or Merative's pharmacy-specific Micromedex Solutions. "I have yet to experience a situation where I haven't been able to find the subject I want. . . . The vendor's strength is not only the breadth of content but also the incredible host of people who write for Wolters Kluwer. They have developed an incredible system. They have somebody who is an expert in a particular area, and that person recruits people to write particular chapters." —Physician, clinical user
2. EBSCO Information Services
Physician Buy-In Slow; Adopters Report Positive Point-of- Care Experiences: Clinical users currently make up a small portion of the EBSCO Information Services customers KLAS has interviewed, and they largely report a positive experience. Several interviewed physicians use the solution at the point of care and feel the quickly and easily retrieved information improves patient care. Some clinical users report low point-of-care adoption due to content gaps, leading them to use DynaMed Solutions with other CDS tools. However clinical users (as well as non-clinical users) feel more training and proactive support from EBSCO might benefit adoption. These users would also like to see continued improvement of integration mobile usability and content depth, though some say that the latter has already improved. "DynaMed Solutions is just as good at answering quick and easy questions as another solution we have used is. . . . Some of our staff think that DynaMed Solutions is much easier to use than our other solution is. And when the staff is busy and has to see patients, the staff doesn't want to put on their informatics thinking caps. DynaMed Solutions provides a better experience for getting articles than the other solution does." —Physician, clinical user.
3. Merative (IBM): Pharmacists Value Drug Content; User Interface Seen as Outdated
Merative IBM is a new company from Francisco Partners, who recently acquired many IBM assets. Overall, customers of Micromedex Solutions are happy with the easy-to-use patient education content. The tool is most commonly used by pharmacists, who highlight its extensive drug content, including off-label drug use, and strong information regarding IV compatibility and pill/tablet identification. "One strength of this product is that the vendor included a lot of anecdotal information. There have been a couple of incidents where someone has written up non-FDA uses and common side effects of a medicine. The product has great toxicology information. I use the tablet identifier almost exclusively. The compatibility is awesome too." —Pharmacist, clinical user
4. Elsevier: Users Appreciate Deep Content for Complex Conditions; Point-of-Care Use Not Yet Validated
Most interviewed Elsevier customers are librarians. They find the tool's deep content helpful for unique, complex conditions, and all respondents would buy it again. Some customers report the vendor has updated the previously challenging search functionality, and a few say recent upgrades to the product interface have made it easier for staff to use. However, both clinical and non-clinical users note the ease of use could continue to be improved, and some feel better ongoing training could increase use of the updated product. Within Elsevier's overall customer base, 21% of respondents feel the vendor nickel-and-dimes them for additional modules and content, leading these customers to feel the product is less valuable.