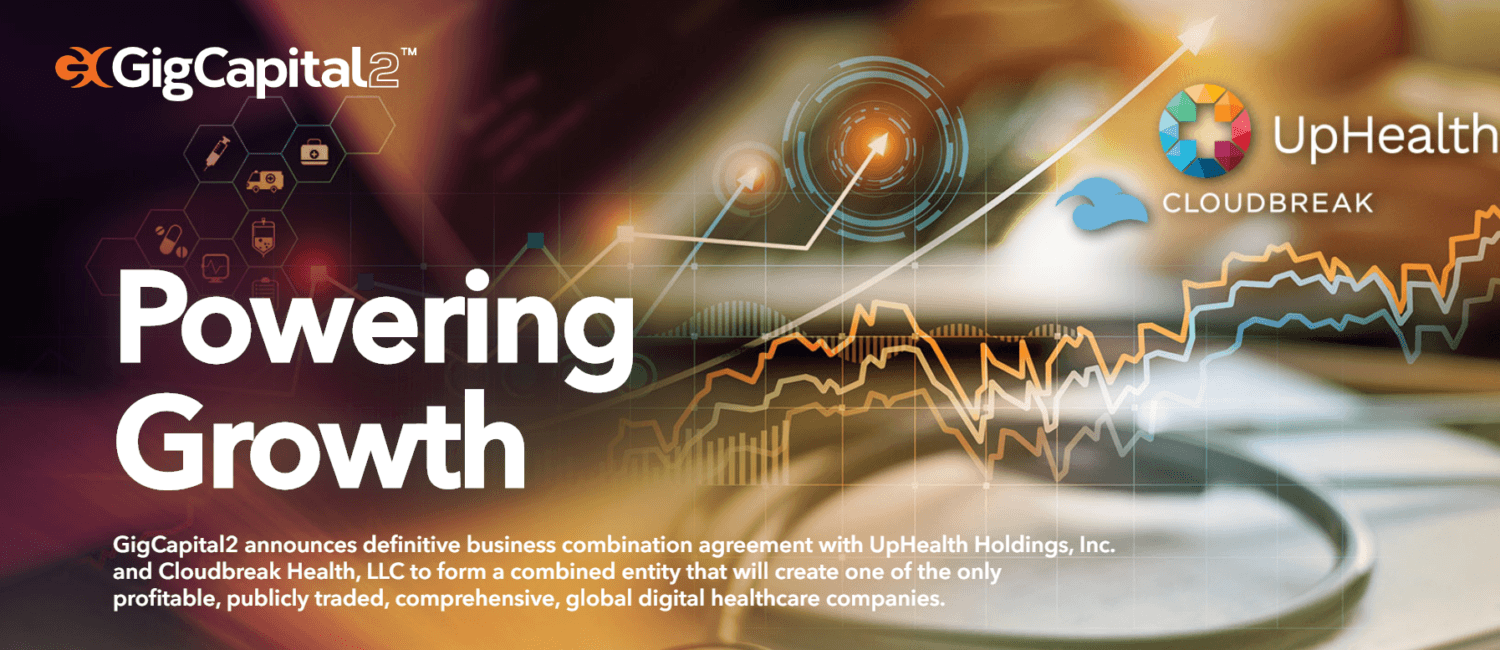 What You Should Know:
– GigCapital2 Inc has agreed to merge with UpHealth Holdings Inc and Cloudbreak Health LLC to create a public digital healthcare company valued at $1.35 billion, including debt, the blankcheck acquisition company said on Monday.
– The combined company will be named UpHealth, Inc. and will continue to be listed on the NYSE under the new ticker symbol "UPH".
Blank check acquisition company GigCapital2 agreed to merge with Cloudbreak Health, LLC, a unified telemedicine and video medical interpretation solutions provider and UpHealth Holdings, Inc., one of the largest national and international digital healthcare providers to form a combined digital health company. The deal is valued at $1.35 billion, including debt. the combined company will be named UpHealth, Inc. and will continue to be listed on the NYSE under the new ticker symbol "UPH".
Following the merger, UpHealth will be a leading global digital healthcare company serving an entire spectrum of healthcare needs and will be established in fast growing sectors of the digital health industry. With its combinations, UpHealth is positioned to reshape healthcare across the continuum of care by providing a single, integrated platform of best-in-class technologies and tech-enabled services essential to personalized, affordable, and effective care. UpHealth's multifaceted and integrated platform provides health systems, payors, and patients with a frictionless digital front door that connects evidence-based care, workflows, and services.
"We are excited to partner with UpHealth and Cloudbreak through our Private-to-Public Equity (PPE)™ platform. The combined UpHealth has all the hallmarks we look for in a successful partnership, including a world-class executive team and an exceptional business model with scale, strong growth, and profitability margins in the digital healthcare industry. We are particularly excited about the opportunity to provide our Mentor-Investor™ discipline in partnership with an exceptional global leadership team, as well as participate in a high-tech integrated platform that comprises a variety of cutting edge disciplines, such as the Artificial Intelligence platform being developed by Global Telehealth in conjunction with the tech-enabled Behavioral Health divisions. We are confident UpHealth is at the inflection point and positioned for accelerated growth." – Dr. Avi Katz – Founder and Executive Chairman of GigCapital2
Combined Company Offerings

Upon closing the pending mergers and the combination with Cloudbreak, UpHealth will be organized across four capabilities at the intersection of population health management and telehealth:
1. Integrated Care Management: Thrasys Inc. ("Thrasys") has reinvested $100M of customer revenue to develop its innovative SyntraNet Integrated Care technology platform. The platform integrates and organizes information, provides advanced population-based analytics and predictive models, and automates workflows across health plans, health systems, government agencies, and community organizations. The platform plans to add at least 40 million lives to UpHealth in the next 3 years to support global initiatives to transform healthcare.
2. Global Telehealth: will consist of a U.S. division and an international division that, together, are anticipated to grow revenues by an additional $47 million in 2021.
The U.S. division of Global Telehealth following the combination, Cloudbreak, is a leading unified telemedicine platform performing more than 100,000 encounters per month on over 14,000 video endpoints at over 1,800 healthcare venues nationwide. The Cloudbreak Platform offers telepsychiatry, telestroke, tele-urology, and other specialties, all with integrated language services for Limited English Proficient and Deaf/Hard-of-Hearing patients. Cloudbreak's innovative, secure platform removes both distance and language barriers to improve patient care, satisfaction, and outcomes.
The international division of Global Telehealth following the combination, Glocal Healthcare Systems Pvt. Ltd ("Glocal"), is a global provider of virtual consultations and local care spanning the care continuum. It has designed proven, affordable and accessible solutions for the delivery of healthcare services globally. The platform provides a full suite of primary and acute care services, including an app-based telemedicine suite, digital dispensaries, and hospital centers. The platform has signed several country-wide contracts with government ministries across India, Southeast Asia, and Africa.
3. Digital Pharmacy: MedQuest Pharmacy ("MedQuest") is a leading full-service manufactured and compounded pharmacy licensed in all 50 states that pre-packages and ships medications direct to patients. The company also offers lab services and testing, nutraceuticals, nutritional supplements, education for medical practitioners, and training for organizations, associations, and groups. MedQuest serves an established network of 13,000 providers. The MedQuest platform is poised for strong growth via targeted product expansion and expansive eCommerce capabilities for the entire provider network. UpHealth and MedQuest have mutually executed a merger agreement, the closing of which is awaiting regulatory approval for the transfer of licenses expected by the end of 2020 or early 2021.
4. Tech-enabled Behavioral Health: TTC Healthcare, Inc. ("TTC Healthcare") and Behavioral Health Services LLC ("BHS") offer comprehensive services specializing in acute and chronic outpatient behavioral health, rehabilitation and substance abuse, both onsite and via telehealth. UpHealth's Behavioral Health capabilities have dramatically expanded use of telehealth for medical and clinical services and are leveraging UpHealth's platform to increase volumes across its services. UpHealth and TTC Healthcare have mutually executed a merger agreement, the closing of which is awaiting regulatory approval for the transfer of licenses expected prior to the end of 2020.
Global Financial Impact and Reach
UpHealth will have agreements to deliver digital healthcare in more than 10 countries globally. These various companies are expected to generate approximately $115 million in revenue and over $13 million of EBITDA in 2020 and following the combination, UpHealth expects to generate over $190 million in revenue and $24 million in EBITDA in 2021.