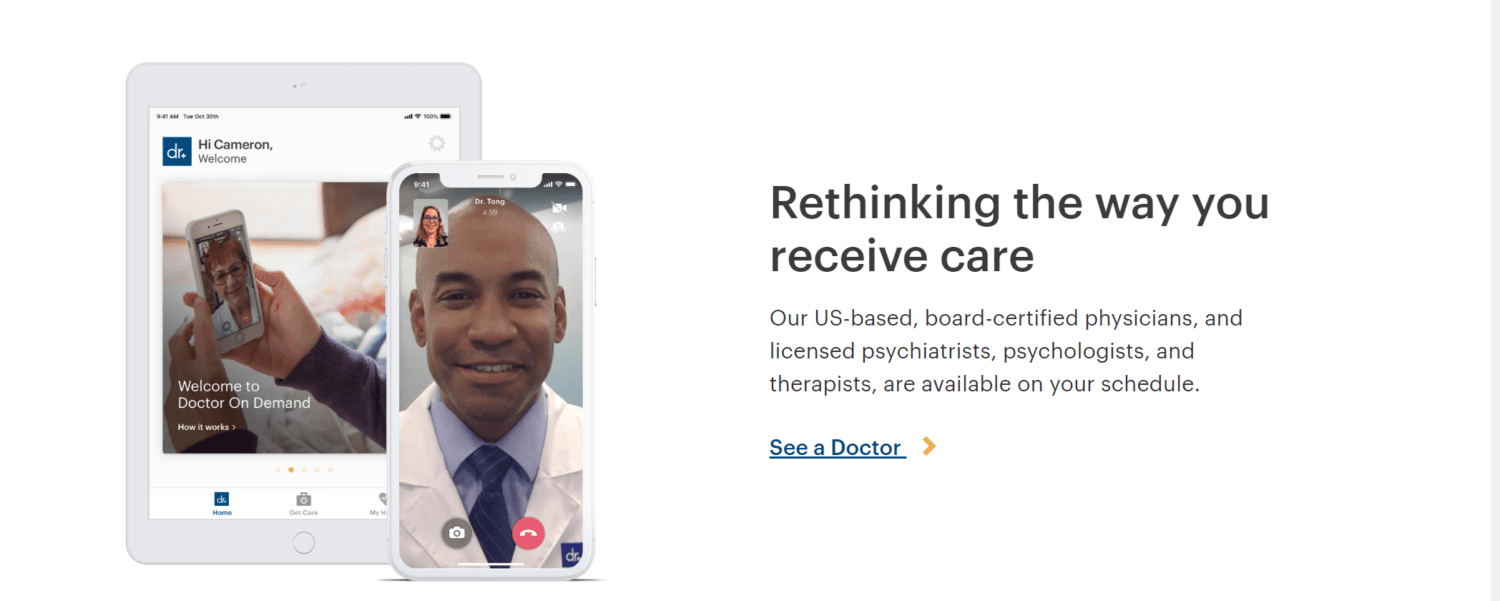 What You Should Know
– Doctor On Demand raises $75M in Series D funding led by General Atlantic to expand comprehensive virtual care.
– Doctor On Demand is seeing record usage this year – up 139% – for COVID-19 screenings, routine health issues, chronic conditions and behavioral health.
San Francisco, CA-based Doctor On Demand, today announced it has raised $75 million in Series D funding led by General Atlantic, a leading global growth equity firm, with participation from existing investors. The funds will be used to accelerate Doctor On Demand's investments in growth and further expand access to high-quality, comprehensive virtual care for patients nationwide.
Founded in 2012, Doctor On Demand offers immediate, video-based access to top physicians and psychologists for just $40 per visit, with no subscription fees for partners via the iPhone, iPad,Android and desktop. With over 98 million covered lives and a 4.9/5 patient satisfaction rating, Doctor On Demand is the preferred virtual care provider of consumers, health plans and employers. The company's unmatched technology platform and clinical model of fully employed providers gives patients a continuum of care and the ability to build trusted, personal relationships with their providers.
Recent Traction/Milestones
Following robust growth in 2019, Doctor On Demand experienced accelerated momentum in the first half of 2020, with the COVID-19 pandemic driving increased demand for the company's integrated medical and behavioral health services. The company more than doubled its covered lives in the past six months, propelling Doctor On Demand to its 3 millionth virtual visit. In response to the public health emergency, the company mobilized quickly to roll out its critical virtual medical services to 33 million Medicare Part B beneficiaries across all 50 states, just weeks after the Centers for Medicare and Medicaid Services (CMS) expanded coverage to allow for the reimbursement of telemedicine visits for this high-risk patient population.
While COVID-19 has driven a sharp increase in utilization of Doctor On Demand's urgent care and behavioral health services, more than half of the company's 2020 future growth is focused on the continued expansion of its Virtual Primary Care offering. This service enables health plans and employers to deliver cost-efficient, comprehensive virtual care inclusive of integrated behavioral health, 24/7 everyday & urgent care, and chronic care management to their populations while reducing costs.
"In April 2019, Humana and Doctor On Demand launched On Hand™, a first-of-its-kind health plan that centered on comprehensive virtual primary care," said Chris Hunter, Segment President, Group and Military Business at Humana. "This new plan design represented a paradigm shift in healthcare, and demonstrated that our members can and will build long-term relationships with primary care providers and care teams in a virtual-first care setting."
"Even before the pandemic, we recognized the importance of providing integrated, virtual medical and emotional health care for our associates," said Adam Stavisky, SVP, US Benefits at Walmart. "Our early decision to partner with Doctor On Demand helped us respond quickly as the crisis hit, allowing us to immediately meet the care needs of our associates and their families where and when they need it."