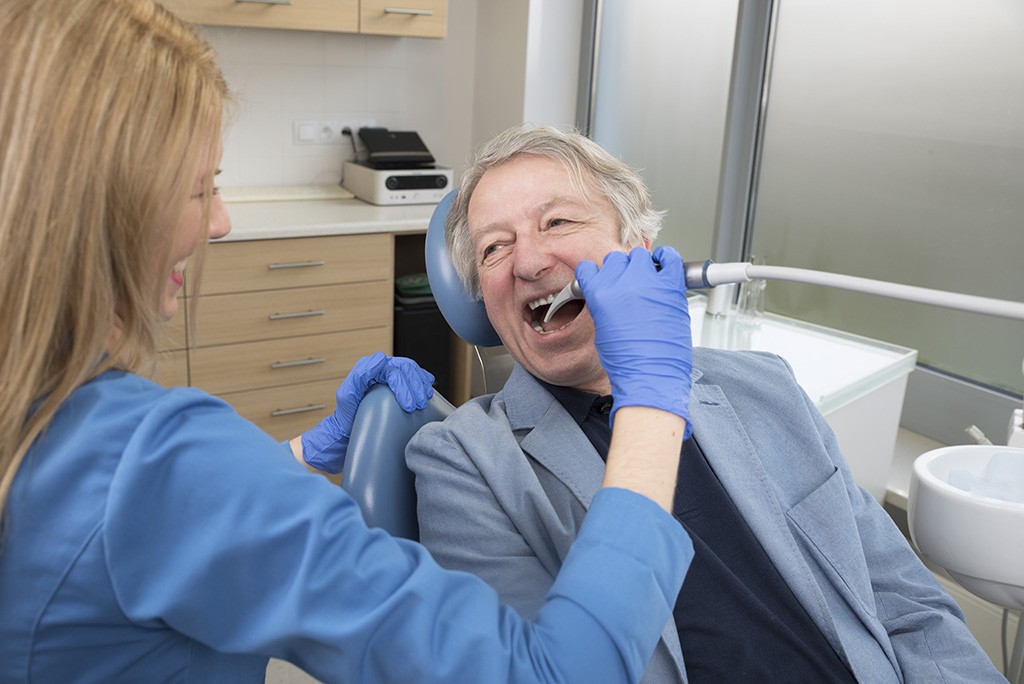 Teledentistry is a relatively new practice on the rise for dentists. If you have oral health or dental problems, it can take a while to get an appointment that fits in with your schedule. So, with this new concept, you can quickly connect with a dental professional remotely, and receive access to advice and information.
About Teledentistry
Teledentistry falls under telehealth, which is a broad concept within professional healthcare delivery. Essentially, telehealth aims to provide patients with a broad range of solutions that they can receive from a distance. Some of the methods of providing health solutions remotely are through video conference calls, telephones, tablets, and so on.
It allows for the gathering and exchange of informative data with a dental professional. This data can be used to support the delivery of dental care, diagnoses, consultations, and treatment.
Dental information can also be transferred to a dental professional who may have more expertise in a particular area.
A teledental visit can take place from essentially anywhere. For example, it could be in the form of a video conference between a dentist and a patient to discuss an urgent matter. This can help people avoid unnecessary hospital visits and can save seats at dental practices. 
Because it allows for such quick and easy consultations, more and more dental practices are starting to offer these virtual services.
Benefits of Teledentistry
Benefits For Patients
In times of emergency, a patient can immediately connect with a dentist remotely. This connection allows the dentist to more accurately assess the problem, suggest medicine, and save you time, money, and a stressful trip to a hospital or dental clinic. Thus, there is a lesser need for travel and a reduction in waiting times in dental practices.
The cost of teledentistry is also lower, while still providing quality care. In addition to this, you and your family can choose a dentist on factors that don't simply include the distance to the practice. This makes it easy to get a second opinion from a dental expert, who might be far away from you geographically.
Some emergency dentists are available at any hour, which is hugely beneficial for the patient.
Benefits For Dentists
As patients do not need to come into the practice as often, there will be reduced chair times. Your consultations can be virtual, and, thus, you can treat more patients per day. 
After operations, patients don't need to come in for their check-ups, you can simply connect with them electronically.
Patients can get second opinions through teledentistry – and so can dentists. If you need a second opinion from an expert, you can easily consult with one digitally.
Another benefit to dentists is that you can connect with patients in far off locations. This increases your reach and number of patients.
Teledentistry Use Cases
Public health
In the public health sector, teledentistry can help dentists connect to multiple communities. Mobile hygiene programs at schools and clinics become easier and more effective. Teledentists can assess snapshots taken by nurses to identify any problems in a more efficient manner.
Private Practice
Teledentistry makes it easier to connect private practices with outreach programs. This allows your practice to engage in social responsibility, whilst making it less timely to do so.
In addition to outreach, you can boost your private practice by solidifying relationships with specialists as you engage with them more, and connect them to your clients when necessary.
Medical-Dental Integration
Better care often requires better communication between medical and dental departments. With the move to teledentistry, clients can receive improved, more rounded care as dentists can connect with other healthcare professionals.
It also helps cut down urgent client redirections as the need for guesswork declines when a doctor can quickly consult a dentist digitally on a client's case.
Direct-to-Consumer Dental Products & Services
Until just a few years ago, getting your teeth professionally straightened or whitened meant lots of trips to the dentist and large bills. Innovative teledentistry companies like SmileDirectClub, Candid, Snow, and many others now offer remote teeth straightening and teeth whitening solutions. This way, millions of people can get affordable and easy access to high-quality dental care.
SmileDirectClub is widely credited for popularizing direct-to-consumer clear aligner treatment. Since launching in 2014, they have sold aligners to over 700,000 customers. The company has also found itself in some controversy. The American Dental Association has referred to their teledentistry model as "dangerous" and "do-it-yourself treatment." In fact, SmileDirectClub partners with registered dentists and orthodontists who review and supervise every case. Candid, a SmileDirectClub competitor, even lets you check-in regularly with your supervising orthodontist via an online app.  
Adoption Challenges Of Teledentistry
Although teledentistry has many benefits, there are some challenges standing in the way of professionals adopting the concept and putting it into practice. These challenges can be seen on several levels – individual, organizational, and infrastructural.
Individually, an obvious challenge would be the lack of direct contact with patients. Also, in many areas, IT literacy is weak. There may be a decline in the accuracy of health information available, and there may be too high of an increase in clinic time and workload.
When it comes to infrastructure, there is a lack of internet access and technical support in more rural areas. The technology may also seem too complex for many people.
Lastly, on an organizational level, there is a lack of reimbursement structures and taxation guidelines. There is also a higher danger of malpractice and legal problems in the adoption of teledentistry.
Conclusion
When implemented correctly, teledentistry could be a complete game-changer. It can give dental access to people who wouldn't otherwise have it. With its many benefits, for dentists and patients alike, teledentistry is on the rise and becoming more popular in the dental field.