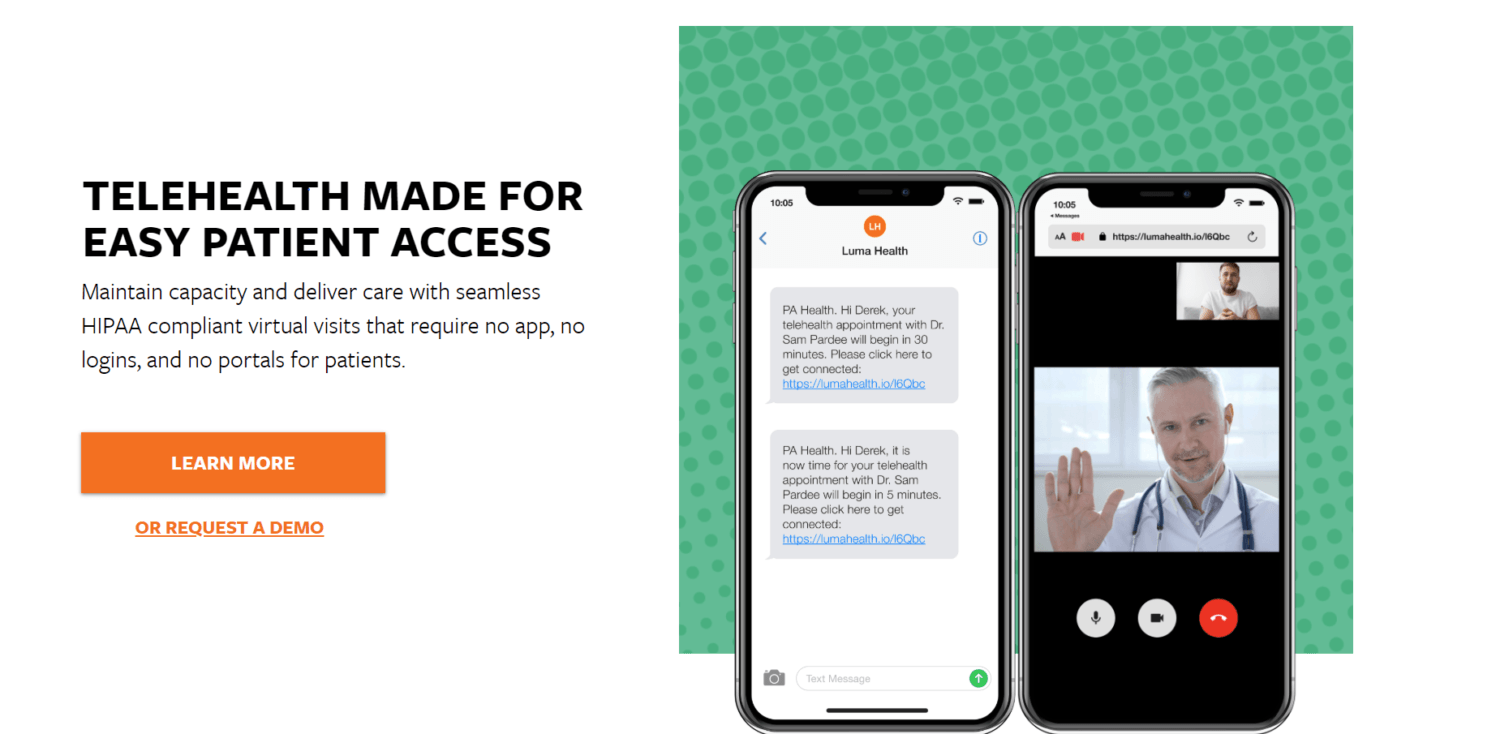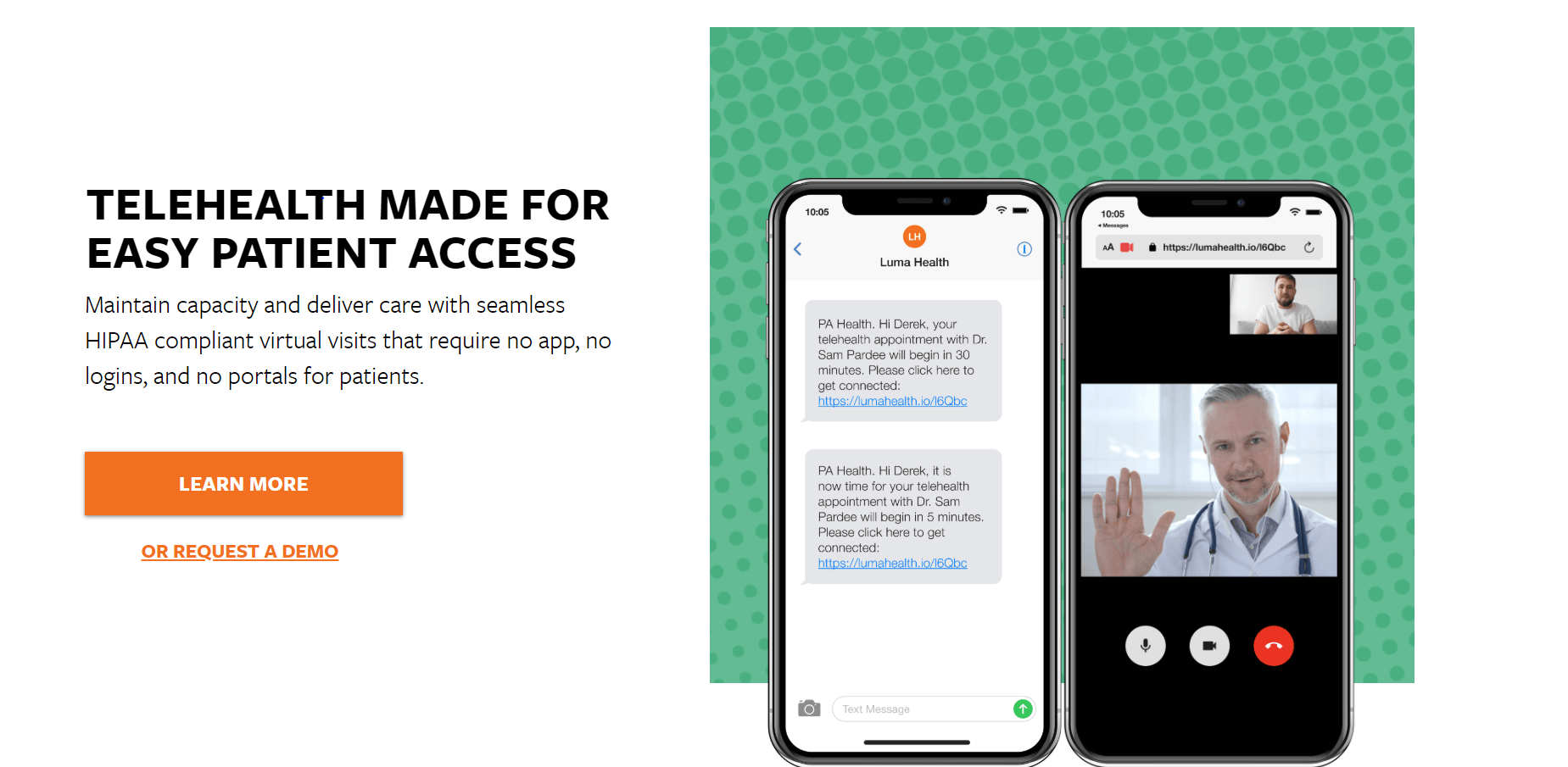 What You Should Know:
– Luma Health launches new telehealth offering for providers that need to deliver care to patients virtually, quickly and seamlessly and patients need to get that care with one click.
– Luma Health Telehealth supports real-time EHR integration to enable providers to connect virtually with, and provide care for, their patients with just one click.
---
Luma Health launches Luma Health Telehealth as part of its Total Patient Engagement platform. The telehealth solution can be integrated with a clinic's Electronic Health Record (EHR) system to deliver a seamless experience for providers and patients to launch and facilitate virtual appointments.
Maintaining Service & Capacity During COVID-19
In an effort to help healthcare providers prevent the spread of COVID-19, Luma Health developed an easy-to-use virtual solution to enable one-click, HIPAA-compliant virtual appointments between doctors and their patients. Patients can easily join the virtual visit by clicking on a link in their appointment reminders via an SMS or email without the need to download an app, log in to a portal or set up an account, making the solution readily accessible across a broad demographic of patients.
The COVID-19 pandemic has placed a significant burden on patients and providers as both parties seek to reduce accidental exposure. Furthermore, hundreds of thousands of non-critical patient appointments have been postponed or canceled resulting in a potentially insurmountable backlog. Many specialty clinics including ophthalmology, endocrinology, dermatology, orthopedics, podiatry and sleep centers are forced to close as a result of shelter-in-place. An effective telehealth solution can help providers overcome and address these challenges head-on.
How Luma Health Telehealth Works
Providers do not need to have an existing video conference platform in place. Luma Health Telehealth includes Twilio video conferencing and supports integration with video conferencing platforms Zoom and Cisco Webex. 
Luma Health Telehealth is HIPAA compliant and can be up and running in as little as three (3) days. The solution is part of the company's comprehensive patient engagement platform that includes appointment reminders, omnichannel patient messaging, patient self-scheduling, referral management, and mobile patient intake.
– A patient schedules a telehealth appointment in the clinic's EHR or directly in Luma Health;  
– The patient receives a text or email with a link to one-click join the virtual session 30 minutes prior to the appointment; an additional reminder can be sent 5 minutes prior and when the session starts (reminder cadences can be custom configured); 
– The provider joins and completes the virtual session without a separate app;
– Clinics capture pertinent and critical patient info prior to visit through appointment reminders, such as insurance info, intake forms, telehealth consents, and more.
If a patient needs to reschedule the televisit, they can do so easily by responding to the text message appointment reminder.
"We don't have the luxury of time right now," said Chuck Leider, CIO, Houston ENT and Allergy Clinics.
"Like most clinics, we are facing unprecedented challenges: First, we are unable to see patients in-person due to the critical need for social distancing. Second, when we can't see patients, we lose the revenue that keeps us in business. Being able to implement Luma Health's Telehealth in less than 24 hours and immediately offer virtual visits that require no additional infrastructure and are seamless for the patient is crucial for our valued community and our business."
"Many in our community just don't have the technology skills or tools often required to set up for a virtual appointment with their doctor," said Samantha Guthman, COO, Alexander Valley Healthcare.
"But they do have health issues that require regular care, which for many has been on hold since the coronavirus started spreading here. A simple solution – for both our providers and patients – will be critical to ensuring everyone gets the care they need."