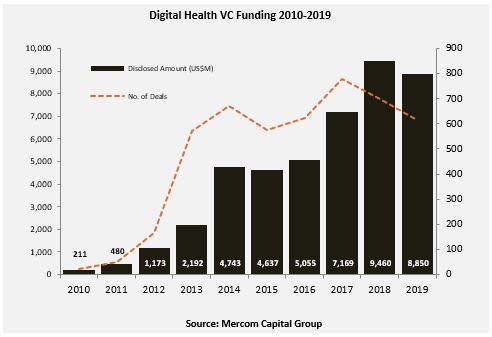 – New Mercom Capital annual report reveals global venture capital (VC) funding in digital health declined 6% at $8.9B compared to $9.5B in 2018.
– Total corporate funding into Digital Health – including VC funding, debt, and public market funding – dropped 18% to $10.6 billion in 2019 compared to $13 billion in 2018.
– Five digital health IPOs brought in a total of $1.4 billion in 2019
Global venture capital (VC) funding in digital health, including private equity and corporate venture, declined with $8.9 billion in 615 deals, according to market research firm Mercom Capital. The $8.9 billion represents a 6% drop compared to $9.5 billion in 698 deals in 2018. The average funding deal size in 2019 was $14.4 million, compared to $13.6 million in 2018.
The Q4 and Annual 2019 Digital Health (Healthcare IT) Funding and M&A Report also contains year-over-year (YoY) and quarter-over-quarter (QoQ) information on market activity displayed in easy-to-digest charts, graphs, and tables, as well as data-driven analysis.
The report reveals total corporate funding for Digital Health companies – including VC, debt, and public market financing – reached $10.1 billion in 2019. Since 2010, Digital Health companies have received $44 billion in VC funding in over 4,500 deals and almost $14 billion in debt and public market financing (including IPOs), bringing the cumulative investments into the sector to $58 billion.
"After three consecutive years of growth, venture deals, and dollars for digital health companies declined in 2019. After a long dry spell, there were four U.S. IPOs, but their performance so far has been underwhelming. M&A activity also declined in 2019. The big winners were telemedicine companies, with a 55% percent increase in funding YoY while digital health products that were powered by AI, brought in over $2 billion," said Raj Prabhu, CEO of Mercom Capital Group.
Other key findings of the report include: 
– Healthcare practice-focused companies raised $3.6 billion in 261 deals in 2019 and accounted for about 40% of the total $8.9 billion funding raised.
– Consumer-centric companies brought in $5.3 billion in 354 deals in 2019, up just 2% from $5.2 billion raised in 447 deals in 2018. Practice-centric companies raised close to $3.6 billion in 261 deals in 2019, a 16% decrease compared to the $4.3 billion in 251 deals in 2018.
– The top-funded categories in 2019 included: Telemedicine with $1.8 billion, closely followed by Data Analytics with $1.6 billion, mHealth Apps with $1.2 billion, Clinical Decision Support with $748 million, Mobile Wireless Technology with $556 million, and Booking with $537 million.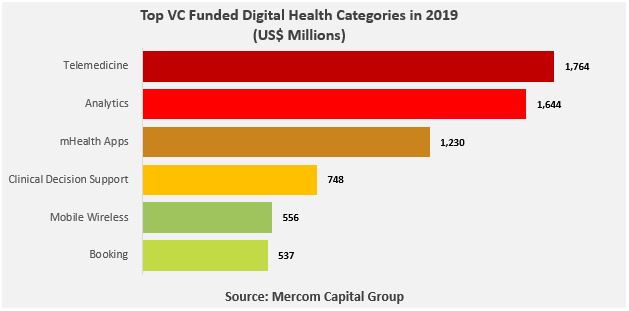 – There were 169 M&A transactions in 2019 compared to the 223 transactions in 2018, a 24% decline in deal activity. Nineteen companies participated in multiple transactions in 2019.
– mHealth Apps were the most acquired category in 2019 with 27 transactions, followed by Practice Management Solutions with 17 transactions, and Telemedicine with 14 transactions.
– The top five disclosed M&A transactions in 2019 were: Dassault Systemes's acquisition of Medidata for $5.8 billion, EQT VIII Fund (EQT) and Canada Pension Plan Investment Board (CPPIB), which acquired a majority stake in Waystar for $2.7 billion, Google's acquisition of Fitbit for $2.1 billion, Golden Gate Capital's acquisition of Ensemble Health Partners (51% stake) for $1.2 billion, Agfa-Gevaert Group's acquisition of Dedalus Holding for $1.07 billion, and Baring Private Equity Asia's acquisition of healthcare IT consulting company, CitiusTech, for $1 billion.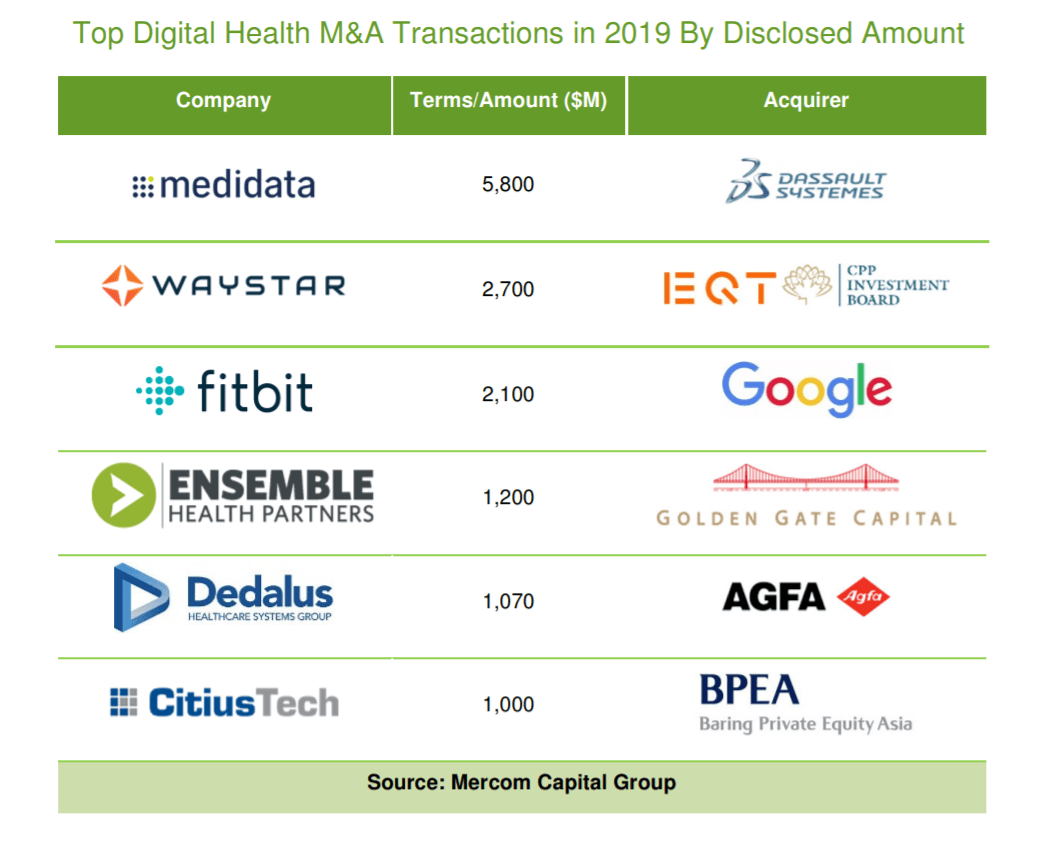 – Five IPOs brought in a total of $1.4 billion in 2019.
– There were 30 countries that logged Digital Health VC funding activity in 2019. Most of the funding was recorded in the United States, where nearly $5.9 billion was raised in 426 deals.