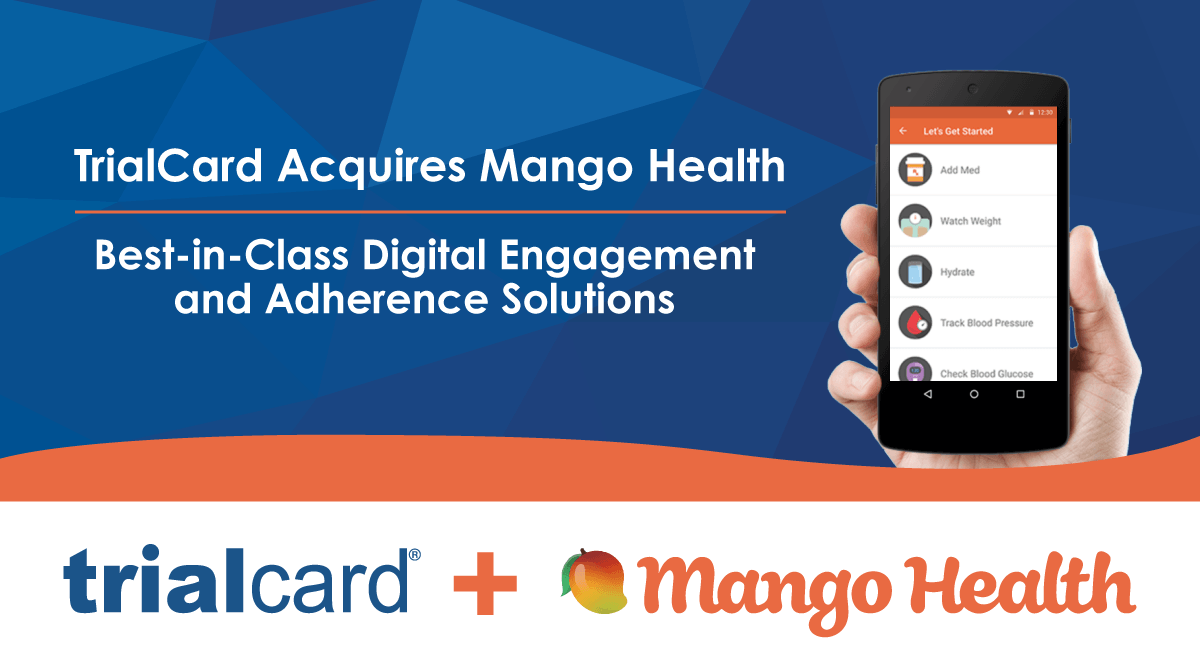 – TrialCard acquires digital medication management platform Mango Health to offer a best-in-class engagement and adherence solution to patients.
– The announcement marks the third acquisition for TrialCard in the past year.
– TrialCard Incorporated provides patient affordability, medication access and adherence, and patient support connecting over 30 million patients with nearly $12B in branded drug savings to date.
TrialCard Incorporated announced it has entered an agreement to acquire Mango Health, a San Francisco-based provider of mobile-based medication management and adherence solutions for the life sciences sector. Financial terms of the acquisition were not disclosed.
Manage Your Medicine and Create Healthy Habits
Founded in 2011, Mango Health is the leading digital medication management platform. For patients, the platform provides a critical daily support tool to help them manage medications, stay on track, and have fun in the process. For payers, the platform provides a crucial window into patients' daily lives and a platform for smart interventions. For manufacturers, the platform supports patients at each step of the patient journey: from initial prescription to the first dose to ongoing daily assistance.
The Mango Health app has a 4.5-star user rating and has been featured by Apple, Google, CNN, the New York Times, the Wall Street Journal, Self Magazine, and other leading publications. Mango Health raised a total of $8.3M in funding to date.
Impact of Non-adherence to Medications
Non-adherence to medications is an issue that puts the long-term health of millions of patients at risk. In addition, it's a problem that results in the loss of nearly $300 billion to the healthcare industry in the United States alone. The Mango Health mobile app allows users to track and manage the medications they take. Using sophisticated behavioral techniques, Mango Health encourages patients' active participation in their healthcare, helps them remain adherent to medications, and provides information about potential drug interactions.
"This acquisition will allow us to offer a best-in-class engagement and adherence solution to the patients we support with our affordability solutions," said TrialCard President and CEO Mark Bouck. "For nearly twenty years, TrialCard has been providing the industry's premier affordability and access solutions for its pharmaceutical industry clients. By adding Mango Health to our services, we feel like we're raising the bar on what customers should expect from their provider."
Third Acquisition for TrialCard
This announcement marks the third acquisition for TrialCard in the past year, following the acquisition of pharmaceutical solutions provider RxSolutions in January 2019 and non-commercial dispensing pharmacy TC Script on October 2018.
TrialCard offers customized patient access solutions exclusively for the pharmaceutical industry in support of product marketing, patient assistance programs, and phase IV clinical trials. TrialCard innovates by focusing on client brands and analyzing new trends in prescription optimization for both insured, and uninsured patients.