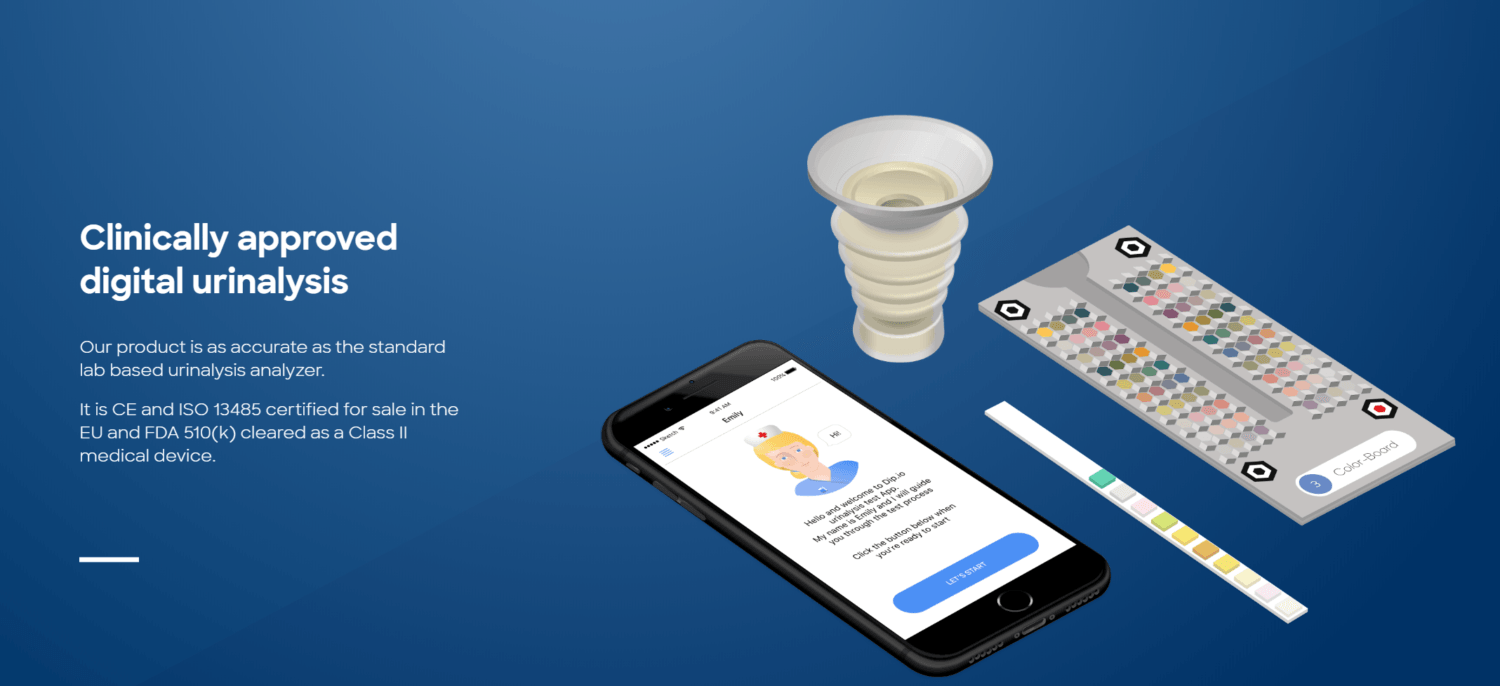 – Healthy.io raises $60M led by Corner Ventures for its FDA 510(k) cleared smartphone-based ACR test to be used in the aid of diagnosing chronic kidney disease (CKD).
---
– The funding round will be used to accelerate Healthy.io's global expansion and product development.
---
– Healthy.io's solution allows immediate electronic medical record (EMR) connectivity through the automated smartphone scan.
---
Healthy.io, the fast-growing Israeli digital health company that has turned the smartphone into a clinical-grade medical device has raised $60 million in Series C funding led by Corner Ventures with participation by Joy Capital and all previous investors: Ansonia Holdings, Aleph, and Samsung NEXT. In addition, the company has received 510(k) clearance from the U.S. Food and Drug Administration (FDA) for its smartphone-based ACR test to be used in the aid of diagnosing chronic kidney disease (CKD), which affects over 35 million Americans.
Albumin-to-Creatinine Ratio (ACR) Urine Testing
Albuminuria is increased excretion of urinary albumin and a marker of kidney damage. Normal individuals excrete very small amounts of protein in the urine. Albumin is the most common type of protein in the urine. All patients with CKD should be screened for albuminuria. Persistent increased protein in the urine (two positive tests over 3 or more months) is the principal marker of kidney damage, acting as an early and sensitive marker in many types of kidney disease.
Detecting albuminuria
A routine dipstick is not sensitive enough to detect small amounts of urine protein. Therefore, it is recommended that screening in adults with CKD or at risk for CKD be done by testing for albuminuria.
Albumin-to-creatinine ratio (ACR) is the first method of preference to detect elevated protein. The recommended method to evaluate albuminuria is to measure urinary ACR in a spot urine sample. ACR is calculated by dividing albumin concentration in milligrams by creatinine concentration in grams. Healthy.io has developed a system that allows patients to use their smartphone for a quick and easy Protein urine test at home (ACR). Testing is as simple as taking a selfie.
FDA Clearance for Smart-Based ACR Test for Chronic Kidney Disease Diagnosis
The FDA clearance designates Healthy.io's smartphone-based ACR test as substantially equivalent to lab-based testing and authorizes the use of the test by healthcare professionals at any point of care, such as a pharmacy, urgent care center, or health clinic and send results directly to patients' EHR/EMR. This is Healthy.io's second FDA clearance, as last year Healthy.io received clearance for its at-home, smartphone-based 10 parameter urinalysis test kit, called Dip.io, that can be used in testing for UTIs or in prenatal care.
Healthy.io offers the only smartphone-based urinalysis cleared by FDA and European regulators as equivalent to lab-based testing, is fully in-market in the UK, in hundreds of Boots drugstores and with the NHS, and Israel, through the three largest HMOs, and has published research with Johns Hopkins University and Geisinger Health, and the National Kidney Foundation in the U.S.
Expanding Product Development
With the new funding, Healthy.io will continue its product development. The company recently announced a partnership with Boots UK, placing its Dip UTI test kits in hundreds of pharmacies, allowing women to test and treat common UTIs, and announced a new pharmacy evaluation with the National Health Service (NHS) in England.
Why It Matters
"The smartphone has the potential to be the great equalizer of healthcare," said Yonatan Adiri, founder and CEO of Healthy.io. "To unlock this potential, companies must adhere to the highest clinical standards. Our second FDA clearance and additional funding allows us to expand access to critical tests and care beyond our first 100,000 patients in Europe and Israel, making it a reality for millions of Americans suffering from diabetes and hypertension, who are at risk for chronic kidney disease."