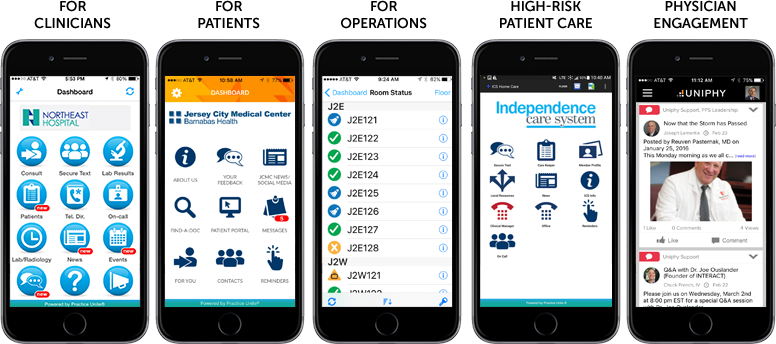 Harris Computer Systems ("Harris"), today announced it has acquired Uniphy Health, an enterprise clinical communication, and collaboration platform through its Healthcare group. The acquisition will help extend Harris' suite of clinical solutions in the acute and post-acute care settings to offer new ways to improve care coordination, physician and patient engagement.
Uniphy Health Background
Founded in 2013, Uniphy Health is a secure and HIPAA-compliant clinical communication platform built for healthcare that extends communication and collaboration beyond the four walls of the hospital, enabling people, data, and applications to come together securely and seamlessly, ensuring that the right information reaches the right person at the right time.
Why Uniphy Health?
Today, Uniphy Health's highly-adapted mobile and desktop apps reach over 90,000 clinicians at leading healthcare providers such as Hackensack Meridian Health, UNC Health Care, Catholic Health Services of Long Island and BayCare. The solutions have at been deployed across hundreds of healthcare facilities and are EHR agnostic.    
"We have worked with Harris Healthcare and Uniphy Health for over 10 years and they both have been fantastic partners. I am delighted by this news," says Dr. Wayne Fellmeth, Hunterdon Healthcare's CMIO. "We integrated the Uniphy Health and Harris QCPR (EHR) three years ago. It was easily implemented and this has been delivering positive outcomes for our patients."
Acquisition Benefits for Uniphy Health
For Uniphy Health, this acquisition brings significant scale and focus. "I am thrilled by this acquisition. Our momentum has been accelerating as major healthcare systems have seen the unique benefits of our highly adaptable communications and collaboration platform," says Adam Turinas, co-founder of Uniphy Health. "As part of the Harris Healthcare family, Uniphy Health is positioned for continued success."
Financial terms of the acquisition were not disclosed.