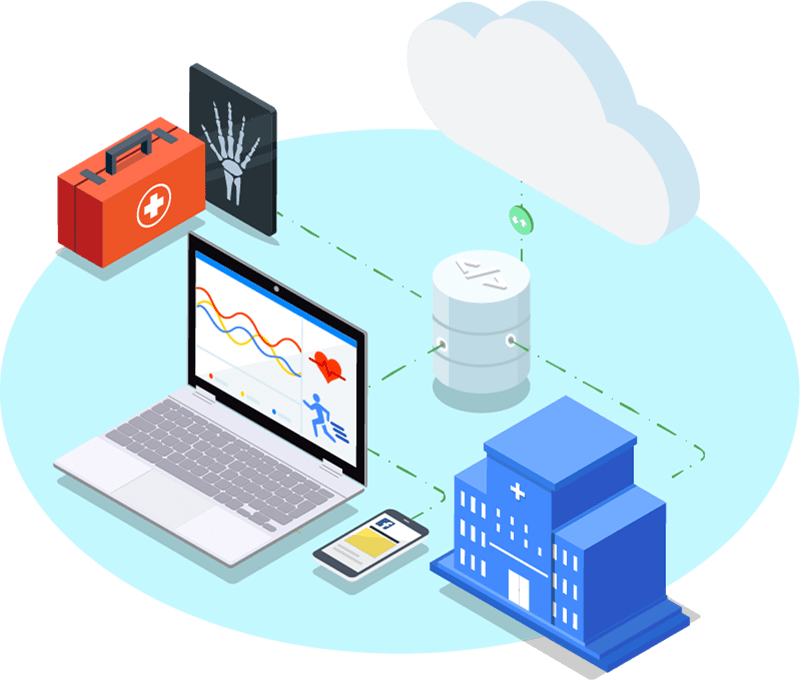 CareCloud, an EHR and practice management platform for high-growth medical groups, announced today that it is integrating its omnidirectional data transfer process with Google Cloud Healthcare API. The integration will enable payer data to be securely, rapidly and cost-effectively shared and used in real-time with existing payer and provider systems handling activities such as member eligibility verification, claims history and claims processing.
Integration Creates FHIR Bridge in Google Cloud
Payers faced with the daunting challenge of making data more easily available to providers and patients will now be able to transform EDI-formatted claims data into FHIR (Fast Healthcare Interoperability Resources) without the need to invest in the development and management of a new IT infrastructure. By providing an FHIR bridge on Google Cloud Platform (GCP), data processing teams can easily extract, transform and load data from bulk data storage such as Google Cloud or other archival storage services as a means to load data directly into a Cloud HealthCare API FHIR store.
Google Cloud Healthcare API Integration Background
Cloud Healthcare API offers a managed solution for storing and accessing healthcare data in Google Cloud Platform (GCP), providing a critical bridge between existing care systems and applications hosted on Google Cloud with access to Google Cloud's nationally distributed FHIR server. Using the API, customers can unlock significant new capabilities for data analysis, machine learning, and application development. These capabilities, in turn, enable the next generation of healthcare solutions.
Integration Supports Health Interoperability
CareCloud's integration with Google Cloud comes at a time when payers and other healthcare stakeholders examine how to address new interoperability standards recently proposed by both the Department of Health and Human Services and the Centers for Medicare & Medicaid Services.
"We developed this technology to help our medical group clients reduce claims submission errors and adjudication time caused by the variability across the payer data ecosystem," said Josh Siegel, CareCloud's chief technology officer. "Through our technology partnership with Google Cloud, we're able to leverage our data transfer technology and make it readily available." Siegel added, "Our ultimate goal is to drastically simplify the work needed to achieve interoperability while being agile enough as the requirements continue to evolve, and this partnership is helping us both deliver on that promise."