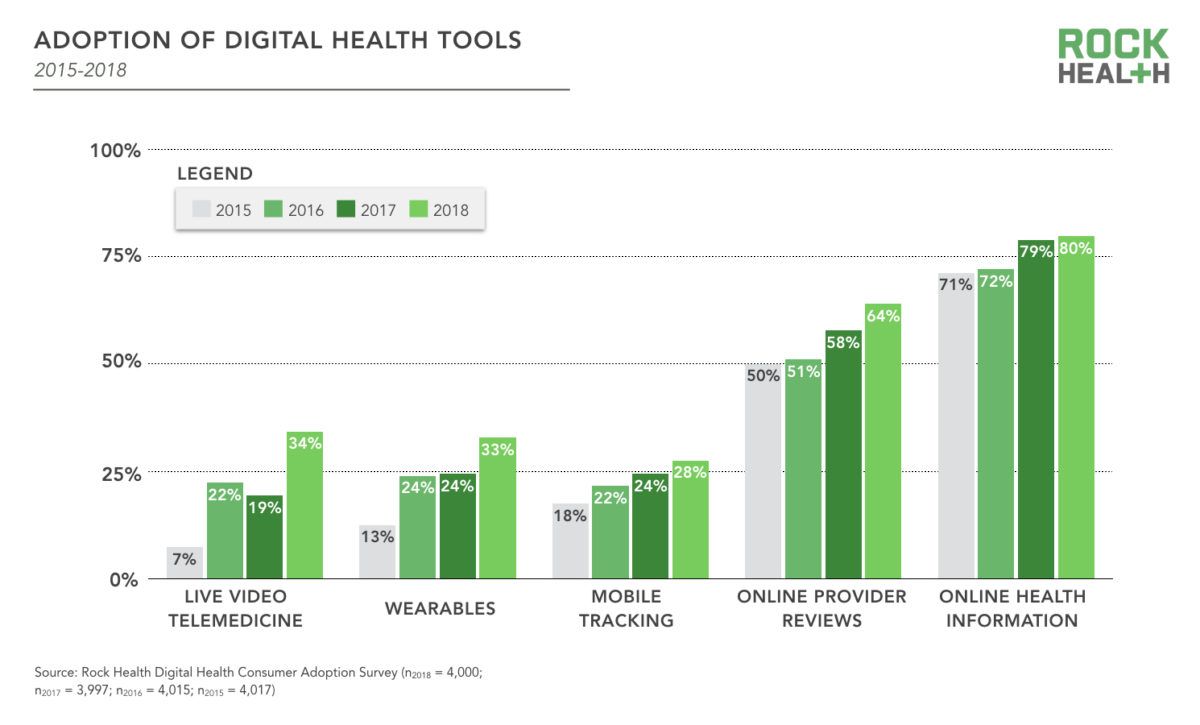 Adoption of digital health tools reached record heights in 2018, according to a recently released survey report from Rock Health. In fact, eighty-nine percent of respondents used at least one digital health tool—up from 80% in 2015. Live video telemedicine and wearable adoption rates surged following a pause in growth in 2017. Meanwhile, respondents were increasingly guarded about their personal health data—in 2018, respondents were less willing to share data with highly-trusted entities like providers and insurance companies compared to 2017.
Report Background/Overview
The Digital Health Consumer Adoption 2018 survey report of 4k respondents of US adults age 18 and over. offers consumers' use and perceptions of digital health over time The report reveals that for the first time consumers are adopting digital health tools not just out of curiosity or for general fitness and well-being—but with the intention to address concrete health needs. 
Digital Health Consumer Adoption 2018 Report Insights
1. Wearable use is shifting away from fitness toward managing health conditions
Monitoring physical activity remains the top reason for wearable use, but only 44% of wearable owners cited physical activity as the top reason for their wearable use, down from 54% in 2017. This 10% decrease is mirrored by a 10% increase in respondents using a wearable to manage a diagnosis. Wearables are morphing from their original fitness and wellness label into a tracker that can be clinically meaningful to patients—and perhaps even providers.
2. Telemedicine adoption is climbing, with urban consumers more than twice as likely to use live video telemedicine than rural consumers
Adoption rates for telemedicine surged in 2018, with 75% of consumers using at least one channel to access remote care—up from 68% in 2017. Despite the potential for telemedicine to extend healthcare access to consumers in rural areas, rural respondents utilized these services far less frequently than urban respondents. Adoption of at least one form of telemedicine was 67% for rural residents and 80% for urban residents.
3. Highly trusted entities like physicians and health plans lost credibility in 2018—consumers were less willing to share data with them than they were in 2017
Rock Health reports that respondents in 2018 were most willing to share their personal health data with physicians, health insurance companies, pharmacies, and research institutions. In addition, respondents also reported the most trust in the data security of these entities—but the overall trend is not in their favor. On average, these four most trusted entities lost 8.8% of respondents willing to share their health data between 2017 and 2018.
In addition, Rock Health reports consumers to remain wary about sharing their health data with technology companies—only 11% of respondents were willing to share with a tech company. Google was the most trusted company of those in the survey, with 60% of respondents willing to share their health data with a tech company willing to do so with the search giant (remember: this means only 7% of total respondents were willing to share with Google).