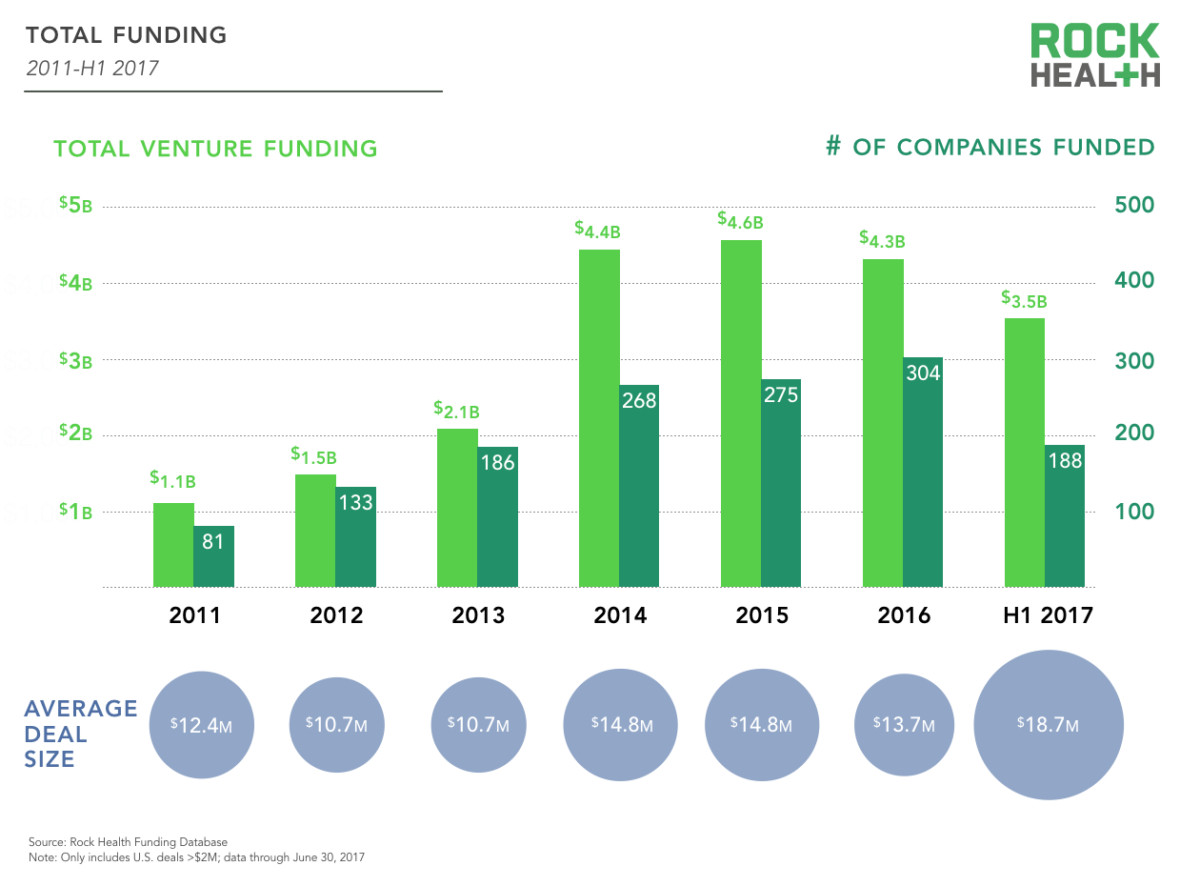 Digital health funding reached a record-breaking total of $3.5B across a total of 188 digital health deals in the first half of 2017, according to a new report from Rock Health, a full-service venture fund dedicated to digital health. The findings reveal that despite the recent election and upcoming repeal of the ACA, the spike in digital health investments are not an anomaly, but an indication of increased interest in the digital health sector.
The Digital Health Funding Midyear Update report produced by Halle Tecco and Megan Zweig with help from Ashlee Adams, Bill Evans, Lou Jug, Mollie McDowell, Danielle McGuinness, and others sources data from Capital IQ, SEC company websites, Crunchbase, NVCA, press releases and the Rock Health funding database. 
It is important to note that Rock Health's digital health funding reports only includes disclosed US deals over $2M and companies that are sector-agnostic with a healthcare vertical are excluded. In comparison, StartUp Health's latest insights reported that digital health funding reached $6.5 billion over a total of 306 digital health deals in the first half of 2017.
Related: Rock Health: Digital Health Funding Tops Over $1B in Q1 2017
Key findings from the recent Rock Health report reveals 15 key reasons why digital health funding is poised for a record-breaking banner year in 2017:
1.     The average deal size this year is the largest on record at $18.7M. (Note: taking out the largest two deals, the average deal size reduces to $14.5M).
2.     The first half of 2017 set a record with seven $100M+ mega deals, including the two largest digital health deals on record from Outcome Health ($500M) and Peloton Interactive ($325M).
3.     As digital health startups validate their business models and illustrate real revenue potential, there is growing interest from growth-stage and private equity investors lead large, pre-IPO rounds.
4.     Digital health investments reached companies in 25 states, with California accounting for a third of total dollars invested.
5.     None of the 7 $100M+ mega deals in H1 2017 are based in the Silicon Valley area, illustrating the growing strength of digital health investments nationwide.
6.     Deal size outside of the usual hubs has increased: Cincinnati, Bethesda, Miami, Milwaukee, Nashville, and St. Cloud all house startups that received $20M+ rounds.
7.     Digital health startups born out of the ACA entered 2017 bracing for impending healthcare reform, but investors aren't pulling back in the face of healthcare policy uncertainty—331 distinct investors completed deals, and 138 (42%) of those investors are brand new to digital health.
8.     The number of repeat VCs indicates a continued maturation of in the digital health space moving beyond dabbling and transitioning into double-down mode.
9.     Institutional venture firms have been the most active, with 12 firms making three or more investments in H1 2017.
10.  The most active investors are largely on pace with prior years. For instance, Khosla Ventures and .406 ventures, with three deals each, are in line with their respective annual deal totals of six last year.
11.  On the provider-as-investor side, UPMC has made just one investment after closing six deals last year. Meanwhile, Mayo Clinic has already made four investments—in the past, they've only made up to two deals in a year.
12.  The top six funding categories accounted for 63% of all digital health funding. Half of the top categories are centered on the consumer, demonstrating strong investor interest in consumer-focused companies: consumer health information, digital gym equipment, and healthcare consumer engagement.
13.  Enterprise wellness is picking up steam with five M&A deals completed this year, whereas there were only six across 2015 and 2016 altogether.
14.  While M&A activity reflects the dominance of traditional enterprise stakeholders in healthcare, investors are still excited about potential in the consumer market.
15.  The vast majority of stocks on Rock Health's Digital Health Public Index closed the quarter with positive YTD returns, up 30% YTD, compared to the S&P Index which is up 8%.
Related: 12 Reasons Why Digital Health Has Reached the Tipping Point in 2016
Looking Forward: Predictions for H2 2017
Rock Health predicts that momentum of the first half of 2017 will continue on course for a record-breaking year in digital health funding, number of deals, and average deal size. Other key predictions for H2 2017 include:
–   New digital health IPOs in the near future
–   Digital health will continue to get more attention and definitive guidelines on the regulatory front, driven by the recent unveiling of the FDA's new "Digital Health Plan." The plan seeks to provide further clarity on digital health regulation so entrepreneurs don't have to seek out the FDA's position on a case-by-case basis.
–   Although there is no anticipation in policy ambiguity to affect investments in H2 2017, there could be a shift in the types of digital health startups funded as new policy closes doors for some startups and opens new doors for others.
–  As the shift to value-based care continues, the need for innovation that significantly transforms care delivery is as important as ever. Rock Health predicts that there will be continued urgency to offer better care at lower costs for patient populations.
For more information on Rock Health's 2017 Mid-Year Review, click here for the full report.