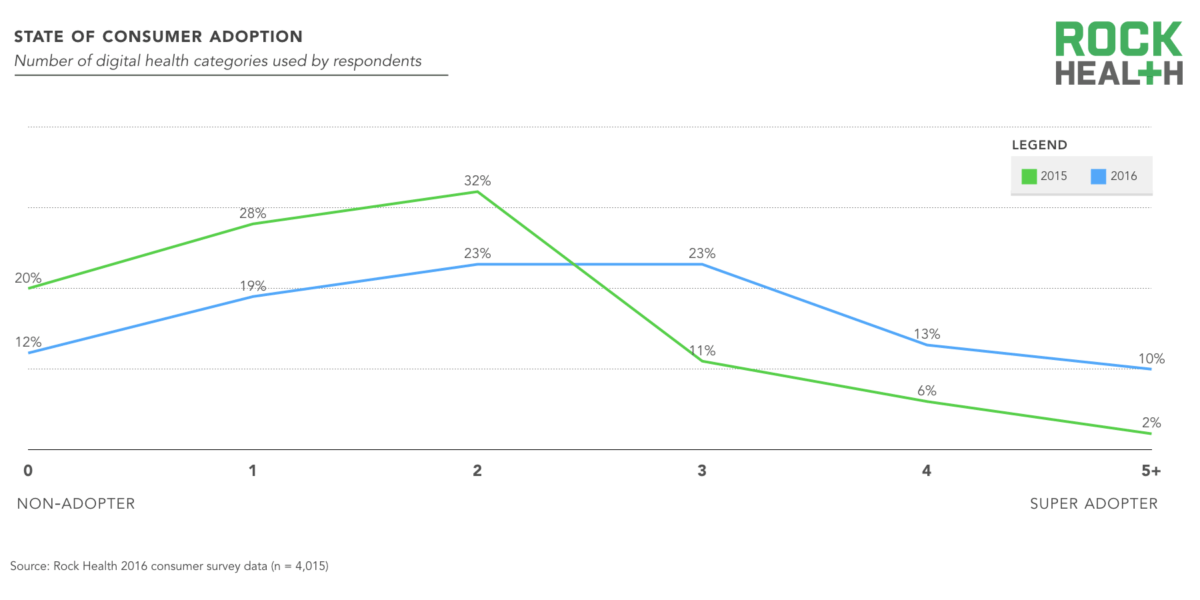 Digital health finally reached a tipping point in 2016 as consumers adopted digital health tools at a record rate over the last 12 months, according to the latest report from digital health venture firm Rock Health.  The second annual report, Digital Health Consumer Adoption written by Ashlee Adams, Mark Shankar and founder, Halle Tecco surveyed over 4,000 consumers nationally on the latest trends in consumer adoption of healthcare technology. These insights reveal consumer attitudes toward adoption of digital health tools, health privacy and trust, and gauge overall consumer behavior. 
Key findings from the report reveals 12 key reasons why digital health finally reached its tipping point in 2016 and is poised for another record year in 2017:
1. Forty-six percent of consumers are now considered active digital health adopters, having used three or more categories of digital health tools (e.g., telemedicine, wearables)—up from 19% in 2015.
2. Consumer willingness to pay saw a dramatic threefold increase from 2015, with 39% of consumers strongly agreeing that they are willing to pay for health expenses out of pocket. This parallels the increase in consumers purchasing high-deductible health insurance plans, which rose from 20% in 2014 to 29% in 2016 (Kaiser Family Foundation).
3. Digital health adoption varies across health status, with those in poor health being more willing to share their health history with all stakeholders than those in good health
4. Nearly a quarter of Americans own a wearable, up from 12% in 2015
Of those who bought their wearable, a third did so in the last three months and two thirds made the purchase in the last six months.
5. Consumers are willing to freely share their health data to contribute to medical research (62%) than would share their data in exchange for money (42%). The vast majority (77%) are interested in sharing their health information, especially to get better care from their doctor.
6. Nearly a third of people who downloaded a health app did so because the app was recommended by their doctor.
7. Video-based telemedicine adoption more than tripled from 7% in 2015 to 22% in 2016, with the majority of uses occurring in the last three months.
8. Thirty percent of telemedicine visits are self-pay, compared to visits covered by insurance (11%) and employers (10%).
9. Across all telemedicine platforms, satisfaction rates are above 75%. Consumers who self-pay for the service are more satisfied across the board.
10. 56% of Americans who searched online for information about their symptoms have then proposed their own diagnosis to their physician based on that information.
11. Health data ownership and control is important to consumers, and sharing of healthcare information is seen as acceptable only in specific use cases. Nearly 87% state that they should be in control of who has access to their health data, and almost 86% say they should be told what health data is collected about them.
12. Majority of Americans are interested in obtaining an electronic copy of their health record, and 20% have asked for or downloaded a copy in the last six months.
For more insights, click here for the full report.