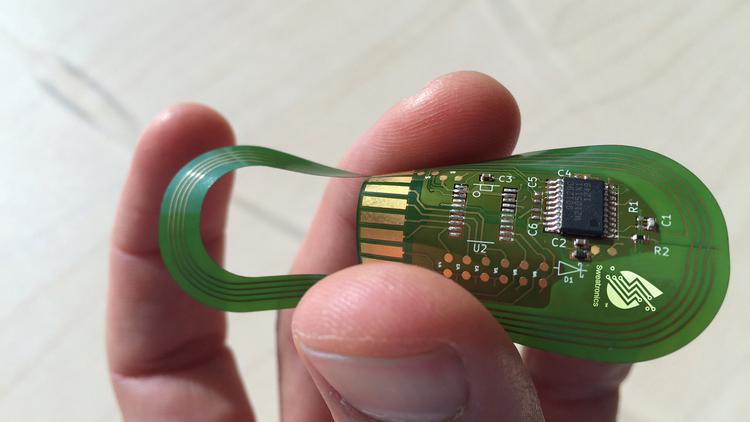 Eccrine Systems, a Cincinnati-based company developing advanced, wearable, sweat-sensing systems, has raised $5.5 million in Series A funding with participation and support from CincyTech Fund IV and other sources within the CincyTech local, regional and national investor community. The company plans to utilize the funding to accelerate the development of non-invasive, sweat-sensing systems for use in medicine, industry and sport. 
Founded in 2013 based on innovative research and intellectual property that originated from the University of Cincinnati and the Air Force Research Labs at Wright Patterson Air Force Base, Eccrine Systems' non-invasive, electronic wearable systems measures and transmits real-time data about human sweat. The company's technology platform addresses a spectrum of monitoring applications including industrial toxicity, fitness-for-duty, stress management, treatment effectiveness and various medical conditions.
"Sweat holds great promise as the best non-invasive source for acquiring the type of molecular data and physiological insights that the medical community has historically collected and analyzed from blood," said Robert Beech, CEO and co-founder of Eccrine Systems. "However, the use of sweat has been limited by the lack of means to accurately capture and report its real-time contents in the context of daily life, whether during work, sleep or play. Advances in microfluidics, nanotechnology, miniaturized electronics and power management are now making it possible to engineer wearable sweat-sensing systems to monitor a wide array of sweat molecules in real time."
The company was recently awarded a $3.96M contract by the United States Air Force Research Laboratory to focus on the development of a next generation, non-invasive sensing system for the monitoring of specific molecular biomarkers in human sweat. The science of real-time sweat analysis is in its early stages, but recognition of its importance is rising rapidly within the world of wearables applications.
Beech states, "The state of non-invasive wearables today is about where medicine was prior to the use of invasive blood tests. Heart and respiration rates, skin temperature, blood pressure, range of motion and similar biophysical measurements were all possible back in the early 1900's. It wasn't until blood molecular levels could be measured accurately that the medical community was able to rapidly assess and confirm someone's health or treatment status with a high degree of confidence." 
"Sweat has to assume the role of blood to realize an acceptable level of confidence about data and insights derived from non-invasive applications, otherwise much of the hype about the actionable value of wearables data will remain in serious question."