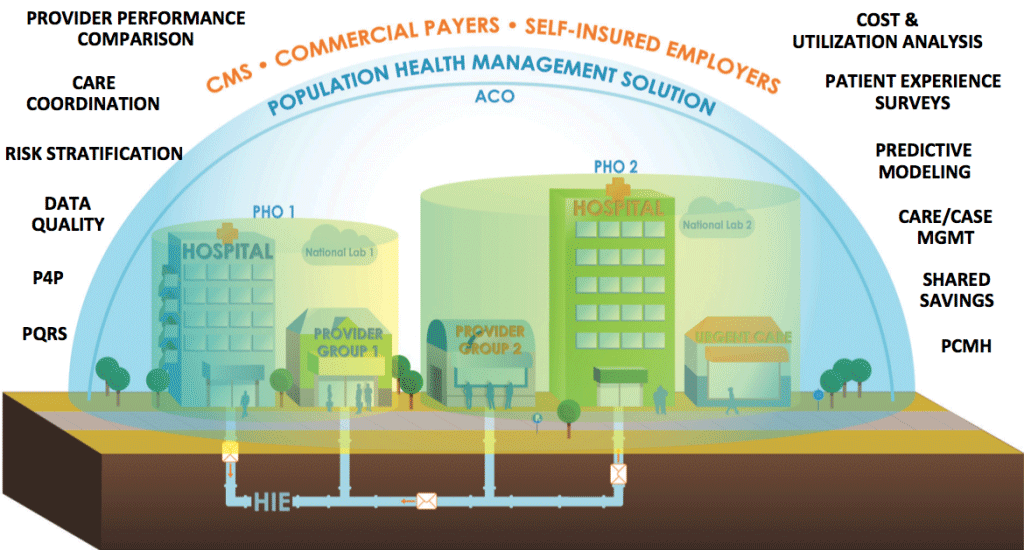 Beyond the hype, what's to come from the population health management? Wellcentive's CEO Tom Zajac gives predictions and pointers for those pursuing PHM in 2016.
Population health management (PHM) may be losing its novelty buzz but it's still gaining serious popularity in healthcare. PHM, and its various definitions, has many providers talking about reducing costs and improving care. But it's not how you define PHM that matters, it's how you execute it. Talk is always cheap—the costs of flailing, or absent, PHM strategies are not.
You don't have to look far to know that's true. The bureaucratic push for value-based care, in the wake of an unprecedentedly large aging population (83.7 million by 2050), exposes the vulnerabilities of the long-held, inefficient and ineffective care practices in the U.S. Providers are growing wise to the benefits of PHM practices and supportive technology. But beyond the need for providers to adapt, there hasn't been much talk about PHM's adaptation in U.S healthcare.
As a result, we turned to Wellcentive's Tom Zajac, CEO of the Atlanta, GA-based PHM solutions provider, to share his insights on what to expect as PHM practices gain traction and produce challenges among providers. Turns out, there are number of conflating factors to think about when it comes to tackling PHM in 2016, including that transformation of care is no longer simply important, but seriously imminent.
Five Population Health Management Predictions to Consider in 2016:
1. Late PHM Adopters will Pay the Price
The reality of value-based payment reform has loomed on the horizon for providers for many years. However, the necessity to make the switch has never been more necessary. What was once seen as a success strategy for the elite, is quickly turning into one of survival for every provider. Thus, VBC expansion should be a key component of any strategic plan. As Medicare adjusts its payment model in 2016 and 2018, organizations that aren't ready to report on their VBC efforts and achievements stand to lose significant revenue—through penalties assessed and through missed opportunities to receive value-based incentive payments.
Penalties for Meaningful Use, Value Based Modifier, E-Prescribing, the impending MIPS program, and new revenue opportunities for CMS Chronic Care Management and Advance Care Planning are just a few of the Medicare programs to consider. Commercial payers are actively following suit and are becoming more aggressive with alternative payment models.
 "These changes are creating a strong business case for quality," said Zajac. "In addition, inaction around value-based initiatives will bear a heavy cost. Placing strategic focus on payment reform issues today will be a key strategic factor for organizational success and growth."
2. Direct-Care Delivery Models will Yield Market Opportunities
Nearly 60 percent of Americans today receive coverage from self-funded plans. Employers, and increasingly employees, are demanding increased transparency, a strong balance of cost and value, and increased quality from their providers. Organizations such as Boeing, controlling a large geographic footprint, are actively pursuing direct relationships with HCOs (healthcare organizations) and providers, creating virtual care communities to both retain employees and optimize staff productivity and health costs.
"By taking on more direct delivery models, at both the employer and customer level, HCOs will build affinity and deeper relationships with their market and increase their market share," said Zajac.
3. PHM Alignment will Hinge on Attribution
The onus of value-based care is on coordinated management of the patient needs across many care providers. As both positive and negative results from value-based programs materialize, the resulting impact will need to be shared with the care team – but how?
According to Zajac, ideal care will be the result of the efforts from care teams, both in actions taken and actions avoided. HCOs will need methods to distribute incentives/disincentives to each care team member to ensure alignment. Doing so will require the ability to attribute participation and impact in the patient's longitudinal care – a different approach than previous FFS (fee for service) distribution methods.
"Healthcare organizations engaged in risk must be adept at capturing, analyzing, and aligning care with the providers who can create the optimal level of clinical care and value," he said.
4. A Holistic Approach will Produce Healthy Results
Effective PHM looks at all the aspects that play into patient-face delivery. Thus, considering socio-economic determinants will be vital to ensure long-term success. Providers must look at patient visits as just one piece of a comprehensive care continuum. The social determinants of care must account for patient's social environment, access to care, education, and cultural needs, just to name a few.
"Healthcare cannot have a one size fits all approach, nor can it behave as if care management exists only within the walls of the physician organization. In fact, studies demonstrate that social determinants of health are two times as impactful as medical care in premature death. Planning for social determinants of health will improve care delivery, patient satisfaction, and cost of care, while contributing to a better health status," said Zajac.
5. Good Providers will Act like Payers
As HCOs start to require risk analytics to better match payer status, provider organizations will begin to behave more and more like payers.
"Almost more than any of the other points, this has a great chance of becoming the differentiator between the winners and losers in the new delivery landscape," said Zajac.
As more ACOs and similar organizations learn how to be successful in the marketplace, more provider organizations will start to act and build capability around full patient/member care. The blurring of the payer and provider market continues to intensify; over half of the new Medicare Advantage Plans on the market between 2012 and 2015 were offered by provider organizations, and 28 percent of hospitals plan to offer health plans by 2018.
"Ultimately, those who control the premium dollar and the delivery network will reap the greatest clinical and financial rewards," Zajac concluded.
It will be interesting to see what comes from such predictions, especially as the sophistication in data analytics begins to dominate the way HCOs approach care coordination. What remains unknown is how swiftly all these strategies will come together to meet the growing needs of the greater U.S population.
Will PHM truly save U.S healthcare from failure? Only time will tell—and big data will do all the talking.