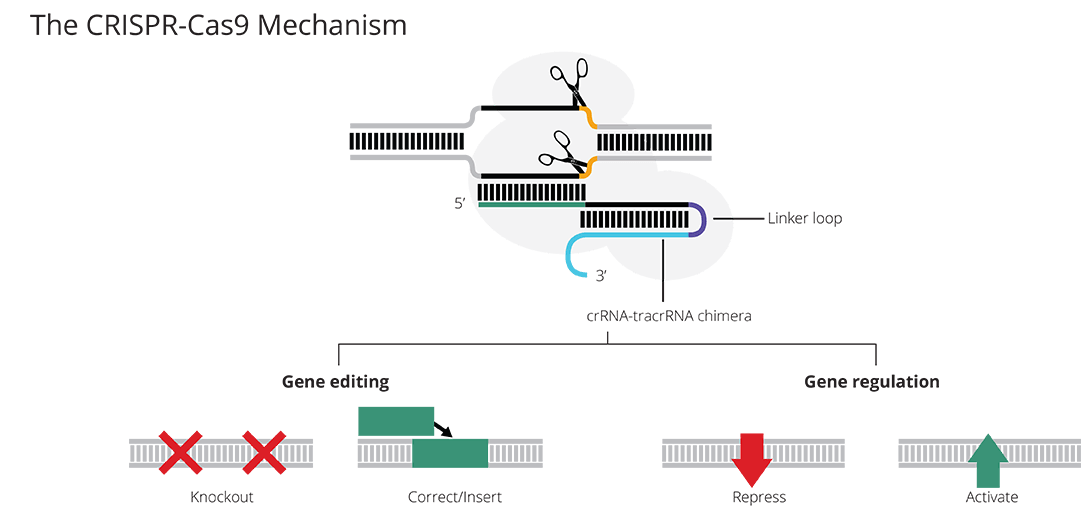 Bayer and gene editing company CRISPR Therapeutics are teaming up to develop  new breakthrough therapeutics to cure blood disorders, blindness, and congenital heart disease. CRISPR Therapeutics will contribute its proprietary CRISPR-Cas9 gene-editing technology and intellectual property, while Bayer will make available its protein engineering expertise and relevant disease know-how.
It is the first long-term strategic partnership of its kind to make a substantial investment in the development of target delivery systems in an effort to bring systemic in vivo CRISPR-Cas9 gene editing technology applications to patients.
As part of the joint venture, Bayer will provide a minimum of $300M in R&D investments over the next five years. In addition, Bayer will acquire a minority stake in CRISPR Therapeutics for $35M in cash. The joint venture will be led by Dr. Axel Bouchon, Head of the BLSC, on an interim basis as CEO, while Dr. Rodger Novak, CEO and co-founder of CRISPR Therapeutics, will serve as the interim chairman of the newly formed JV Board.
Through the JV, Bayer may secure exclusive rights to use CRISPR Therapeutics' and the JV's proprietary CRISPR-Cas9 technology and intellectual property in the three targeted disease areas, including blood disorders, blindness and congenital heart diseases. CRISPR Therapeutics may gain exclusive access to Bayer's protein engineering know how for use in Crispr products as well as Bayer's extensive expertise and knowledge in the three targeted disease areas.
Newly created know-how from the collaboration around the CRISPR-Cas9 system beyond the three disease areas, will be exclusively made available to CRISPR Therapeutics for human-use, and to Bayer for non-human use, such as agricultural applications. All technology development and future IP developed by the JV will also be exclusively available to the parent companies Bayer and CRISPR Therapeutics.
Since its discovery in 2012, data on the CRISPR-Cas9 gene editing system have been published in more than 1100 scientific and medical journals supporting its potential applicability to cure serious human diseases that cannot be addressed with existing technologies.