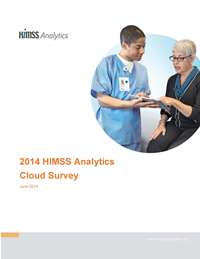 44 percent of healthcare organizations use the cloud for hosting clinical applications, according to the latest HIMSS Analytics Inaugural Cloud Survey.  Other typical cloud services include Health Information Exchange (HIE), hosting human resources (HR) applications and data as well as backup and disaster recovery. Hosting clinical applications was identified as the most common area for which healthcare organizations rely on cloud services.
Recognizing the growing number of healthcare organizations starting to use cloud services to host applications and data using a "software as a service" (SaaS) model, HIMSS Analytics surveyed 150 healthcare organizations to understand the challenges, barriers and successes healthcare organizations may be having with cloud services.
The survey found that 80 percent of respondents are currently using cloud services and almost all have plans to expand their use of cloud services in the near future. Other key findings include: 
The top three reasons for adopting cloud services
lower maintenance costs

speed of deployment

lack of internal staffing resources
The top concerns for healthcare organizations seeking cloud services
cloud services provider's willingness to enter into a business associate agreement (BAA)

physical and technical security
Summary of Cloud Use
Respondents most commonly reported that their healthcare organizations use cloud services for hosting clinical applications. 

In the future, respondents reported their healthcare organizations will use cloud services for backups/disaster recovery, hosting operational applications or hosting archived data. 

Cloud services were least likely to be used for account provisioning/deprovisioning, identity management purposes and virtual networks.
How Cloud Services are Currently Being Used
Most respondents reported using cloud services for administrative functions, such as hosting of financial, operational, or HR data, as well as for more traditional IT functions, such as hosting archived data or virtualization
Reasons for Adopting Cloud Solution
Respondents were least likely to indicate that their healthcare organization would use cloud services for identity management or provisioning/deprovisioning of user accounts. 

Cost savings (i.e., the ability to host a solution at a cost that is lower than their current maintenance costs) was the most frequently reported reason for adopting cloud services
Usage Model
Two-thirds of respondents reported that their healthcare organization used SaaS to host cloud services

Almost three-quarters of the respondents relied on some type of a private cloud environment (albeit completely private or a hybrid solution encompassing a combination of a public and private cloud).
Planned Areas for Expanding Use of Cloud Services
Current users of cloud services were most likely to expand into the area of hosting archived data

Current users of cloud services were least likely to indicate plans to timely provisioning/de-provisioning of user accounts 

Very few users of cloud services presently have no plans to expand their healthcare organization's use of cloud services
To learn more about the findings for the survey, which examines the responses of 150 healthcare organizations – including medical practices, hospitals, and healthcare systems – visit the HIMSS Analytics website.