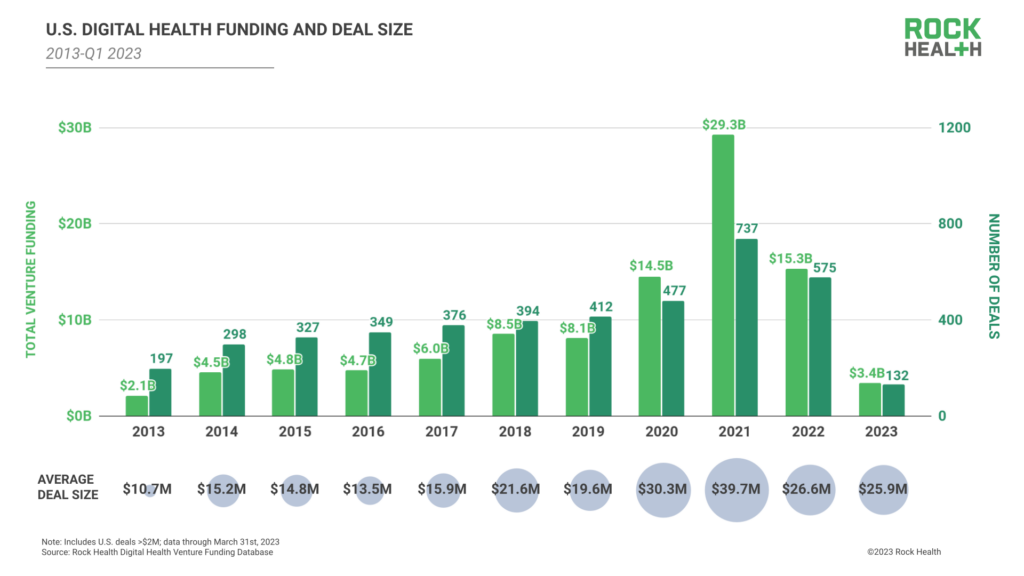 What You Should Know:
2023 started off with the hallmarks of a rebound year. While Q4 2022 signaled the tail end of the digital health funding cycle, January and February funding numbers began to suggest that sector investment was slowly but surely inching back upwards. Inflation was easing ever so slightly. Investors were rediscovering their confidence and launching new projects, signaling optimism in the sector, according to a new Rock Health report.
However, recent news—the collapse of Silicon Valley Bank, the seizure of Signature Bank, Moody's downgrading of bank credit ratings, and another Fed rate hike—was a stark reminder that the choppy waters of 2022 aren't over yet. 
Key Trends and Insights from Q1 2023 – Digital Health Funding
There's no denying that Q1 2023's economic conditions, bank scares, and regulatory changes have digital health startups of all sizes nervous, whether they're trying to raise their next funding round or waiting for the right time to exit.
The following key trends from Rock Health's report are a review of the venture, banking, and policy waves breaking within digital health, coupled with insights regarding the volatility of the modern-day regulatory landscape, how the financial market seems different for everyone, and how small-scale startups have it the hardest.
Q1 Funding Soars, But 2023 May Struggle to Catch Up to 2019
Q1 2023 U.S. digital health funding closed with $3.4B across 132 deals, with an average deal size of $25.9M. While this quarter exceeded both Q4 2022's $2.7B and Q3 2022's $2.2B funding pots, Q1 isn't enough to signal a new "bull run." If funding for the next three quarters matches the average funding across the prior three quarters, 2023 is on pace for the lowest level of annual funding since 2019. The truth remains that the founder-friendly market of 2021 and early 2022 has tilted sharply toward investors.
Notably, within its $3.4B raised, Q1 2023 saw heavy representation of mega deals. After only six digital health raises over $100M across Q3 and Q4 2022 combined, Q1 2023 logged six megadeals from Monogram Health ($375M), ShiftKey ($300M), Paradigm ($203M), ShiftMed ($200M), Gravie ($179M) and Vytalize Health ($100M)—accounting for 40% of the quarter's total digital health funding.
Silicon Valley Bank's Collapse
SVB's collapse nearly precipitated a liquidity crisis in the sector, and concerns circulated that startups might need to engage in distressed debt buys or raise emergency bridges—possibly with "lender-friendly" terms or at slashed valuations—in order to secure working capital. It's worth pointing out that not all digital health startups carried the risk burden equally. Startups with well-established investors were more likely to have the assurances of cash floats and level-headed perspectives from advisors who have been around the block a few times, while those with greener syndicates were left unsure of whether their own funders could even weather the storm.
After seeing their investors operate in crisis mode this March, several digital health founders may feel compelled to re-evaluate their cap tables and possibly move forward with different investors for future raises. Startups were left with another conundrum after SVB's collapse—which banking institution to choose next. SVB was known to offer startups loans during high-growth periods and took on companies that were too early to demonstrate product-market fit. While late-stage startups likely have the capital and credit requirements to bank with high-street institutions, nascent teams or those based outside of the US will need to turn to more restrictive and expensive alternatives to establish financial operations and secure loans.
The IPO Market and Q1
Q1 2023 logged another quarter with zero digital health IPOs. Digital health stocks started 2023 trading almost 50% lower than they did at the start of 2021, pushing some recently-exited players like Pear Therapeutics to explore going private. No later-stage digital health players felt compelled to venture into IPO territory this quarter, fearing that the market would yield bottom-barrel issue prices.
In December 2022, healthcare data startup Komodo Health raised $200M alongside a restructuring plan that laid off 9% of its workforce. In January, hybrid care provider Carbon Health closed a $100M Series D while also trimming its RPM and chronic care divisions and completing its second round of layoffs.1 That same month, nurse staffing solution Shiftkey announced its $300M raise, accompanied by a quartet of new executives. Connected fitness startup Tonal is rumored to be pursuing private funding at a $200M-$300M valuation, a nearly 90% decline from the $1.9B valuation it floated back in September 2022.
Regulatory Developments and Adapting Digital Health Startups
If circumstances weren't treacherous enough, digital health startups are bracing for impending regulatory changes. In Q1 2023, an acronym soup of federal agencies (FDA, CMS, DEA, FTC) announced preliminary steps and timelines for refining policies across digital health. These revised guidelines have far-reaching impacts, affecting telehealth reimbursement, controlled substance distribution, healthcare service pricing and rebates, and patient data management. Top of mind is the announcement to end the COVID-19 public health emergency (PHE), which is slated to expire on May 11, 2023.
In the realm of telehealth delivery—perhaps the biggest area of healthcare expansion during the pandemic—telemedicine will officially lose its status as an excepted benefit2 and certain federal penalties for HIPAA non-compliance of telehealth platforms will be reinstated. In alignment with PHE's conclusion, other government bodies are rolling back pandemic-era measures. State agencies are beginning to unwind expanded Medicaid coverage in conjunction with the expiration of a 2020 federal provision requiring continuous enrollment.
States resume disenrollments, anywhere from 5 to 14 million Americans stand to lose Medicaid coverage and associated benefits, with the hardest-hit populations being low-income youth and working individuals without employer-sponsored plan access. In terms of data privacy and security, Congress introduced the Upholding Protections for Health and Online Location Data (UPHOLD) Privacy Act to regulate companies' use of health data, the FTC settled investigations into BetterHelp and GoodRx with hefty fines, and the FDA enhanced cybersecurity requirements in regulatory applications for medical devices. Finally, on the billing and coding front, CMS issued its 2024 Medicare Advantage Advance Notice to root out aggressive upcoding practices.