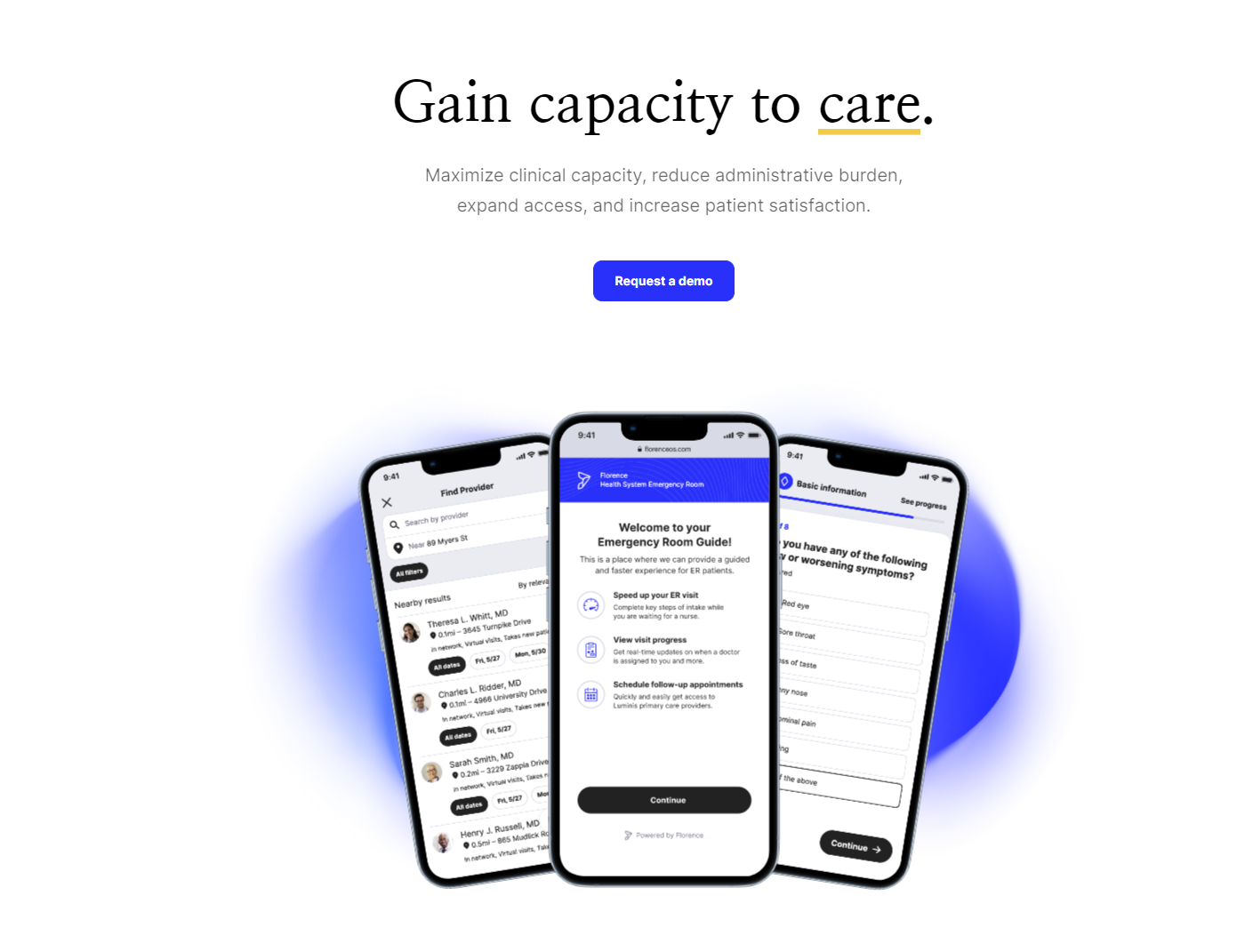 What You Should Know:
Florence, an innovator in healthcare enablement software, has launched out of stealth mode after raising $20 million in seed funding.
The health tech startup's round was led by Thrive Capital, GV (Google Ventures), and Salesforce Ventures with participation from Vast Ventures, BoxGroup and Atento Capital.
Aspiring to Digitally Streamline Patient Access to Increase Efficiency
Comprised of physicians and engineers from leading health systems and technology companies, the Florence team has created a technology solution that provides a modern consumer experience while reducing operational overhead. The technology drives efficiency for healthcare workers and patients, enabling patients to get care faster while load-balancing in-person and virtual capacity across health systems and clinics. 
"Technology is the most expedient way to address the growing challenges to our overburdened healthcare system across cost, access and labor," said Aniq Rahman, Florence CEO and Founder. "We cannot continue to add administrative overhead to clinical teams and hope that access and quality will improve. The Florence platform is designed to address the most significant constraint in care, clinical capacity, while building consumer interfaces that engage patients throughout their journey."
Florence is developing products across multiple sites of care, starting with emergency departments. Patients benefit from an experience that rivals consumer-focused industries. They can track and accelerate their journey via smartphone, update clinical information, control prescription fulfillment, initiate self-discharge when appropriate, and schedule follow-up appointments. The solution boosts patient satisfaction, increases clinical capacity, and reduces patients leaving without being seen.
Florence is working with leading health systems and most recently launched with Luminis Health in Maryland.
"As one of the busiest emergency departments in the country, our nurses and administrative staff immediately saw the benefit of Florence," said Saad Chaudhry, Chief Digital and Information Officer at Luminis Health. "Nurses are saving time and seeing patients faster in our ED. Patients appreciate the streamlined intake process and the transparency provided by being involved, digitally, from the very beginning. I look forward to expanding our partnership with the Florence team to see where else we are able to give back time to both our patients and staff."
Florence was established in 2021 by CEO and Founder, Aniq Rahman, who previously was president of Moat which Oracle acquired in 2017 for $850 million. The core team includes founders, physicians, and leaders across healthcare, enterprise and consumer technology including from Google, Oracle, Palantir, Flatiron Health, Resy, Brigham and Women's Hospital, Johns Hopkins Medicine, and Penn Medicine.