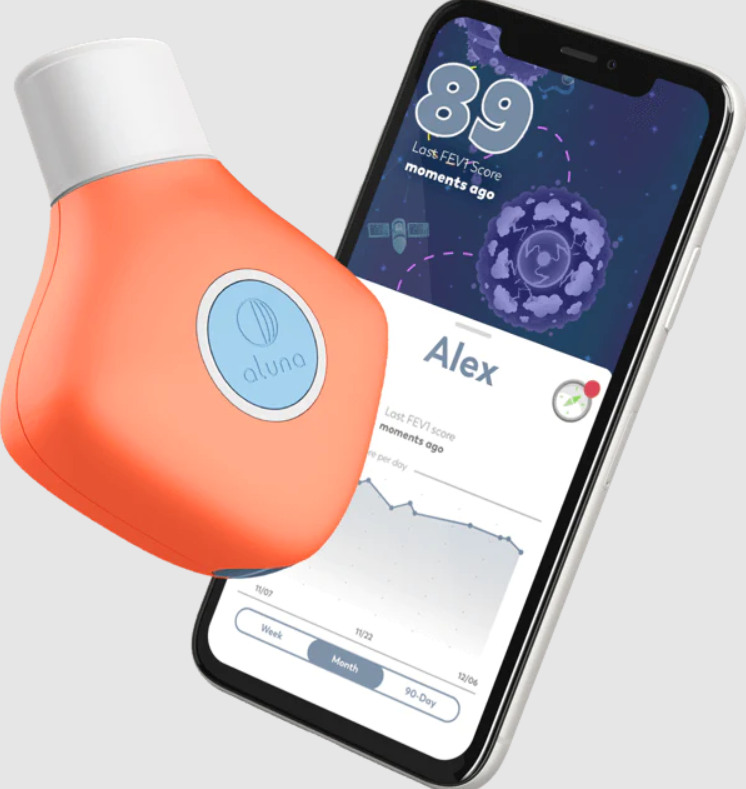 What You Should Know:
– Aluna, the award-winning lung health management platform, recently announced it has completed a $15.3 million Series B round of financing to continue growing its solution among doctors and patients managing asthma, cystic fibrosis and COPD.
– Aluna's AI-enabled respiratory management platform allows patients to transmit data to their doctor by blowing into their innovative spirometer daily. The patient-facing app gives patients an easy way to collect symptoms, medication, activity, and environmental factors. Their proprietary ML algorithms help medical teams identify respiratory problems and take corrective action to keep their health under control.
Funding to Enable Better Access and Quality of Respiratory Care

Roughly one in thirteen Americans has asthma, and the number is rising due to environmental factors, according to the Asthma and Allergy Foundation of America. Asthma attacks lead to over one million emergency room visits each year, according to the American College of Asthma, Allergy & Immunology. Aluna's FDA-cleared spirometer device and easy-to-use app encourage patients to easily share their lung health with their doctor while on-the-go. This allows allergists, pulmonologists and other providers to offer care early and avoid costly and frightening hospital visits for the patient. Aluna is eligible for insurance coverage under Remote Patient Monitoring.
Led by previous investor Matrix Partners, the Series B round brings Aluna's total funding since inception to $27 million. Key investors in the round also include New York-based Rho Ignition, and Dr. Warner Carr, an Irvine, California-based allergist whose practice is an early adopter of Aluna's platform. The Series B funding comes on the heels of a year of rapid growth, with Aluna adding thousands of new patients to its platform for a year-over-year growth rate of 10x. The company plans to invest both on the product and commercial side to produce more spirometers, make its offering more robust and reach new patients.
"As two of many asthma sufferers, my co-founder and I set out from day one to build a platform that would not only keep patients healthy, but also help providers provide the best possible care," said Aluna CEO and co-founder Charvi Shetty. "Our growth will enable asthma, COPD and other chronic respiratory patients and their providers to work more effectively together and prevent attacks before they happen. Down the road, we hope to leverage our lung health data to revolutionise respiratory care."
Aluna has recently added a Silicon Valley veteran to its executive team to focus on finance as the company scales. Alex Gurevich joins Aluna as Chief Financial Officer, bringing decades of finance and operations experience at high-growth companies including Credit Karma, Zendesk and Google. Most recently, Alex was Chief Operating Officer at Octane AI, a marketing and data platform for ecommerce merchants.
Created by co-founders Charvi Shetty and Inderjit Jutla, Aluna began as a project for UC Berkeley's bioengineering program. Jutla has long suffered from asthma and during the product's creation Shetty also discovered that she suffers from asthma as a result of her poor lung function. Coupled with the gamified app, Aluna is able to track across the spectrum of inputs that doctors need to provide the best possible care.